|
Weekly Newspaper and Travel Guide
for Pecos Country of West Texas
Opinion
Tuesday, May 6, 2008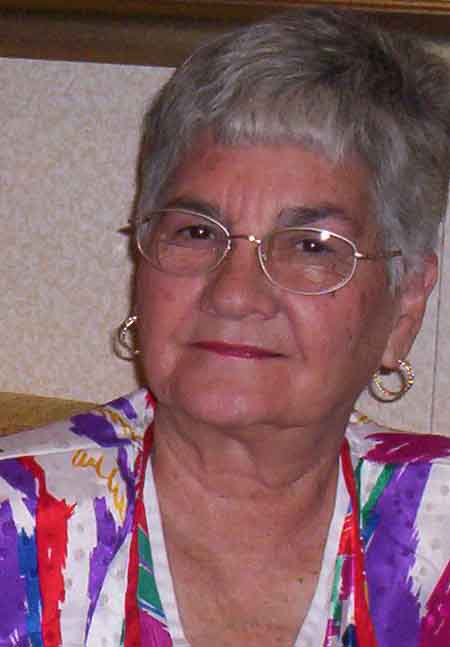 Squarely Pegged
By Peggy McCracken
<!=====paste copy here==========================>
Someone you know
is around the corner
Where in the world can you go that you don't see someone you know or who knows someone you know? It is a small world, indeed.
Last week, I went to Lubbock to visit Doris Hudnall, a friend of 50 years whom I met when we both lived at the airbase apartments. After a few years, she moved to Slaton, which is halfway between Pecos and Flomot, so I always stopped off to visit her when we went home. Now she lives in Lubbock. She turned 80 Saturday, and her grandchildren gave her a surprise party at the Lubbock Civic Center.
Since I had doctor appointments in Midland Wednesday, and that is halfway to Lubbock, I decided to go early. We had a good visit without ruining the surprise.
When she walked into the room and saw it lined with her friends from the retirement village where she lives, church members from Slaton and Bacon Heights in Lubbock where she now attends, Doris was truly surprised. But the biggest surprise of all was her son, Jerry, who had driven in from Dallas on the Q.T.
Some of you will remember N.H. Burton, whose family lived in Pecos in the early days. He and Roy Lindsay were big buddies before they went off to the war and lost contact. His wife, Darlene, is Doris' sister and also an ex-airbase neighbor. They and her daughter, Charla, were there, along with two of Charla's daughters and some grands.
One of the women from the retirement village told me she was married to a Flomot man, Louis Amick. That is a familiar name from the early days of Flomot. He was in the John Deere business.
Another of the sweet ladies I met, a Mrs. Biggerstaff, said she and her husband were some of the first to farm in the Pecos area, buying land here in the late 1940's. She also worked at the Oasis for Levi Garrett.
I told her about seeing a convertible-load of Turkey guys at the Oasis one night, having a high old time. They were returning from a Shriner convention in El Paso and had stopped for a few beers.
Lack of telephone numbers kept me from calling people I knew in Lubbock, including my nephew, Joe Trent, and Dudley and Patty Montgomery. Dudley sent me a Lubbock paper with a feature about Flomot, and I wanted to thank him.
I also wanted to see Sherry Waggoner in Covenant Hospital, but didn't have a cell number for her husband, Ernie, who is pastor of First Christian Church. Sherry suffered a burst brain aneurysm the Friday before I left home.
Another friend I tried to visit on the trip is Judy Greenwood, who had overturned her vehicle and was in Odessa Medical Center. When I walked into her room, a man was in her bed. So I said, "Oops," and continued on to my eye doctor appointment.
My next stop was more successful. Granddaughter Amanda saw me walking across the parking lot at Daytime Bingo in Midland and greeted me as I opened the door. She treated me to a salad lunch before my next appointment, Dr. Kasman, who glued my fake tooth back in its socket.
I had lost the address book that has Brenda Virgin's office number in it, so consoled myself with a second lunch at Luby's before parking at the next doctor's office and taking a little nap. Dr. Watkins says I look great, and made no changes in my cancer treatment.
All in all, my trip was good. I left the party early Saturday and made it to Velma Bradley's house near the Interstate about 7 p.m. It took me three hours to return phone calls, answer email and read the lovely Pecos Enterprise. And Sunday morning I arrived at church to find Betty Jane Oster at the piano. She was our pianist when I was a teenager, and it was great to see her.
"If I ascend up into heaven, thou art there; if I make my bed in hell, behold, thou art there." Psalm 139:8, KJV
EDITOR'S NOTE: Peggy McCracken is Enterprise columnist and feature writer. Contact her at HYPERLINK "mailto:peg2@pecos.net" peg2@pecos.net <!==========end copy==================>
---
Pecos Enterprise
York M. "Smokey" Briggs, Publisher
324 S. Cedar St., Pecos, TX 79772
Phone 432-445-5475, FAX 432-445-4321
e-mail news@pecos.net
Associated Press text, photo, graphic, audio and/or video material shall not be published, broadcast, rewritten for broadcast or publication or redistributed directly or indirectly in any medium.
Copyright 2003-04 by Pecos Enterprise
---