|
Weekly Newspaper and Travel Guide
for Pecos Country of West Texas
Opinion
Friday, February 22, 2008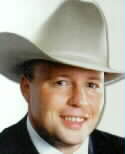 Sage Views
By Smokey Briggs
<!=====paste copy here==========================>
Welcome to Texifornia –
thanks to Mr. Gallego
My buddy Gary called the other day. He was planning on buying a couple of gas cans for his four-wheel-drive, and wanted to know if I had a particular type I liked.
I told him I would look at the jerry cans made by Scepter now in use with the military. These cans are plastic and have replaced the metal cans that were used since World War II.
In the Marines and the National Guard I used the Scepter cans and was impressed. They are virtually Marine-proof, and rarely leak. In the past, I had seen the cans for sale as military surplus and brand new.
"Good stuff," I told my friend.
A few days later I got another call from Gary.
He was not a happy camper.
To make a long story short, it turns out he decided to buy a couple of the new cans, found a supplier on the Internet, and ordered them – only to receive an email informing him that the company could not legally sell him the cans because they were not CARB compliant, and Texas was now a CARB state.
What is CARB?
CARB is the acronym for California Air Resources Board.
This bunch does not sound threatening, but if you translate the name into Russian the new acronym is KGB.
Since the crazies took control of Kalifornia, CARB has become more and more powerful, and apparently, there is no element of your life too minute for CARB and its enforcers to regulate.
Right down to the can you carry five gallons of spare gasoline in, and how you get it from the can into the tank.
So, now, you cannot buy a regular jerry can in California. Instead you have to buy one designed by the government.
This is where this gets sadly funny.
Have you ever used anything designed by a committee, or worse, a government committee?
I have not had the displeasure of using one of the new CARB compliant cans, but poor Gary has. He had purchased one awhile back, and keeps it filled for emergencies.
He was bringing the family for a visit and decided it was time to rotate the gas, so he brought his new CARB-compliant jerry can along. At a gas station near Abilene he poured out the gas in the can.
Notice that I did not say "poured the gasoline into the tank."
According to my friend, this jerry can, made by a very respected manufacturer, is an absolute piece of trash.
"It leaks. It leaks all the time. It leaks when there is gas in it. I swear it leaks when there is no gas in it. And trying to pour the gas into the tank is an absolute joke. I poured more on the ground than I got into the tank," Gary said. (And I cleaned that up quite a bit for politeness-sake. Gary was not a happy camper.)
Apparently the "Leave-no-drop-behind" government-designed spout works great on paper, but does not quite succeed in transferring gasoline to a gasoline tank on a vehicle.
Why am I not surprised?
Let me ask you something: Have you ever poured gasoline from a jerry can into a vehicle?
Did the task cause your brain to smoke?
Was it so complicated that you consulted the Internet or an instruction manual?
And, when you were done, was there a huge puddle of wasted gasoline on the ground?
If you answered yes to any of the above questions, you are probably too stupid to tie your own shoes, and definitely should not be allowed to operate machinery more complicated than a spoon.
But, apparently, CARB considers Kalifornians too dumb to pour gasoline out of a boot, and designed a special spout for them – which does not work – wonder of wonders.
That is sadistically funny when you think about it – especially if the people populating the land of fruits, nuts and flakes really are too stupid to pour gas out of a boot.
Now, in their infinite wisdom, Pete Gallego and the rest of our state legislature has decided to let Kalifornia determine what is best for Texas, and adopted CARB.
Bottom line – Texans can no longer buy a jerry can that works.
If you want a good laugh, do an Internet search for "CARB jerry can" and read the comments of poor jerks who have to use these things.
Just remember not to laugh too hard; thanks to Pete and Company you will be the butt of the same joke soon.
EDITOR'S NOTE: Smokey Briggs is the editor and publisher of the Pecos Enterprise. He can be emailed at: smokey@pecos.net <!==========end copy==================>
---
Pecos Enterprise
York M. "Smokey" Briggs, Publisher
324 S. Cedar St., Pecos, TX 79772
Phone 432-445-5475, FAX 432-445-4321
e-mail news@pecos.net
Associated Press text, photo, graphic, audio and/or video material shall not be published, broadcast, rewritten for broadcast or publication or redistributed directly or indirectly in any medium.
Copyright 2003-04 by Pecos Enterprise
---