|
Weekly Newspaper and Travel Guide
for Pecos Country of West Texas
Opinion
Friday, April 4, 2008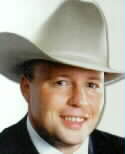 Sage Views
By Smokey Briggs
<!=====paste copy here==========================>
Heart surgery
postponed
Well, as many folks know, I should have been coming out of the operating room after having my aortic valve fixed or replaced about the time this edition printed Thursday.
A minor chest cold hijacked that plan, and I am now on hold for another month. This is the best way I know to let everybody know that the plan is on hold for a couple of weeks.
It has been an interesting journey so far.
April of last year I found out I had a bicuspid aortic heart valve. Simply put, my aortic valve has two leaves instead of the normal three.
It is a birth defect.
This makes for a less-than-efficient valve that allows blood to flow back into the heart. The heart has to work harder because of the backflow, and gradually it responds by getting bigger, which makes the heart even less efficient.
Upon learning of this, the first thing I did was call most of the guys I played football with, or other sports, and told them to thank their lucky stars God handicapped me, or no telling how bad I would have made them look.
Luckily, I have maintained an exercise program for most of my life.
The Pecos Rifle Club holds an annual biathlon that consists of a six-mile, cross-country run, with three or four shooting stations interspersed along the way. Runners have to carry their rifle, gear and water, and that usually comes to 15-30 lbs.
The competition is aptly named the Run 'n Gun ' in the Sun – just good redneck fun.
It was during the Run and training for it that I started to notice a problem over the past few years. Oddly enough, I did not feel short of breath or exhausted, but I did start suffering from heat exhaustion and cramps after about 45 minutes of serious exercise when the temperature was over 95 or so.
I have never had that problem. In the past, if I poured water into my body, it would keep pounding along.
Suddenly, I was cramping from my toes to my fingers.
Not fun!
My blood pressure had, always been a bit strange, but started getting stranger.
My systolic would be high, and my diastolic would be low: 170 over 40, for example.
A couple of rounds of blood pressure medicine did not do much to help.
There were also a couple of nights that I woke up feeling very strange in my chest. The symptoms tracked along with a heart attack of very mild proportions – I'm sure the real thing would have sent me screaming to a doctor.
Anyway, I took myself to a cardiologist, and he diagnosed the bad bicuspid valve. That was last April.
The real story started then.
I was informed that my options were replacement with a mechanical valve or replacement with a tissue valve.
Neither option suited me.
The mechanical valve lasts a lifetime but requires a lifetime prescription of an anticoagulant called Coumadin – it's the same stuff that makes rat poison poisonous. No kidding.
The stuff keeps blood clots from forming – something that you are prone to when you have mechanical valve clicking away in your chest. It also keeps your blood from clotting when you cut your finger, get kicked by a horse, or have a car wreck.
The doctors said I would only have to quit doing about 80 percent of the things I like doing. No thanks.
The tissue valves are made of cured animal valves – and usually do not require the anticoagulant.
But, the tissue valves wear out. The docs said 10 to 15 years most likely. I'm 42. I did the math and did not like that outcome either.
So I started researching and found information about a procedure that "fixed" the valve rather than replacing it. Three separate and reputable cardiologists told me this was not possible for the aortic valve.
I did not like their answers and kept tracking down cardiologists and surgeons. Four months and a bunch of doctors later, I found one who said if he were in my shoes, he would not go to a facility that did NOT offer the fix. I had found my doctor.
His name is Charles Fraser, and he is the Chief of Congenital Heart Surgery at Texas Children's Hospital in Houston.
And get this: he is a West Texas boy with ties west of Odessa.
Small world.
So, after numerous tests and assorted medical fun, I was pronounced a good candidate for the fix, and April 3rd was set as the date to split me open.
And last week I caught a wee little chest cold.
I figured that as long as I was clear the day of, all would be okay.
Wrong.
Since I'm not in any danger of dropping dead from this thing, no chances are being taken, and that means they want me clear of chest infections for three weeks prior to the dance.
So, the day before we were to leave for Houston, we found out we were rained out till May.
The real story to me, however, is that you really are responsible for yourself and your medical treatment. I believe every doctor I have seen and/or talked to in the past year (at least 11) were competent professionals.
But if I had not found the information on fixing the valve in the first place, and then refused to accept "no" for an answer, I would probably be having a tissue valve installed.
Instead, I talked to a twelfth doctor, and now I'm going a route that I think is better for me.
And it is no wonder that most of the cardiologists and surgeons I conferred with did not know about the fix – most people with my problem are not candidates for a fix. Either their valve is too deformed, or it is too late in life and the valve is too stiff from age and disease for the fix to work.
And maybe it will not work on me. There is still the possibility that I will roll out with a new and improved valve in place.
I can handle that. But I would be highly miffed if I had accepted the status quo and later found out that there might have been a better route.
And it would have been my fault for sitting like a bump on a log instead of actively pursuing multiple opinions.
As an aside, I have to admit I have been humbled by the number of people who have promised to keep me in their prayers – especially the ones I do not owe money to. <!==========end copy==================>
---
Pecos Enterprise
York M. "Smokey" Briggs, Publisher
324 S. Cedar St., Pecos, TX 79772
Phone 432-445-5475, FAX 432-445-4321
e-mail news@pecos.net
Associated Press text, photo, graphic, audio and/or video material shall not be published, broadcast, rewritten for broadcast or publication or redistributed directly or indirectly in any medium.
Copyright 2003-04 by Pecos Enterprise
---