|
Weekly Newspaper and Travel Guide
for Pecos Country of West Texas
Opinion
Friday, March 14, 2008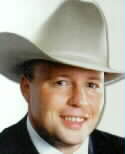 Sage Views
By Smokey Briggs
<!=====paste copy here==========================>
For ladies
only
So, a few weeks back I was visiting a good friend in Amarillo for some much needed R&R at the rifle range, hunting some of God's tastier creations and hanging out at the gun show.
Although I managed to pack plenty of firearms and ammunition, I managed to forget my toothbrush. Go figure.
So, sometime Saturday I found myself in a big-box of a store, standing in the checkout line with a pack of toothbrushes in my hand.
As I waited, I did what most of us do – I read the headlines and teasers on the checkout-line magazines.
A few minutes later my buddy Jeff joined me in line.
"What ya' reading?" he asked.
I flipped up the cover of the magazine in my hands to reveal the title, "Cosmopolitan."
Jeff turned a bit pale, and his eyes jerked around.
"Put that back," he said in a stage whisper that could be heard four lines over.
I subtly pointed to one of the headlines that read, "21 Naughty Sex Tips," then flipped backed into the magazine looking for same.
I couldn't find the advertised 21 tips before it was my turn to pay for my toothbrushes.
Being a man, I bought the magazine too.
While Jeff drove, I kept searching for the "tips."
In the process, I had to read way too much of the content.
Now, apparently, Cosmopolitan is a whole magazine devoted to advising women about men.
How to catch them, get rid of them, keep them, and probably, how to mentally torture them.
And, for the most part, the information was junk. I have news for you gals — If you read Cosmo looking for help in getting men to do what you want, you are barking up the wrong tree.
Flipping through those pages looking for the 21 Tips told me that the world needs an advice column that will tell women the truth.
Lets take a few examples from this issue of Cosmo and let Dear Smokey set the record straight:
Dear Smokey — "My husband checks out beautiful women when we are in public, and his behavior makes me uncomfortable?" – Insecure in Seattle. Cosmo Answer — Well, you need to inform your partner that his ogling makes you feel less like a woman, and makes you doubt his commitment. If he cares about you, he will stop his rude staring.
Dear Smokey's Answer — What ought to make you uncomfortable is if he does not check out beautiful women (actually all women). First, you should be proud that he is secure enough in his relationship with you to check out other dames. Second, if a really hot chick tramps by, and he does not look, then don't even bother taking his pulse, rush him to the hospital — he is either dead or almost.
Dear Smokey — "My boyfriend dumped me, and I do not know why. How do I get him back?" — Single in Dallas.
Cosmo's Answer — You are probably better off without him. Obviously he is insecure, incapable of commitment and probably has a wandering eye. It certainly could not have been your fault. Dear Smokey's Answer — The answer is obvious; you failed to take care of his basic needs. Men are simple creatures and motivated by two basic instincts or needs. One need is food. So, did he look skinny or malnourished? If not then you were not taking care of need number two.
Next time, spend more time cooking and making yourself pretty for him.
Remember June Cleaver on "Leave it to Beaver"? June is a great role model.
When her husband got home from a hard day at work, she was dressed to the "nines" in high-heels and pearls, and there were pork chops in the oven.
And, you can bet your bottom dollar, by the way, that Ward came home everyday right after work, that June was wearing something slinky and lacy under that "sexy librarian" dress as well.
I call this theory "Smokey's theory of pork chops, pearls and lace for marital happiness."
Greet your man every evening with a hot platter of animal flesh, be dressed really nice, and with that special wink in your eye, and you cannot go wrong.
Or don't, and some other gal who is willing to actually work at a 50-50 relationship will steal your man.
And ladies, that is really all you need to know. Two hundred pages of Cosmo every month will just confuse the issue. From what I read, it was all written by women so clueless that they couldn't hold a man's attention if they were stranded on a desert island with the crew of an aircraft carrier and holding a six-pack.
Worse, that time wasted reading Cosmo is time that could be spent cooking, thinking up a nice new way to rub your man's back or making sure your makeup is presentable.
Oh, and those "21 Naughty Sex Tips"?
I finally found them.
There were lots of words, but not much substance if you asked me.
But, I am a well-evolved, fairly liberal-minded kind of guy so I made a copy, laminated it, and gave it to She-who-must-be-obeyed for an early birthday present, just to let her know I cared.
I mean, a successful marriage is a 50-50 proposition, and a man has to be willing to do his part.
Next question? EDITOR'S NOTE: Smokey Briggs is the editor and publisher of the Pecos Enterprise. He can be emailed at: smokey@pecos.net <!==========end copy==================>
---
Pecos Enterprise
York M. "Smokey" Briggs, Publisher
324 S. Cedar St., Pecos, TX 79772
Phone 432-445-5475, FAX 432-445-4321
e-mail news@pecos.net
Associated Press text, photo, graphic, audio and/or video material shall not be published, broadcast, rewritten for broadcast or publication or redistributed directly or indirectly in any medium.
Copyright 2003-04 by Pecos Enterprise
---