|
Weekly Newspaper and Travel Guide
for Pecos Country of West Texas
Opinion
Friday, August 29, 2008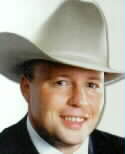 Sage Views
By Smokey Briggs
<!=====paste copy here==========================>
I pick (D) none
of the above
Has there ever been a politician that did not promise change?
Even incumbents, who logically should campaign on maintaining the status quo they established in their last term in office, usually blather on about some kind of change.
This year Barack Hussein Obama, the probable Democrat nominee for president, has done everything but officially change his name to Barack "Change" Obama.
Actually, with a middle name of Hussein, making the switch to "Change" Obama might be a smart move.
His Republican partner in crime, John McCain, is playing the incumbent role, hollering for change, just not the same kind.
And, I can do without either version. What change means to McBama and company is simply new ways to spend your money.
Have you ever noticed that taxes never go down? All across West Texas this year, money is falling in the laps of school districts and counties, as oil and gas revenues surge.
And, I'll bet you a dollar to a doughnut, what your elected officials will tell you is that they need more money anyway.
Most outfits will go with a rollback rate that will still take more money out of your pockets – especially when you consider that your property valuations probably went up – but is not high enough to trigger the right of voters to say "no thanks."
Now, a "no thanks" election is the one I want to vote in. There could be several choices: A) raise my taxes; B) lower my taxes by one half; and C) No thanks. Don't collect any taxes and send the crooks home.
"Government," wrote H.L. Mencken, "is a broker in pillage, and every election is sort of an advance auction sale of stolen goods."
I think Mr. Mencken got it right. That is really what the McBama's are campaigning on.
One McBama is promising to spend your money for this and that, while the other McBama is promising to spend your money for that and this.
This is really all we are voting for – how the money gets spent. It's an interesting contest, where we as voters scramble like piggies in the mud to try and recollect a few of the dollars taken from us.
You can bet your last dollar, if they have not confiscated it prior to the upcoming auction/election, that while McBama is spending your dollars, he won't leave out all the ticks that feed from the public trough beside him.
So, here is an idea: Multiple choice tests usually have an answer: (D) none of the above.
I want that on the ballot.
And if (D) gets the most votes, all the politicians and lobbyist and tax collectors have to go home until the next election.
Then, we can try again.
Maybe after a year with no free money pouring into their troughs, the turkeys would have to have procured gainful employment, and would not be so keen on stealing money from people that work for a living.
Of course, that is not going to happen. Just like no government will ever lower taxes. And, just like, whoever wins, McBama, or O'Cain, nothing will really change. <!==========end copy==================>
---
Pecos Enterprise
York M. "Smokey" Briggs, Publisher
324 S. Cedar St., Pecos, TX 79772
Phone 432-445-5475, FAX 432-445-4321
e-mail news@pecos.net
Associated Press text, photo, graphic, audio and/or video material shall not be published, broadcast, rewritten for broadcast or publication or redistributed directly or indirectly in any medium.
Copyright 2003-04 by Pecos Enterprise
---