|
Weekly Newspaper and Travel Guide
for Pecos Country of West Texas
Opinion
Friday, December 19, 2008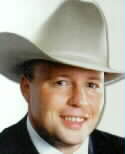 Sage Views
By Smokey Briggs
<!=====paste copy here==========================>
The perfect
last-minute gift
One quick thought and then on to the good stuff: "A person who won't read has no advantage of a person who cannot read."
Now for the rest of this column.
I sat down at my keyboard intent on commenting on a Dec. 16 New York Times article headlined, "Fed Cuts Key Rate to a Record Low."
Tuesday, the Federal Reserve Bank cut its overnight federal funds rate to basically zero interest.
Reading between the lines, the reporter states, "…the Fed bluntly announced that it would print as much money as necessary to revive frozen credit markets…"
My intent today was to hash out with you why this money printing ability of the Fed is so evil. How the root of the problem is the Federal Reserve, and asking the Fed to fix it is akin to asking a Fox to operate an emergency room for wounded chickens.
How the Federal Reserve is the creator of inflation, and economic booms and busts, such as the fun little bubble we are all enjoying right now.
I wrote that column twice.
It was really poor. Sorry.
I did what I usually do when my muse fails me; I turned to my bookshelf for inspiration.
Apparently, my muse is on a weeklong bender and is passed out cold in an alley somewhere, a bottle of cheap scotch clutched in his cold hand.
So, I'm just going to steal something. Actually, I am going to recommend the perfect gift.
Today, more than any other time in my life, the science of economics matters, or should matter, to us common folk.
In general, we leave topics like economics to eggheads at universities, and we stick to topics like covering the bills.
Today, I hope, it is obvious, that doing so is dangerous, at least when it comes to economics.
It was the egghead crowd that led us down this primrose path for the past century, and we are beginning to reap the ugly rewards.
And, I'm sorry, there is no sound bite that can fill you with all you need to know about economics, and so protect yourself from corrupt politicians and bankers and their buddies as they tell you the moon is made of cheese, but the topic is too complicated for you regular people, but if you leave the money matters to them, they will look out for you.
Common sense ought to tell us that such is a fox's argument to a bunch of hens, but sometimes we don't listen to common sense, especially, when the fox has a degree or a government title, or Heaven forbid, both.
So, here is a gift wrapped in common sense, and filled with the basics of economics.
Wait, don't quit reading yet.
This is the best part.
This gift is completely understandable. If you can struggle through any of my weekly columns, I promise you will delight at a chapter of this book.
And, I'll sweeten the deal – save your receipt, and I will buy the copy from you at the purchase price if you think I have led you astray.
(One copy per person family, please). How is that for full proof? How can you lose?
The book is "Economics in One Lesson," by Henry Hazlitt.
Hazlitt combines common sense, outstanding scholarship, and the sharp, easy to read pen of a true writer.
Some of you may remember Hazlitt from his days at The New York Times, the Wall Street Journal, or Newsweek in the 50s and 60s.
The book is 183 pages and costs all of $9.95 for the hardcover.
And, I promise, whether your real interest in life is plumbing, cattle, English literature, auto mechanics or banking, this book will nearly read itself to you.
Having read it, never again will the poor excuse that often passes for reporting or commentary on the national television news leave you scratching your head, and wondering why nothing that fellow said made any sense.
You will know why – because nothing he said made any sense.
That is our biggest problem as a nation today – we have completely surrendered our economic policy to politicians and bankers and eggheads who claim to know all about the complicated science called economics – when the truth of the matter is that economics is not really complicated at all.
But purposefully making it complicated sure puts money in somebody's pot.
Guess whose?
Amazon.com is where I got my copy (and all the ones I'm giving for Christmas presents.)
Merry Christmas folks, and for the New Year, maybe we can all resolve to take a little time to understand just how our fearless leaders are robbing the chicken house in Washington, and leaving us to clean up the blood and feathers. <!==========end copy==================>
---
Pecos Enterprise
York M. "Smokey" Briggs, Publisher
324 S. Cedar St., Pecos, TX 79772
Phone 432-445-5475, FAX 432-445-4321
e-mail news@pecos.net
Associated Press text, photo, graphic, audio and/or video material shall not be published, broadcast, rewritten for broadcast or publication or redistributed directly or indirectly in any medium.
Copyright 2003-04 by Pecos Enterprise
---