|
Weekly Newspaper and Travel Guide
for Pecos Country of West Texas
Opinion
Friday, December 5, 2008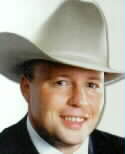 Sage Views
By Smokey Briggs
<!=====paste copy here==========================>
A perfect
Thanksgiving
2008 was quite a year for the West Texas-based clan of the Briggs family.
I had the aortic valve in my heart replaced on May 23. Mom carried Charlie Otis to term, and he hatched on July 25.
Between the two, there was no small amount of stress and worry.
Thanksgiving snuck up on me this year. It has every year since I gave up my professional student status, and started working for a living.
As a student, the Thanksgiving holiday is a pretty good chunk of time off. Not so much as a working stiff.
The weekend before, my old buddy Dave called. We spent Thanksgiving with his family north of Ft. Worth last year.
Dave, wife Kathy, and offspring (Samantha, Sabrina and David) made the trek out west this year.
I have known Dave since he was a freshman and I was sophomore at University of Texas at Arlington. We met in Geology lab. We later served in the same infantry unit in the Guard, and roomed together for a bit, before Dave took off to fly choppers for the Army.
He met Kathy, a fellow chopper jockey, and eventually they put him through law school.
Mine and the wifeís experience is that if we have a friend, and that friend gets married, the friend will marry a human being that you would never pick for them, and with whom you have trouble getting along.
Dave and Kathy broke that rule.
Another rule seems to be that if you actually do manage a friendship with another couple, they will then have children that you are sure were conjured from the Seventh Plain of Hell, rather than created in the normal biological way.
Dave and Kathy broke that rule as well. All three of their kiddos are well behaved, polite, and fun to be around.
Better yet, they match up close enough to our first three.
I did a lot of the cooking for Thanksgiving. As usual, I was late putting the Turkey in, and we ate around 6pm instead of 2 pm.
But, it worked out. Everybody got fed. The food was good. The company was better. The next night, Dave and his oldest Sabrina, and Ruby, our oldest, and myself, went pig hunting.
We did not get a pig, but Ruby and I spent several hours contemplating a magnificent West Texas starscape, and spotlighting several raccoons that came to molest the corn we had set out to lure the pigs.
I am not sure there is any amount of money worth a night hunting with your daughter, she occasionally flashing the spotlight while you peer through the scope of a rifle Ė the rest of the time whispering about stars and life and probably scaring off every pig in three counties.
I was having so much fun for the whole weekend that managed to completely forget I was filling in on the press on Friday for one print job. Luckily Carlos, ever the professional, did not forget, and saved my bacon.
When the weekend was over I realized that I had probably experienced the perfect Thanksgiving, except that more of the good people and family in our lives could not be here.
We had plenty of good food, and plenty of good fun. There was absolutely none of the stress that sometimes infests such events when you mix friends and relatives for a few days.
We all enjoyed each othersí company. And, since mom likes Kathy and vice versa, Dave and I were not in nearly so much trouble as usually follows a visit by an old Army buddy.
In the process, we all took a few minutes to be very thankful for a year filled with so many happy endings. Next year, though, Iím hoping to be thankful for a completely boring year.
EDITOR'S NOTE: Smokey Briggs is the editor and publisher of the Pecos Enterprise. He can be emailed at: smokey@pecos.net <!==========end copy==================>
---
Pecos Enterprise
York M. "Smokey" Briggs, Publisher
324 S. Cedar St., Pecos, TX 79772
Phone 432-445-5475, FAX 432-445-4321
e-mail news@pecos.net
Associated Press text, photo, graphic, audio and/or video material shall not be published, broadcast, rewritten for broadcast or publication or redistributed directly or indirectly in any medium.
Copyright 2003-04 by Pecos Enterprise
---