|
Weekly Newspaper and Travel Guide
for Pecos Country of West Texas
Opinion
Friday, October 17, 2008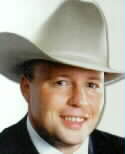 Sage Views
By Smokey Briggs
<!=====paste copy here==========================>
Charlie Brown was a
modern day conservative
I cannot help but feel sorry for my friends who have conservative values, and claim the Republican Party as their own.
After watching John McCain and Barrack Hussein Obama in last night's final debate, my conservative but Republican voting friends have to feel like Charlie Brown or Peanuts fame.
Most of you will probably remember the particular strip I am thinking of.
Every fall Lucy would offer to hold the football so Charlie could kick it. And, every fall, Charlie would accept, even though he knew Lucy was lying. And, every time, Lucy would snatch the ball away at the last minute and Charlie would kick where the ball was and then sail into air yelling, "aaaarrrrgggghhhh….," before slamming to earth on his back.
Every time.
Every year you knew Lucy was going to fool the poor sap. And every year you knew Charlie would fall for it. He really wanted to kick the ball. He really wanted to believe.
My conservative friends who vote Republican have to feel like good old Charlie Brown.
Every election cycle they nominate some dude who claims to be the conservative, or at least a little conservative, and every time they end up with a modern day liberal wearing an elephant button.
Once nominated, whatever conservative tendencies their candidate might have exhibited evaporate like the football in Lucy's hands.
Last night, as McCain answered Hussein Obama's gigantic, government fixes to government-caused problems with his own gigantic, government fixes to government-caused problems, you could almost hear Republican-voting conservatives screaming,
"Aaaaarrrrrrggggghhhhhh…," as they flew threw they air.
Of course, after three decades of this, you would think conservative-leaning people would wise up.
EDITOR'S NOTE: Smokey Briggs is the editor and publisher of the Pecos Enterprise. He can be emailed at: smokey@pecos.net <!==========end copy==================>
---
Pecos Enterprise
York M. "Smokey" Briggs, Publisher
324 S. Cedar St., Pecos, TX 79772
Phone 432-445-5475, FAX 432-445-4321
e-mail news@pecos.net
Associated Press text, photo, graphic, audio and/or video material shall not be published, broadcast, rewritten for broadcast or publication or redistributed directly or indirectly in any medium.
Copyright 2003-04 by Pecos Enterprise
---