|
Weekly Newspaper and Travel Guide
for Pecos Country of West Texas
Opinion
Tuesday, October 14, 2008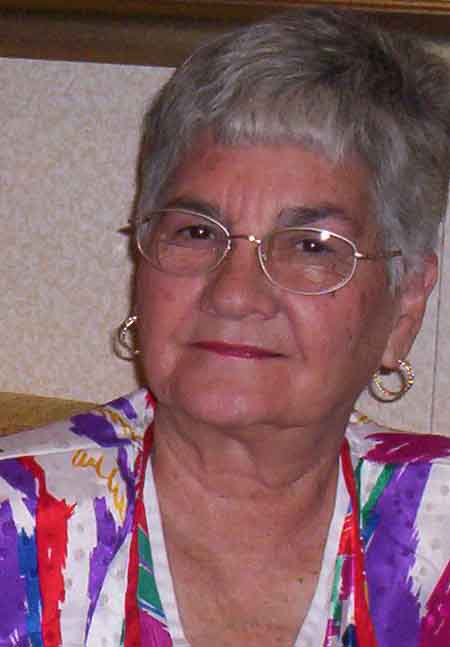 Squarely Pegged
By Peggy McCracken
<!=====paste copy here==========================>
Bazaar booths offer
goodies of all kinds
Flomot will be all abuzz Nov. 8 when the Do-Gooders Club hosts the Fall Bazaar.
Vendors from all over descend on that little skeleton of a town, offering homemade goodies, crafts, needlework, woodwork, trinkets and everything in between.
It is the closest thing to the Halloween Carnival we used to stage every year in the grand old gym.
I recall one year when our 8th-grade class manned a booth. I'm not sure what we sold, but it may have been kisses – the real kind. Would we have been allowed to do that at Flomot? I doubt it.
Whatever it was, we cut black and orange crepe paper into strips and hung it on 2x4s to form walls of a sort. Joan Turner captained the decorating crew. Frances Jones and I did what she told us. The boys were probably out playing football or something. Nothing has changed; the women still do the work while the guys man the remote.
Flomot was a hustling, bustling little place in the Fall, and not just on Saturday. Farm folks do their shopping on Saturday, but in Flomot, farmers take their cotton to the gin any day of the week. That's when they would stop by Harrison George's grocery store to stock the pantry, pick out chicken feed in a flowered sack that will make a blouse or skirt, throw in a sack of cottonseed meal or cake for the cows and a sack of shorts for the pigs.
Mama sent her surplus eggs to the store to trade for cash, something that was scarce at our house. She kept the few dollars in a can up in the cabinet and doled it out when one of the five offspring needed school supplies or something that Harrison didn't sell on credit.
My sister, Mary, worked at Harrison's one Fall, wheezing with asthma triggered by smoke from the two gins. She had to delay entering college at Canyon to earn enough to supplement the college scholarship she received by finishing first in her class. Mary decided when she was in the first grade that she would be a teacher, and she never turned back. She graduated at 19 with a major in education and enjoyed a long teaching career while raising five children.
Five is a good number, I think. Back in those days, we could get a five-stick pack of gum for 5 cents and had no problem figuring out how to share it. A peanut patty was also 5 cents. If we could afford only one, we would break it up. But most of the time Daddy would get us one apiece. Oh what joy!
Mary said she got a hamburger for 5 cents, too. That is hard for me to imagine. By the time I was rich enough to buy a hamburger, they were 20 cents, the same price as a pack of cigarettes.
Money for cigarettes was hard to come by. We smoked bark off the cedar fence posts most of the time. It worked much better than coffee or dried leaves off the cotton stalks. I snitched some of Daddy's Bull Durham occasionally and rolled my own. If you've ever tried it, you know that Bull Durham is dry and flaky, making it hard to corral into a little piece of tissue paper and roll it into a cylinder. You get some in your mouth when you take a puff, too. I thought smoking cigarettes made me look tough. Especially when I raked a "strike anywhere" match across my teeth or the seat of my Levi's to light it.
Mama's snuff was so nasty looking that I had no desire to put it in my mouth. I think I did take a taste once, but quickly spit it out.
Like the little swig of whiskey I took from a discarded bottle I found by the bridge at the western edge of Flomot one night. Cousin Betty Jo and I had slipped off from the farm and walked to town just on a lark. That awful taste should have deterred me from drinking forever.
I don't think there will be any hard liquor at the Fall Bazaar. Maybe some apple cider. If I'm in the neighborhood, I may drop in for a sip.
"He brought me out into a spacious place; he rescued me because he delighted in me." Psalm 18:19, NIV
EDITOR'S NOTE: Peggy McCracken is Enterprise columnist and feature writer. Contact her at HYPERLINK "mailto:peg2@pecos.net" peg2@pecos.net <!==========end copy==================>
---
Pecos Enterprise
York M. "Smokey" Briggs, Publisher
324 S. Cedar St., Pecos, TX 79772
Phone 432-445-5475, FAX 432-445-4321
e-mail news@pecos.net
Associated Press text, photo, graphic, audio and/or video material shall not be published, broadcast, rewritten for broadcast or publication or redistributed directly or indirectly in any medium.
Copyright 2003-04 by Pecos Enterprise
---