|
Weekly Newspaper and Travel Guide
for Pecos Country of West Texas
Opinion
Friday, October 10, 2008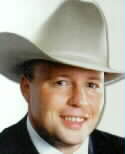 Sage Views
By Smokey Briggs
<!=====paste copy here==========================>
$17.3 million in bonds?
I would vote no.
Reeves County, how far into debt do you want to be?
This coming election your County Commissioners and County Judge have three proposals on the ballot asking you to bite off $17.3 million in debt, plus interest.
Strictly on principal, I would vote no on all three. Raiding your neighbor's wallet at gunpoint to fund your pet project is wrong – no matter how worthy the project.
But, just for argument, let's say I do not mind stealing from my neighbor to pay for things I like. Again, strictly on principal, I would vote no, because if the government is spending your money, you know it is doing so inefficiently, and probably with plenty of money passing under the table one way or another. You know that customer satisfaction, your satisfaction, will rate at the bottom of the list when all the money is spent.
Still, under the present system, stealing money from our neighbors to fund inefficient government run projects is the way we do business, so here are the three proposals:
Proposition One asks you to go $12.4 million into debt. Some of the money will be used to build a new sports complex with new ball fields. Some of the money is slated to up the current golf course to 18 holes, improve the driving range, build a new pro shop and cart storage facility, and build a covered pavilion for outdoor functions.
The rest of the money is slated for improvements to the new Balmorhea community center and building a "Splash and Fun park" on the North Side.
Twelve million dollars for a place to play softball, add a couple of holes to the golf course, pave a parking lot in Balmorhea and build a swimming pool is nuts.
The last time I checked you needed about an acre of land, a backstop and four bases to play baseball or softball. The rest might be nice, but is not necessary, and certainly not worth this much debt.
The golf course?
If golfers want more holes they can pitch in and build them.
Why should golfers play their game at taxpayer expense?
As for Balmorhea, I'm betting the county road crew can pave that lot without a million dollar loan.
And the splash park?
If this were a good idea a business would be putting one in. What you are going to get is a second rate swimming pool with a couple of slides run by county employees unwilling or unable to keep good order.
None of these projects is worth putting the citizens of Reeves County on the hook for $12.4 million.
Proposition Two asks for $4.4 million to build a new library.
If I did not mind robbing my fellow man to pay for my reading addiction I would be voting yes for this one – just because I sincerely believe that knowledge is the key to life, and the knowledge of the world is packed into books.
A library puts that knowledge at the fingertips of every citizen in the county.
Of the three propositions, this is the only one with any merit.
Proposition Three is the least costly of the proposals. It only asks for $500,000 for "buildings for offices, storage and other public business."
I would vote no again. Public officials are always long on needing new stuff, and always short of making do with what they already have.
I'll bet that if this bond does not pass, the courthouse doors will remain open, and county offices will still be open, except during your lunch hour when you actually have time to take off from work and take care of business. Then, of course, the doors will be closed for lunch.
There is a rumor being circulated that these projects will not cause your taxes to go up.
This is not true. The truth of the matter is that while the tax rate may be lowered, the valuations of property are going up – and the end result is more taxes being paid.
Of course taxes will go up to pay for a $12 million loan. Only the Federal government can conjure money from thin air.
One last thing: if people care about a sport or activity, they can and will do what needs to be done. If people do not care, no amount of tax money will create anything of worth.
I can attest to this from personal experience.
Several years ago the Pecos Rifle Club, of which I am the president, lost the use of the range near the golf course – a range it had used since the 1950s.
The club, never numbering more than 10 or 12 members in the past years, gathered its resources, raised funds, and worked liked field hands to buy land, and build a new range. That range is now the only facility between Ft. Worth and El Paso that can host regulation Service Rifle and High Power matches.
No taxes, just sweat and commitment. That is how baseball fields, golf courses, libraries, swimming pools, rifle ranges, and community centers ought to be built – by the people that care about them and want them, without forced support from those who do not.
EDITOR'S NOTE: Smokey Briggs is the editor and publisher of the Pecos Enterprise. He can be emailed at: smokey@pecos.net <!==========end copy==================>
---
Pecos Enterprise
York M. "Smokey" Briggs, Publisher
324 S. Cedar St., Pecos, TX 79772
Phone 432-445-5475, FAX 432-445-4321
e-mail news@pecos.net
Associated Press text, photo, graphic, audio and/or video material shall not be published, broadcast, rewritten for broadcast or publication or redistributed directly or indirectly in any medium.
Copyright 2003-04 by Pecos Enterprise
---