NEWS PAGES

Obituaries
Archive
Photos

ADVERTISING
Commerce
Classified
Economic Development
TRAVEL
Area Papers
West Texas
STAFF
Smokey Briggs
Jon Fulbright
Peggy McCracken
Rosie Flores

LINKS
Other Sites
|
Weekly Newspaper and Travel Guide
for Pecos Country of West Texas
Opinion
Friday, October 03, 2008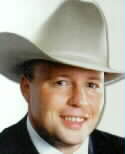 Sage Views
By Smokey Briggs
<!=====paste copy here==========================>
Pecos exes reach out
to touch old friends
I thought you might like to read some of the postings on Pecos Gab, even though they are old. Here is a sampling of the latest postings. From: mcmahan.jason@yahoo.com Subject: Where's my class of 84 Date: August 8, 2008 11:53:57 PM CDT Hey you ex Pecos'ites. What are we doing, not letting everyone know what we're doing or where we are. Don't be strangers. I'm in Midland still, drilling for a local drilling company. How is everyone. Let's update this thing and try to keep in touch. Miss ya'll and would love to hear from ya soon. Email me when you can at mcmahan.jason@yahoo.com. Take care and hope you're doing well. God bless! 84 still rules. Bet that.
From: robbiedoug463@gmail.com Subject: Looking for old friends Date: July 4, 2008 12:28:39 PM CDT I am looking for some old friends that used to live in Pecos - they may still be there. In the summers of 1947-48, my school teacher parents were attending summer school at Sul Ross College and we lived in some housing that had once been an Army Air Force base between Alpine and Marfa. Two of my closest friends were Bill and Shirley Kell(e)y. Their parents were also school teachers. Bill is probably 2-3 years older than me and Shirley should be about my same age (72). She should remember me since I was the one who pushed her off the railroad trestle, resulting in her breaking her arm. I am planning on traveling through Pecos around September 8-9, on my way to Colorado, and would like to contact one or both of them, if possible. Your assistance in this endeavor would be appreciated. Bob Wood Cuero, TX
From: LVasqu9@aol.com Subject: Hi there Date: June 24, 2008 11:03:50 AM CDT First of all I want to thank the Pecos Gab. My name is Luz (Vasquez) Rodriguez. Looking for old friends. From Pecos. I now live in Irving, Texas. Hey Alex Vasquez where are you? Look to hear from you luz vasquez.
From: jhutcheson@peoplesbanktexas.com Subject: Elizabeth Black Bingham's Birthday Date: April 7, 2008 2:43:40 PM CDT Elizabeth Bingham, who grew up in Barstow and was a resident of Pecos for over 50 years, will celebrate her 90th birthday on April 16th, 2008. Her family will celebrate with her in Abilene, Texas where she resides with her husband A.W. (Bill) Bingham (94). If you would like to help her celebrate with a card shower please send a card in care of her daughter, Nancy Lemons, 2234 Barrow, Abilene, Texas 79605. I know she would love to hear from her many friends in Pecos and Barstow. Thank you, Judi Bingham Hutcheson
From: gail.ms@sbcglobal.net Subject: Class of 1986 Date: April 1, 2008 5:35:53 PM CDT Hi, my name is Guill Gabaldon hopefully there's someone out there that remembers me from our class of 1986. I would like to get in touch with some of my old friends from school. Please send email to gail.ms@sbcglobal.net or gail.gabaldon@mkcorp.com. So we can catch up. Thanks a lot. There you have it. We'd like to hear from more of you, either online at HYPERLINK "http://www.pecos.net/news/daily/pecosgab.htm" www.pecos.net/news/daily/pecosgab.htm or by letter at PO Box 15. "May your unfailing love rest upon us, O Lord, even as we put our hope in you." Psalm 33:22, NIV
EDITOR'S NOTE: Peggy McCracken is Enterprise columnist and feature writer. Contact her at HYPERLINK "mailto:peg2@pecos.net" peg2@pecos.net <!==========end copy==================>
---
Pecos Enterprise
York M. "Smokey" Briggs, Publisher
324 S. Cedar St., Pecos, TX 79772
Phone 432-445-5475, FAX 432-445-4321
e-mail news@pecos.net
Associated Press text, photo, graphic, audio and/or video material shall not be published, broadcast, rewritten for broadcast or publication or redistributed directly or indirectly in any medium.
Copyright 2003-04 by Pecos Enterprise
---