|
Weekly Newspaper and Travel Guide
for Pecos Country of West Texas
Opinion
Friday, September 19, 2008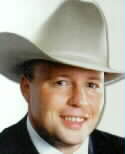 Sage Views
By Smokey Briggs
<!=====paste copy here==========================>
Baby acne, a
husband's best friend
I make no claims to perfection.
Well, not many, and fewer still that anyone pays heed to.
I do strive to be pretty good, or at least not all that bad.
This column is probably proof that I occasionally come up lacking in the good husband department. I have no doubt that She-who-must-be-obeyed will clip these very words and mail them to her divorce attorney, Marshall Davis Brown.
Now, we are not getting divorced, but the rascal offered to represent her a long time back, and now-a-days she refers to him as, "My divorce lawyer, Mr. Brown…" I always know I am treading in the darkest swamps of marital discord when his name is mentioned.
If he ever gets the call my only hope is to make sure at least one married man is on the jury.
My latest adventure in marital bliss began a few weeks after the birth of Charlie Otis, our fourth bundle of joy, and our first of the male gender.
Now, everybody knows that women are a bit temperamental when they are expecting.
Even I know this.
But, and I think I have made this mistake after the birth of each of our children, I forget that childbirth does not magically drain the seething mixture of chemicals and hormones that leaves pregnant women gripping butcher knives and crying, and the husbands of pregnant women hiding in the tool shed. So, a week after the birth of Charlie, I was fully recovered from the strain of childbirth, and back to my old self.
Unfortunately for me, not everyone in the house bounces back so quick.
The other day, I dragged in after a tough day at the salt mine and SWMBO was holding Charlie.
It was a beautiful picture – mother and child.
Well, it was almost beautiful – except for the baby acne on Charlie's face. The poor kid looked like a teenager living on a straight diet of cokes and Hershey bars.
After kissing the boss I asked her, "Did the doctor have anything to say about that rash on his face?"
SWMBO replied that, indeed, the baby doctor told her Charlie's acne was not unusual, especially for boy babies, and was related to the level of hormones in her body, some of which he was ingesting when he nursed.
Sometimes my mouth outpaces my brain, or maybe it is the other way around.
"Wow," I said out loud. "Now I can just take a look at Charlie when I come home and know what kind of evening I'm going to have."
"This is better than having a canary in a coal mine!"
Apparently, and the red blush on Charlie's face should have been a warning, my words of wisdom were not well timed.
Lucky for me, Mr. Brown was not answering his phone and there were no sharp objects within reach.
Best yet, ever since, I can sneak into the house after work, and peak at young Charlie.
If the kid's face is red I whisper, "Good luck kid," and sneak back out.
This works so well, I am thinking there are commercial applications. I am pretty sure the technical aspects can be overcome. I just haven't figured out how husbands could secretly place the indicator so that their wives would not see it.
Any of you folks figure it out, give me a call. We could make a mint.
EDITOR'S NOTE: Smokey Briggs is the editor and publisher of the Pecos Enterprise. He can be emailed at: smokey@pecos.net <!==========end copy==================>
---
Pecos Enterprise
York M. "Smokey" Briggs, Publisher
324 S. Cedar St., Pecos, TX 79772
Phone 432-445-5475, FAX 432-445-4321
e-mail news@pecos.net
Associated Press text, photo, graphic, audio and/or video material shall not be published, broadcast, rewritten for broadcast or publication or redistributed directly or indirectly in any medium.
Copyright 2003-04 by Pecos Enterprise
---