|
Weekly Newspaper and Travel Guide
for Pecos Country of West Texas
Opinion
Tuesday, September 16, 2008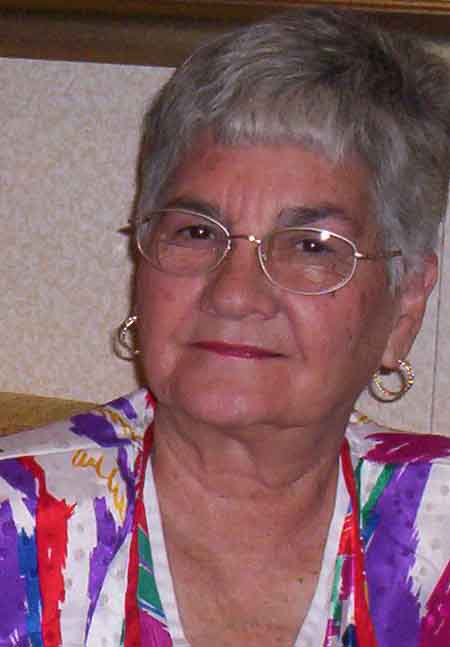 Squarely Pegged
By Peggy McCracken
<!=====paste copy here==========================>
Wet lines block
internet access
Water, water everywhere, and not a line untouched.
If you have the old lead telephone lines, you know what I mean. Let it rain a little bit, and water gets into cracks in the lines to cut off telephone service.
Last week, I was talking to my granddaughter in St. Louis when I heard a crackle, and the line went dead. I hung up and waited for her to call back, but she didn't. Then I checked to see if the line was still open, and it was. When I dialed it with my cell phone, I got a busy signal—all that day and the next.
It's fairly easy these days to report a problem, so, again using my cell phone, I dialed the repair service number and started punching buttons. "If you want to report a problem, press 1." "If you have no dial tone, press 1," and on and on. You know the drill.
Finally, the recorded voice tells me my problem has been reported, and it should be fixed by noon the next day.
The next morning, Peggy Lynn notices a Windstream truck in the alley, fixing the Workmans' phone next door. She goes out and asks if they have a work order for our phone, and they don't. But they did fix it. Hallelujah! We are back in touch with the world.
Now I am wondering what would have happened if I had subscribed to Windstream's broadband Internet service, as planned. Would the rain have interrupted that too? It didn't bother my cable, so I am leaning toward keeping it if I ever get the email problem straightened out.
I need something that weather doesn't affect, because our wireless at the office goes down regularly in high winds, rain, hail, heavy clouds, you name it. Last Monday I had to go back home to copy a feature and photo I had done over the weekend and bring it to Jon Fulbright on a thumb disk, because we couldn't access email or the Associated Press. While I was there, I got an Associated Press story on the Dallas Cowboy vs. Cleveland Browns game, the weather forecast and another area story that never saw print.
A few times, I have taken pages home to submit to our printer in Monahans or to the web site. It is nice that Pecos has at least four options for Internet access. We feel dead in the water when we can't reach out to the rest of the world.
It would be nice to have all four options at the office, but alas, advertising revenue does not allow for such luxuries. Despite the problem with my personal email on cable, I have been pleased with its stability. The email foul-up has just about eaten my lunch.
It started when my stored emails disappeared, along with the address book. My computer became unstable, and I was surprised to learn the hard disk was almost full. If I had been virus-savvy, I would have realized a virus had gotten by my Norton anti-virus program and was replicating itself to fill up the disk.
Then I noticed that my email account with Cebridge was sending out spam with my return address. I reported the problem by email and got a silly automated reply. Then my own email messages were arriving at their destination with someone else's name in the return address slot.
I talked twice with tech support and got no help at all. One day while searching for something I clicked on the "settings" link and found the other guy's email address entered there for my return address. No wonder!!
Then when I went to "profile," I found still another guy's name instead of mine as the owner of the account. Why the two tech support people didn't see that, I don't know.
Another problem was that email from people I know was being blocked. It didn't go into the spam folder, but apparently was shunted off into the electricity. I found a setting that claimed it would put spam into a folder where I could see it. Then I entered all the addresses I wanted to receive mail from into the address book. Apparently that worked, because I am hearing from people that I had been missing, and some spam has appeared in the folder.
I should mention here that I am working with a new Mac computer, since I am afraid to send out anything from the old laptop that is infected with a virus. I am having to learn how to operate a Mac and all its unfamiliar programs. Yesterday I found a program that operates a built-in camera to take my own photo. But that's another story.
"Great are the works of the Lord; they are pondered by all who delight in them." Psalm 111:2, NIV
EDITOR'S NOTE: Peggy McCracken is Enterprise columnist and feature writer. Contact her at HYPERLINK "mailto:peg2@pecos.net" peg2@pecos.net <!==========end copy==================>
---
Pecos Enterprise
York M. "Smokey" Briggs, Publisher
324 S. Cedar St., Pecos, TX 79772
Phone 432-445-5475, FAX 432-445-4321
e-mail news@pecos.net
Associated Press text, photo, graphic, audio and/or video material shall not be published, broadcast, rewritten for broadcast or publication or redistributed directly or indirectly in any medium.
Copyright 2003-04 by Pecos Enterprise
---