|
Weekly Newspaper and Travel Guide
for Pecos Country of West Texas
Opinion
Tuesday, September 9, 2008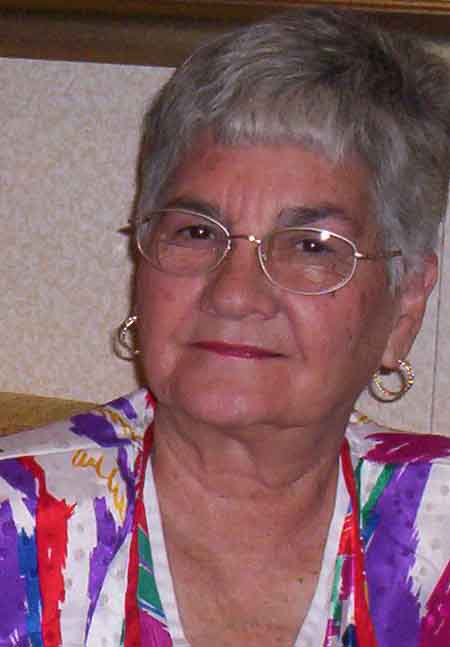 Squarely Pegged
By Peggy McCracken
<!=====paste copy here==========================>
Poolside party fetes
-year-old beauty
Ninety years is a long time to live. Not many of us will reach that lofty number, but Birdie Slack has done it, and in grand style. Along the way, she has made hundreds of friends, many of whom congratulated her at a poolside party at Gail's house Saturday night.
Gail, her daughter, sons Ken and Young, their spouses, grandkids, nieces and others served goodies from the cook shack.
As always, I enjoyed visiting old acquaintances and making new ones. I wouldn't dare try to list them all, but a a few stand out.
Cora Moody is one of the standouts. She was in a wheelchair, but cheerful and beautiful as ever. I think she may have passed that magic 90 herself. I know Dick Slack has.
Ruth Rogers stayed just long enough to say hello and goodbye. She was leaving when Peggy Lynn and I arrived, saying she didn't feel well.
Birdie had been under the weather earlier in the week, and wasn't sure she would feel up to partying. I noticed she was still receiving kudos and cards as we left after about 1 1/2 hours. It wouldn't surprise me to learn she jumped in the pool for a relaxing swim after everyone left.
I did a little table hopping before settling down to enjoy the barbecue and buns, stuffed jalapenos, shrimp, fruits, vegetables and condiments. Charlie and Rose Mitchell, Dr. Bang, Betty Lee, Margie Williamson, Jim and Jeanenne Ivy, Jimmy Johnson, Mike and Dixie Burkholder Cathy and J.E. Travland and Bobbie Lattner caught my attention early on.
Bobbie's son, Tip Chesney, had to tell me his name because it has been so long since I saw him. Believe it or not, he moved back to Pecos for its technology. He teaches classes through the Internet and needs a broadband connection, which he didn't have in his beloved mountain retreat near Fort Davis.
Bud and Lois Nelson had a table with two empty chairs, so we stopped by to say hello and to learn about his recent hospital stays. Chest pains caused an overnight stay in Reeves County, then he went to Odessa for an angiogram. Everything checked out fine, and he is still wondering what caused the pain. Maybe pushing and tugging on a balky hangar door at the airport?
After we got our food, VaLera Gatewood gave me her chair at a large table with Jack and Willie Hamilton and Woody and Donna Woodard. Woody will preach and play music at my church next Sunday while pastor Rey Carreon is out of town on business. Woody loves to preach, and fills in at North Temple every-other Sunday.
Donna is getting ready for the annual garage sale at the Senior Center. We will have some good junk to donate.
Dirk Torsey was the surprise of the night. He moved to Odessa after retiring from Southern Union Gas Co., and I hadn't seen him in years. He was with his brother and sister-in-law, who still live here.
Doug and Emily Fernandes are familiar faces at any local gathering worth its salt, and we howdied them.
Judge Walter Holcombe and Sharon, Steve Balog and Jamie, Steve Armstrong (and a bunch of other Armstrongs I recognize by family resemblance but can't name) seemed to be enjoying the cool breeze as they shot the breeze.
Reita Prewit was with her mother, Cora Moody. It's always a pleasure to see her sweet smile. Brent and Tracy Shaw were among those I recognized.
Many faces looked familiar, others I had never seen before, and some were just hazy memories with no name to go with them. If I had introduced myself, I probably would have forgotten their names by the time I got home.
It was a grand party, and I hope Birdie will have many more birthdays and celebrations. And that she invites me. I am honored to be numbered among her many friends.
"He giveth grace unto the lowly." Proverbs 3:34b, KJV
EDITOR'S NOTE: Peggy McCracken is Enterprise columnist and feature writer. Contact her at peg2@pecos.ne <!==========end copy==================>
---
Pecos Enterprise
York M. "Smokey" Briggs, Publisher
324 S. Cedar St., Pecos, TX 79772
Phone 432-445-5475, FAX 432-445-4321
e-mail news@pecos.net
Associated Press text, photo, graphic, audio and/or video material shall not be published, broadcast, rewritten for broadcast or publication or redistributed directly or indirectly in any medium.
Copyright 2003-04 by Pecos Enterprise
---