|
Weekly Newspaper and Travel Guide
for Pecos Country of West Texas
Opinion
Tuesday, June 24, 2008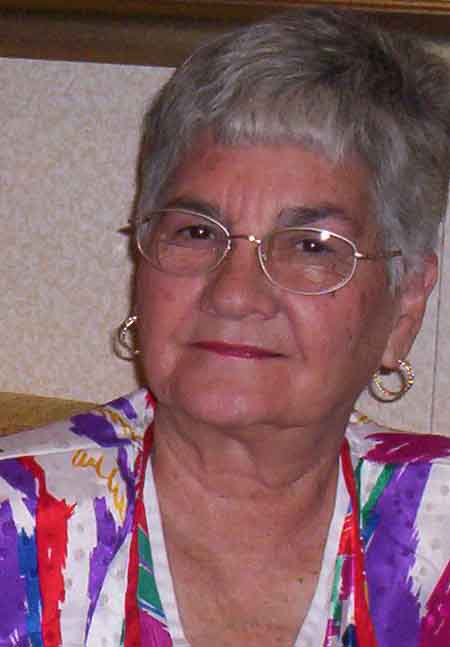 Squarely Pegged
By Peggy McCracken
<!=====paste copy here==========================>
Beauty from within
lights Pecos jewel
Birdie Slack should be back from Dallas by the time you read this. She left Friday for a weekend visit with her son, Ken, and his wife, Betsy (Bickley).
While swimming with her last week in the family pool, I noticed a sign over the pool house that memorializes "Old Spot," a lead steer used in the ranching business by her father, Young Bell.
That sent me back to Alton Hughes' books on Pecos history, where I found a picture of Birdie at the Boulder Courts swimming pool back in her heyday. She and a group of other beauties were lined up for judging in a bathing beauty contest.
"I didn't win," she said when I mentioned the photo.
She could have, though. She was beautiful then, and she is beautiful now, just one year shy of her 90th birthday. Part of her beauty comes from within, because she is a terrific person.
I knew Birdie's older sister, Jessie Allen, long before I ever heard of Birdie Slack. Jessie's husband, Henry Allen, managed the airbase apartments when Leon and I moved to Pecos in 1953.
Pecos agriculture was booming, and housing was in short supply. Leon's boss, Bob Bickley, was on the Pecos Housing Authority board, and he asked Henry to find us an apartment. He did, and we lived at the airbase 15 years.
Jessie and Birdie lived next door to each other at Bell Acres, behind the Bell Motel, which their Dad built after selling the Bell Garage. He lived in a third house, where Gail and Hugh Box live now.
Birdie told me that Mr. Bell trained them to manage the Bell Garage, then turned it over to them to run and keep the profits. That business acumen has served her well, as she has made a living from a number of ventures.
Noting the new water tanks installed by Roy Lindsay just east of the Bell Motel storage units, Birdie said, "I could have done that if I'd thought of it," of Lindsay's oilfield water-supply business.
It doesn't matter that Birdie is long since past retirement age, she is always ready to take on a new challenge. You can bet she'll be in her box at the rodeo on opening night, surrounded by friends she has invited.
"She's a Pecos jewel," said a friend who has enjoyed Birdie's hospitality, whether sharing a meal around her kitchen table or gathered at the pool for a swim or outdoor cookout.
It's been my privilege to sit around that table and swim in that pool over the past few years. Birdie and her family sort of adopted me after I was diagnosed with cancer, and their prayers have helped keep me healthy and free of pain.
Someday she will be remembered at least as fondly as "Old Spot."
"A righteous (woman) will be remembered forever." Psalm 112:6b, NIV
EDITOR'S NOTE: Peggy McCracken is Enterprise columnist and feature writer. Contact her at HYPERLINK "mailto:peg2@pecos.net" peg2@pecos.net <!==========end copy==================>
---
Pecos Enterprise
York M. "Smokey" Briggs, Publisher
324 S. Cedar St., Pecos, TX 79772
Phone 432-445-5475, FAX 432-445-4321
e-mail news@pecos.net
Associated Press text, photo, graphic, audio and/or video material shall not be published, broadcast, rewritten for broadcast or publication or redistributed directly or indirectly in any medium.
Copyright 2003-04 by Pecos Enterprise
---