|
Weekly Newspaper and Travel Guide
for Pecos Country of West Texas
Opinion
Friday, June 20, 2008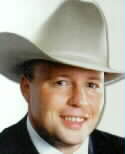 Sage Views
By Smokey Briggs
<!=====paste copy here==========================>
Getting better and
a few things learned
Well, I have been under a rock for the past week so Iím going to pass off an update on me as my column.
Today (Thursday) marks four weeks since the heart doc in Houston cut my sternum in half and replaced my aortic heart valve.
It still does not seem real. Not really. Only the long, red scar on my chest brings home the fact that some folks had their hands inside my heart.
My recovery has been good Ė much better than I anticipated. Iím walking a lot and working towards full range of motion in my arms.
Sneezing is still the pits. I go to great lengths not to sneeze.
The first three weeks after the surgery I rarely slept more than an hour or two at a time.
A few days ago that changed. I guess my ribs are healing up enough that every movement does not cause pain. So, for the past few days Iíve been hibernating and catching up on my sleep.
I have learned a few things, or at least confirmed a few things, in the past few weeks.
One thing I have confirmed is that you owe it to yourself to maintain a level of physical fitness.
The difference I saw in the hospital between the couch-potato crowd, and the more active folks, was stark. The active folks recovered much faster.
I have always plodded along to maintain some level of fitness. I plan to keep doing so, and maybe steal a bit more time.
From what I have seen, finding the time is the hard part for most of us. I plan to find it.
The other thing I have learned is that I am truly blessed in all the areas that matter.
My grandmother used to say that if you could count your true friends on one hand when you died you were a lucky person.
She also used to say something about finding out who your real friends were when life dealt you tough cards.
Well, by Grandmaís accounting, I am an extremely lucky man. I ran out of fingers shortly into this journey.
When I think of the number of folks who have been there for us in the past months I end up with a tight feeling in my throat Ė and feeling very humble.
Iíll try to stay awake enough next week to write about something more interesting. <!==========end copy==================>
---
Pecos Enterprise
York M. "Smokey" Briggs, Publisher
324 S. Cedar St., Pecos, TX 79772
Phone 432-445-5475, FAX 432-445-4321
e-mail news@pecos.net
Associated Press text, photo, graphic, audio and/or video material shall not be published, broadcast, rewritten for broadcast or publication or redistributed directly or indirectly in any medium.
Copyright 2003-04 by Pecos Enterprise
---