|
Weekly Newspaper and Travel Guide
for Pecos Country of West Texas
Opinion
Friday, June 6, 2008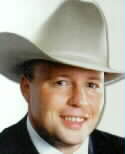 Sage Views
By Smokey Briggs
<!=====paste copy here==========================>
A successful
surgery
Barstow never looked so good as it did Tuesday night driving in from Houston. We were absent two weeks and twelve hours, almost exactly. I have never been apart from my three daughters for that long, and seeing them added a whole new level of happiness to my soul.
As many of you know, I went to Houston to have my aortic valve fixed or replaced. I discovered last year that mine only had two leaflets, instead of the normal three, and a lifetime of inefficient pumping was beginning to affect my heart.
I will not hold you in suspense. The operation was a great success.
I will also spare you all the medical talk Ė but the surgeon said it was very much time to see about the problem Ė the valve was further blown out than originally thought.
I will also confess that I do not feel 100 percent mentally either. Iím not doped up, but the aftereffects of the anesthesia and such leave me feeling a little dull.
We drove down Tuesday, two weeks back, and then spent all day Wednesday completing the preoperative stuff.
Laura and I had a great meal at a Cajun steak house that night, complete with oysters on the half-shell and cold beer, and were back at the hospital before dawn for the main event.
You can mark your progress at a hospital by the number of things sticking in you.
I started with a simple I.V. Not long after that, they wheeled me down a hundred miles of hallway, told mom she had to go, and then a nice fellow in a colorful surgeonís cap told me he was going to slip me a ďmickey.Ē
My next memories are waking up in the intensive care outfit, but before that, someone split my breastbone from stem to stern.
Apparently, me coming out from under Demerol is quite entertaining, unless you are the nurse assigned to dealing with me. I do not remember much, but apparently, Iím not fond of tubes in my throat, or catheters, and I was ďbored,Ē and I kept promising to kill some dude in a white car when I caught him. I do not know what that was about.
A day later, I was in a regular room and three days after that, they told me to go away.
When I did come to my senses, or some of them, it was to find that the number of tubes sticking out of me had grown (and they had already pulled the line sticking in my jugular vein and the tube out of my throat.)
I still had two I.V.ís, a catheter and a drain tube running from my chest cavity out my stomach.
Each day something else came out. The drain tube was the ickiest. I could feel it wiggling out of my body as they tugged a foot of line out of me. Yuck.
Finally, I was down to the one I.V., and it was not hooked to anything. The nurse would just hook it up to a syringe to pump in more painkillers every now and then.
The pain is not bad. The painkillers did the job, and on day 10, I graduated to straight Tylenol.
Coughing or sneezing, on the other hand, is about as much fun as whacking your thumb with a hammer. I have a little pillow to hold to my sternum, that is currently held together like a West Texas fence, but with titanium bailing wire instead of the rusty stuff.
That pillow is my friend.
The next six weeks will be slow as the restrictions are numerous. No driving. No picking up anything that weighs more than five pounds.
After that, itís another six weeks of pretty limited duty.
But, the doc said the new valve was perfect. It turned out that the old valve was beyond repair, but Iím glad I had a surgeon that could have repaired it if possible. As it is, I opted for a tissue valve. My model is a relatively new one that should last 15 years or more.
In the meantime, I should be 100 percent, or, when you think about it, more than 100 percent compared to where Iíve been my whole life.
Being patient the next few weeks will be tough. Like a kid with a new hotrod engine under the hood, Iím ready to try this puppy out and see what it will do. <!==========end copy==================>
---
Pecos Enterprise
York M. "Smokey" Briggs, Publisher
324 S. Cedar St., Pecos, TX 79772
Phone 432-445-5475, FAX 432-445-4321
e-mail news@pecos.net
Associated Press text, photo, graphic, audio and/or video material shall not be published, broadcast, rewritten for broadcast or publication or redistributed directly or indirectly in any medium.
Copyright 2003-04 by Pecos Enterprise
---