|
Weekly Newspaper and Travel Guide
for Pecos Country of West Texas
Opinion
Tuesday, July 15, 2008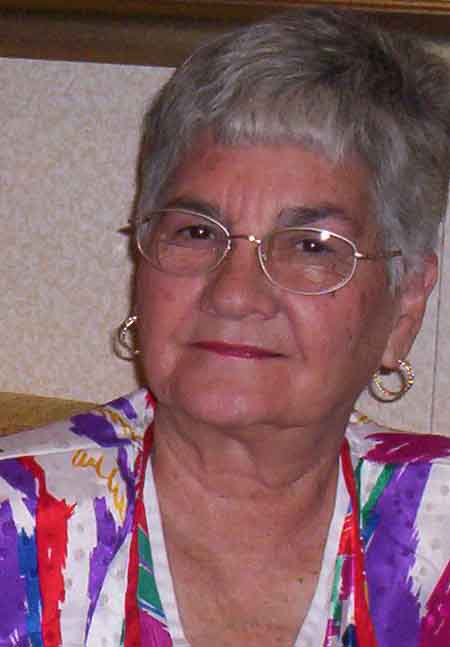 Squarely Pegged
By Peggy McCracken
<!=====paste copy here==========================>
Flomot is the same
every homecoming
Home is where the heart is.
I believe that. And my heart is still in Flomot.
Dozens of Flomot exes gathered at what is left of the old school on July 5 to greet old friends, renew acquaintances and make new friends.
And two dozen of them bought my books!!
One admirer from my teenage years beat me to the homecoming Saturday morning, carrying four books he wanted me to autograph. A farmer, he doesn't even own a computer, so he went to the First National Bank in Quitaque to have them order from amazon.com. I was amazed and pleased that anyone was so interested in reading my pitiful prose.
Charles Tanner's four offspring showed up to meet me and other friends of their Daddy. Charles died just as I was going to press with the first book, and I dedicated it to him. He was my good buddy through high school, and I always looked forward to seeing him at homecoming. His oldest son is just like him, so it was like having Charles himself there. And he wouldn't dance with me either.
Geneva Martin, Charles' eldest sister, came with her walker and her wig. Like me, she has cancer, but is as lively as ever. Or was. After the celebration was over, she fell and broke a hip.
Since I was selling books, I was pretty much tied to one spot all day, but nearly everyone I know well came by to visit. The few times I left to talk to someone or buy food, I came back to find someone waiting for me. So it was a good day, but tiring.
After a program and luscious barbecue supper, my sisters, brother and I closed up shop to head for the dance floor. Walter brought his own dancing partner, but he whirled me around the floor a few times. Mary had a gimp leg and couldn't dance. Gail left early to stay with Myra Nan Whitaker Brown, who has recently had surgery. Her husband, Benny, plays guitar with the Turkey Gems, the house band for the monthly jamboree in the old Gem Theater.
Benny had missed the last jamboree, so Gail offered her help. He not only got to play, but Myra Nan felt well enough to go listen. And Gail got to sing for her fans, as well. She rendered one of her own compositions, "Mama Never Said I Love You."
Back at the McCracken B&B in Quitaque, Gail entertained us with her rendition of "I don't look good naked anymore." What a hoot! She dresses in a housecoat and shower cap, and at the end of the song, she pulls the housecoat open to reveal the image of a slender woman in a bikini. It brings down the house every time she performs at nursing homes and other venues.
On a more serious note, we went to the Flomot Cemetery to place a headstone for our older sister, Peggy Jean Gunn, who was stillborn in 1929. Surprisingly, we found a funeral home headstone with the name "Gene, son of Houston Gunn." We left that one, but covered up the name Gene and son, because Mama told us the baby was a girl. I guess she liked the name Peggy, so she gave it to me too. I hope people don't think that is me in the grave.
I told you last week that I visited with Victor Ashley in Post. Well, I really went there to see his wife, Peggy (Knust). She retired from school teaching last year and took a job as librarian. I stopped to give her copies of my books for her collection, and she seemed glad to get them. I enjoyed my visit with both.
"You CAN go home again," said Waydetta Clay. I say amen to that. Amen and amen.
"How I long for the months gone by, for the days when God watched over me…" Job 29:2, NIV
EDITOR'S NOTE: Peggy McCracken is Enterprise columnist and feature writer. Contact her at HYPERLINK "mailto:peg2@pecos.net" peg2@pecos.net <!==========end copy==================>
---
Pecos Enterprise
York M. "Smokey" Briggs, Publisher
324 S. Cedar St., Pecos, TX 79772
Phone 432-445-5475, FAX 432-445-4321
e-mail news@pecos.net
Associated Press text, photo, graphic, audio and/or video material shall not be published, broadcast, rewritten for broadcast or publication or redistributed directly or indirectly in any medium.
Copyright 2003-04 by Pecos Enterprise
---