|
Weekly Newspaper and Travel Guide
for Pecos Country of West Texas
Opinion
Friday, July 11, 2008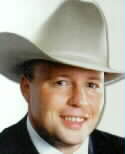 Sage Views
By Smokey Briggs
<!=====paste copy here==========================>
Moms keep you safe but
Dad's show you how to have fun
Can you forget the day you learned to ride a bicycle without training wheels?
Thirty-six years later I remember that feeling as though it were yesterday. I don't remember the pain that accompanied it. Not really. I remember the way my forearms looked – mostly like hamburger with South Carolina orange-ish clay mixed in.
That moment is heady stuff. The whole world seems to open up in an intoxicating rush of pure speed at your beck and call.
That day is one of the road signs that mark your passage from childhood toward adulthood.
It was a great day when I was six.
I watched my daughter Carson Mae blow by that road sign this weekend. At first, I was elated as maybe only a parent can be when one of their children emerges victorious from one of life's battles.
In a way I was happier at that moment than when I did it myself.
And then the careening image of Carson and her bike wobbling down the little road by the house got smaller and smaller, and in moments she was physically farther away from me than she had ever been when she was under my care – at least it seemed that way.
A little bit of panic may have invaded my brain.
Then she stopped, turned around, and started wobbling her way back.
That was pure relief.
I realized with a bit of sadness that this milestone was real, and that we would never pass it again. More and more often, from here on, she will be getting smaller in the distance as she grows up and makes her own way.
Sometimes I wonder why life always manages to salt the happiest moments with a bit of sadness – at least for parents.
You want to see them grow up strong and smart and compassionate and tough – but part of you would be pretty good with just keeping them the way they are – strong and smart and tough and compassionate, and completely under your control and protection.
Yeah, I like that part. I like the part where the fence around the house is as far as they can go without me. The world is a big scary place. I know. I nearly got clobbered by it numerous times.
I have no desire to let them take the same risks – especially the ones that now make good stories over a cold beer.
Yep, we could stop time right now and I think I would be content. Well, maybe we ought to wait another month or so. She-who-must-be-obeyed is about 3 weeks from her domino date with Number Four and if I stopped time today my death would be imminent.
Actually, I thought I was a dead man anyway while Carson was learning to ride. It was not the first time I received "the look."
I was picking Carson up off the ground and untangling her little arms and legs from her bicycle and saying something like, "Shake it off," when I looked up to meet SWMBO's eyes.
Oooooh. That's a scary look.
Apparently moms aren't as cavalier about their babies getting clobbered by life as dads are. If SWMBO had her way, bikes would simply come with big, permanent training wheels – even adult bikes, and probably air bags and steel roll bars.
I got the same look an hour later when SWMBO caught me towing Ruby, our oldest, on my mechanic's creeper behind her bicycle while explaining the art of keeping the tow rope out of the sprocket. (It really is an art).
I got that same look at the rodeo last year when SWMBO stepped around the corner to see I had let the girls ride the mechanical bull.
And when their just-like-dad's-but-pint-sized-for-budding-savage-hunters-bow-and-arrow sets arrived near Christmas time.
And when I gave Ruby and Carson their first pocketknives after they demonstrated they could safely handle a knife.
And… Well, the list goes on a bit.
Each time SWMBO was convinced that facial scarring, broken bones, blinded eyes and missing fingers were sure to result from my wanton carelessness with our children.
So far these horrible consequences have been avoided – for the most part due to SWMBO's intervention, "just in time" according to her.
But maybe that is why you have a mom and a dad.
One to keep you from getting yourself killed, and one to show you how to have a little fun while you tweak the Reaper's nose. <!==========end copy==================>
---
Pecos Enterprise
York M. "Smokey" Briggs, Publisher
324 S. Cedar St., Pecos, TX 79772
Phone 432-445-5475, FAX 432-445-4321
e-mail news@pecos.net
Associated Press text, photo, graphic, audio and/or video material shall not be published, broadcast, rewritten for broadcast or publication or redistributed directly or indirectly in any medium.
Copyright 2003-04 by Pecos Enterprise
---