|
Weekly Newspaper and Travel Guide
for Pecos Country of West Texas
Opinion
Tuesday, July 1, 2008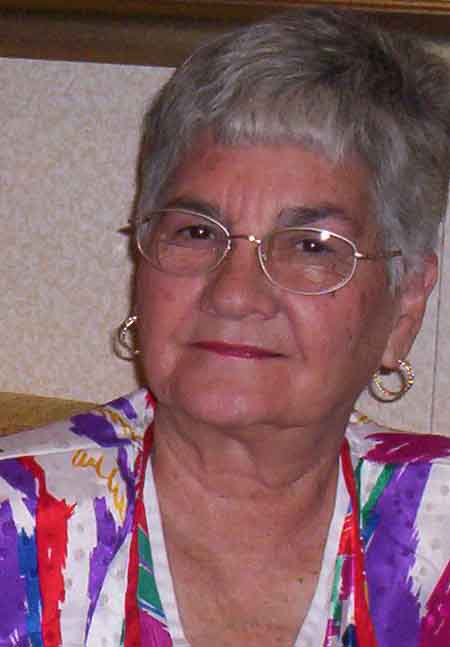 Squarely Pegged
By Peggy McCracken
<!=====paste copy here==========================>
Pink Western shirts
in a rodeo parade?
Rodeo parades don't change much from year to year. Every year I think I will stay at my computer typing stories instead of watching the parade. Then I hear the sirens and next thing I know I am on the sidewalk admiring the horses and pretty floats and waving at the riders, many wearing pink shirts to support breast cancer research.
This year was no exception. I wanted to see Wendell Scott riding at the head of the parade as grand marshal, and I did that three times as I walked back to the office from Katie's. The sirens passed in front of me on Cypress and Oak Streets, and I waited for Wendell's cowboy entourage to pass before crossing the streets, waving to Gail Box, Karen White, Roger Harrison and others.
Back at the office, I started a feature on Fred Martin, but when the sirens came, I couldn't resist a peek. Then Diane from The Monahans News invited me to sit in the empty chair next to her, and I was set for the duration.
It was a good parade, longer than most, and moving along without interruption. I got a thrill when I saw George Toone herding his antique John Deere down the street. In case you don't know George, he is blind, but has driven tractors on the farm all his life. Now he and his new wife, "Sweet Amy," work together at tractor pulls and other shows. She wasn't riding with him this time, but he did have a guide dog of sorts sitting beside him.
Myra Taylor and her two little ones led the Taylor clan in a bright yellow coupe. The whole family dresses in yellow shirts to make a big bright spot in the parade.
I saw several antique cars, but no Brookshires. Their celebration was marred by the sudden death of Weldon and Jeanne's son-in-law, Edwin Stokes, in Ballinger.
Some of the horses didn't want to cooperate with their riders. I saw a couple kicking at their nearby neighbors, and one that got completely out of line and headed in the wrong direction. It must be nerve-wracking for a horse used to the peaceful countryside to endure all that noise and activity.
Big trucks, ambulances, Homeland Security vehicles and fire trucks added to the din. Summer sports teams, the school band and churches showed their stuff.
As usual, the folks from Primera Iglesia Bautista had an outstanding float. I didn't see Chris Sonnen, but I'll bet she had a lot to do with it. Harlee Lozano walked in front of the First Baptist pickup that advertised their Vacation Bible School, which started Monday.
Bill Cole had his remote KIUN radio unit at the curb, describing all the activity for travelers and stay-at-homes.
I didn't make it to the oldtimers reunion, but did eat barbecue with a bunch of oldtimers at the Senior Center after the parade.
Accustomed to seeing parade riders again at the rodeo grand entry, I was a little disappointed that a flag ceremony was substituted. Maybe that's the way it's done nowadays.
I especially enjoyed the bareback and saddle-bronc events, but left before the steer roping and bull riding. I also missed the wild cow milking, wild mare race and hide race, events featuring local cowboys. Old age has its moments, but late nights are not among them.
"How can I repay the Lord for all His goodness to me?" Psalm 116:12, NIV
EDITOR'S NOTE: Peggy McCracken is Enterprise columnist and feature writer. Contact her at HYPERLINK "mailto:peg2@pecos.net" peg2@pecos.net <!==========end copy==================>
---
Pecos Enterprise
York M. "Smokey" Briggs, Publisher
324 S. Cedar St., Pecos, TX 79772
Phone 432-445-5475, FAX 432-445-4321
e-mail news@pecos.net
Associated Press text, photo, graphic, audio and/or video material shall not be published, broadcast, rewritten for broadcast or publication or redistributed directly or indirectly in any medium.
Copyright 2003-04 by Pecos Enterprise
---