|
Weekly Newspaper and Travel Guide
for Pecos Country of West Texas
Opinion
Tuesday, May 30, 2006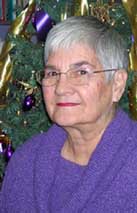 Squarely Pegged
By Peggy McCracken
<!=====paste copy here==========================>
Terrorist turns
to mild pursuits
Pete Armbruster still calls himself the Terror of Eddy Street, but his terrorism days are over. Now he gets around the house and yard in a scooter and has someone drive him in his van.
Parkinson's disease is partly responsible for Pete's immobility, and he knows several others in Pecos who are in the same boat. That's what led him to invite Wynetta Williams to Pecos last week to organize a support group for both the disabled and their caregivers.
Williams said she would see Donna Woodard at the Senior Center about holding a meeting there sometime in June. Once the date is set, she plans to send out flyers to hospital and home health agencies to let their patients know how the group can help them.
It is sponsored by the Permian Basin Area Agency on Aging, and they provide information on other agencies where those in need of help can get it. Help for those living alone is available through the Area Agency in the form of installation and initial payment for a personal signaling device, Williams said.
Pete hasn't quite gotten to the point he needs a signaling device, because his wife Helen is usually within signaling distance. She uses a walker to get around, so she wouldn't be of much help if he fell, but she could call someone.
Pete is looking out for the other person, though. He said that one of his friends lay in the floor all night after falling and trying unsuccessfully to get up. A signaling device could have saved him that long night of discomfort, Williams said.
I've known people who got tired of the device hanging around their neck and left it on the dresser. It didn't do much good when they fell. One woman was out in the yard and lay there a long time before anyone missed her and came to her rescue.
It is something to think about, even for a "young" lady like me who stays active. As I was walking to the dumpster today, carrying a heavy bag of garbage, I stumbled over my own feet. I didn't fall, but I could have. And there is nobody to rescue me except a pesky, crowing rooster. A lot of help he would be.
"Yet God is actually not far from any one of us." Acts 17:27b, TEV
EDITOR'S NOTE: Peggy McCracken is Enterprise business manage. Contact her at HYPERLINK "mailto:peg2@pecos.net" peg2@pecos.net. <!==========end copy==================>
---
Pecos Enterprise
York M. "Smokey" Briggs, Publisher
324 S. Cedar St., Pecos, TX 79772
Phone 432-445-5475, FAX 432-445-4321
e-mail news@pecos.net
Associated Press text, photo, graphic, audio and/or video material shall not be published, broadcast, rewritten for broadcast or publication or redistributed directly or indirectly in any medium.
Copyright 2003-04 by Pecos Enterprise
---