|
Weekly Newspaper and Travel Guide
for Pecos Country of West Texas
Opinion
Tuesday, May 23, 2006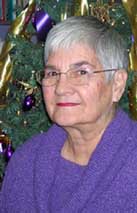 Squarely Pegged
By Peggy McCracken
<!=====paste copy here==========================>
Lawbreaker quits
chicken farming
Did you know that the city of Pecos has an ordinance requiring fowl kept within the city limits to be caged? That makes me an ex-lawbreaker, because I had two hens in my backyard briefly.
My intentions to build a coop and covered exercise yard were good; I was just a little slow in getting it done. First a fox or some other predator nabbed Red while my back was turned, then Blackie flew the coop, literally.
Smokey, who dubbed the black hen "Peggy" because she is pretty…or was that because she is mean and ornery? I forget which. Anyway, Smokey says the pretty hen was sly about hiding her eggs so she could set them and hatch little chicks. Maybe she found a safe hideout in the neighborhood and is at this moment keeping the eggs warm.
Rooster, who came over to keep the hens company, can't accept the fact that they are gone. He simply moved his roost back to the cedar tree outside my open bedroom window and spends his days and nights crowing for the girls to come home.
I thought he might go to his own home, wherever it is, when he got hungry. But I keep throwing scraps and grain over the fence where he will find it, so that hasn't worked either.
Since having living creatures around has provided some entertainment, I have considered getting a dog for a pet. No, don't bring me one!! I already have ticks in the house from the last visit by my grandson and his dog. It is a painful reminder of the summer monsoons some years ago that caused fleas to proliferate and make me, my poodles and my house miserable.
Chickens are nasty creatures, too. Thinking of keeping them in a coop that would require frequent cleaning cools my enthusiasm for another flock. I seldom eat eggs, and the very thought of wringing a fryer's neck, dipping it in scalding water and pulling out the feathers spoils my appetite for fried chicken.
Yep, chicken farming is out as a career. Smokey's invite to do some reporting for the Monahans News sounds better and better. But do I want to work for someone who calls me ornery?
"It is God who arms me with strength and makes my way perfect." 2 Sam. 22:33, NIV
EDITOR'S NOTE: Peggy McCracken is Enterprise business manager. Contact her at peg2@pecos.net <!==========end copy==================>
---



Pecos Enterprise
York M. "Smokey" Briggs, Publisher
324 S. Cedar St., Pecos, TX 79772
Phone 432-445-5475, FAX 432-445-4321
e-mail news@pecos.net

Associated Press text, photo, graphic, audio and/or video material shall not be published, broadcast, rewritten for broadcast or publication or redistributed directly or indirectly in any medium.
Copyright 2003-04 by Pecos Enterprise
---