NEWS PAGES

Obituaries
Archive
Photos

ADVERTISING
Commerce
Classified
Economic Development
TRAVEL
Area Papers
West Texas
STAFF
Smokey Briggs
Jon Fulbright
Peggy McCracken
Rosie Flores

LINKS
Other Sites
|
Weekly Newspaper and Travel Guide
for Pecos Country of West Texas
Opinion
Tuesday, May 16, 2006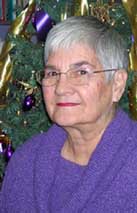 Squarely Pegged
By Peggy McCracken
<!=====paste copy here==========================>
Flock of scams
weary farmer
Throwing grain to chickens keeps me anchored to reality between bouts with an other-worldly computer. Without the anchor, I might snatch myself baldheaded while dealing with some of the stuff on the Internet.
Lately, my daily 50-plus email messages have run toward some new fraud that I haven't quite figured out. I'm assuming it's fraud because there are so many messages with similar come-ons.
Early in this onslaught, I bit on an offer for a $250 coupon from Target, a store where I had ordered wedding and baby items for my grandchildren. But when I followed the link that would get me the coupon, I found questions I did not want to answer. The "back" button works great in that situation.
Then, here comes an offer for $1,000 in gasoline credits. E-Bay offered $500. Saturday I jotted down the subjects of a few such offers: diet patch, widescreen, software (5), earn a degree, lose weight (2), JC Penney, Sears, Abercrombie, laptop, Apple or Windows…
Another three "returned mail" messages appear to be a scam as well. They have the "MAILER-DAEMON" slug, but the @ portion of the email address I don't recognize. And the "undeliverable" messages supposedly were sent from my office computer on Saturday when I was not there, to a person I never heard of. Either my computer is suffering from a virus infection, or someone is trying to hoodoo me.
It is scary what unprincipled people can do to a person's computer without him knowing it. There is a way to find out when a computer has been hacked into, but I don't know how to do it and have no inclination to learn.
My inclination is to stick to chicken farming. However, I'm not doing so great at that either. A fox or something got the Little Red Hen while I was frolicking at Bob Wills Day. Then Silver-Tipped Blackie disappeared overnight twice. She came back the first time. As I write this Monday morning, she is still among the missing. I am assuming she flew over the fence at roosting time and found a more secure perch. But where? I guess she'll come home when she gets hungry.
Meanwhile, the neighborhood rooster is crowing his lungs out and snapping up all the grain for himself. I'll show you his overnight perch if you are hungry for rooster and dumplings and don't mind plucking feathers.
"Woe to the worthless shepherd, who deserts the flock." Zech. 11:17a, NIV
EDITOR'S NOTE: Peggy McCracken is Enterprise business manager. Contact her at peg2@pecos.net <!==========end copy==================>
---



Pecos Enterprise
York M. "Smokey" Briggs, Publisher
324 S. Cedar St., Pecos, TX 79772
Phone 432-445-5475, FAX 432-445-4321
e-mail news@pecos.net

Associated Press text, photo, graphic, audio and/or video material shall not be published, broadcast, rewritten for broadcast or publication or redistributed directly or indirectly in any medium.
Copyright 2003-04 by Pecos Enterprise
---