|
Weekly Newspaper and Travel Guide
for Pecos Country of West Texas
Opinion
Tuesday, May 9, 2006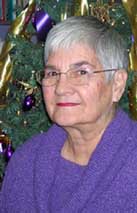 Squarely Pegged
By Peggy McCracken
<!=====paste copy here==========================>
Western Swing music
good in all weathers
Bob Wills' body may be moldering in his grave, but his spirit is alive in the hearts of thousands of Western Swing fans.
In fact, fans have established a "Church of Western Swing" in Turkey, where Wills barbered at Ham's Barber Shop in his younger days, playing fiddle for his customers and for dances on Saturday night. My sister Gail arrived early to attend some of the jam sessions preceding Bob Wills Day on Saturday, and she got a haircut in that same barbershop, opened for the celebration by the granddaughter of its original owner.
We didn't make it to the "church" but I did hear lots of Western Swing music. Former Texas Playboys performed a free concert on the football field for a throng crowding the bleachers and lounging in lawn chairs.
Sisters Mary and Gail, my friend Doris and I perched atop the north bleachers with our straw hats, sun shades, umbrella and blankets. We needed all of them during the two-hour span that started with cool breezes and advanced to cold winds, rain, hot sun and back to cold winds and rain.
"You came prepared for everything," quipped a nearby fan. While others ran for cover during the rain, we wrapped in blankets and hovered underneath the umbrella. Shortly, I doffed my blanket and jacket, donned straw hat and sun shades and basked in the warm sun.
"If you don't like the weather in Texas, just wait a few minutes," I quoted to Doris, who soaked up every note of the music. She and Gail had stayed for all two hours of the old fiddlers contest, while Mary and I left early and grabbed a power nap in the car. Most of the "old" fiddlers were under 18, but they fiddled like pros.
That night, Jody Nix and the Texas Cowboys played for the dance. We found seats in the bleachers at the south end of the old gym where we once played basketball. My first game as an 8th grader was in that gym, and I lobbed one shot at the goal. I say "at," because it fell short and dribbled outside the line.
I scanned the crowd for single men who might want to dance, and rejected one who was drunk already, carried a cup of beer and had two cans stuffed in his pockets. Another tall guy in a black jacket with a Western Swing Club name and "Sacramento, CA" on the back ambled in and stood around like he didn't know anybody.
After he stood "on the wall" for awhile, I descended from the bleachers and invited him to dance. Shortly thereafter, a younger woman latched onto him, but lost him during intermission. When Jody started playing a waltz, I couldn't sit still any longer, so approached the tall man again. He couldn't hold a candle to my brother Walter, but then Walter was 400 miles away.
I went back to my perch and watched enviously as couples young and old, and a woman with babe in arms, danced round and round. It is hard to sit still with all that good two-step music in the air.
We left before the clock struck midnight, and nobody lost a slipper. Sunday morning we attended the Church of Christ in Flomot where we grew up. Two old schoolmates were there, but I didn't recognize any of the other young faces.
We had seen some of our Baptist buddies in the parade and on the grounds of the Bob Wills Center, so didn't go to the nearby First Baptist Church. It brought back lots of memories to drive around and point out to Doris where we lived when I was five, and where Daddy had killed our "pet" cottontail rabbit for lunch while we were at the Baptist church one Sunday.
The old Methodist Church where I delivered the salutatory address at high school graduation still stands, peeling paint making it look forlorn.
Mary sent pictures of the three of us sitting on a bench in front of the Sportsman Café in Quitaque. Walter and Jerry were with us the last time we posed on that bench. Maybe they'll be back for the next reunion of the Gunn clan.
Thanks to my sister-in-law, Mary Polk, for use of the McCracken house. It is a great place to gather. And the 1912 piano still sounds pretty good for an old girl.
Does this explain the sore foot I got from being kicked with a boot heel? "Do not swerve to the right or to the left; keep your foot from evil." Proverbs 4:27, NIV
EDITOR'S NOTE: Peggy McCracken is Enterprise business manager. Contact her at peg2@pecos.net <!==========end copy==================>
---



Pecos Enterprise
York M. "Smokey" Briggs, Publisher
324 S. Cedar St., Pecos, TX 79772
Phone 432-445-5475, FAX 432-445-4321
e-mail news@pecos.net

Associated Press text, photo, graphic, audio and/or video material shall not be published, broadcast, rewritten for broadcast or publication or redistributed directly or indirectly in any medium.
Copyright 2003-04 by Pecos Enterprise
---