NEWS PAGES

Obituaries
Archive
Photos

ADVERTISING
Commerce
Classified
Economic Development
TRAVEL
Area Papers
West Texas
STAFF
Smokey Briggs
Jon Fulbright
Peggy McCracken
Rosie Flores

LINKS
Other Sites
|
Weekly Newspaper and Travel Guide
for Pecos Country of West Texas
Opinion
Tuesday, May 2, 2006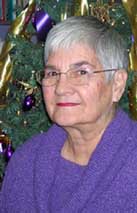 Squarely Pegged
By Peggy McCracken
<!=====paste copy here==========================>
Hens give cock
reason to crow
If you canít lick Ďem, join Ďem, the sages tell us. Well, Iíve gone and done it. Unable to get rid of the neighborhood crowing rooster, I added two hens to create a flock. Yep, Iím a chicken farmer.
At least, Laura Briggs promised me they would eat bugs and keep the grass trimmed when she offered to bring me two of her prize hens. When she let them out of the cage, they started work immediately, and have stopped only for an afternoon siesta and overnight roost in the pomegranate tree.
The first two eggs went into banana pudding, making it a rich, creamy yellow. When I get a little stash of eggs built up, I may let some stay in the nest for Red to hatch. Silver-tipped Blackie doesnít seem to be the domestic type, so I donít expect much from her except eye candy.
Rooster came singing down the sidewalk shortly after the girls arrived, and hasnít left their side since, except to perch in the cedar tree at night. He invited them to roost with him, but they declined.
I leaned an old wooden ladder into the pomegranate tree for their perch, and both climbed up right at dusk that first night. When I went to let Rooster out the gate, it scared them off, and they tried the fence. Blackie got back on the ladder, but Red perched on the fence in plain view of predators. When I lifted her off and set her back on the ladder, skittish Blackie screeched and flew away. She finally perched on the fence, sheltered by pomegranate branches, so I left her alone.
The next night, both ascended the ladder and Rooster frantically tried to get out the gate to access his perch. I let him out and he jumped on the old dishwasher I use for storage, then to a low branch, a higher one, then onto the one where he reigns. When he stands, he can see the entire neighborhood. But hunched down for the night, he becomes almost invisible among the evergreen needles.
The first morning I was slow about getting up to let him in with the girls, and he was walking the fence line trying to find a hole. Now he has decided to roost with them to avoid that painful separation.
Itís been fun having someone in the yard to watch, talk to and take care of. Fresh farm eggs are just a bonus.
ďCan you make a pet of him (Leviathan) like a bird or put him on a leash for your girls?Ē Job 415, NIV
EDITORíS NOTE: Peggy McCracken is Enterprise business manager. Contact her at peg2@pecos.net <!==========end copy==================>
---



Pecos Enterprise
York M. "Smokey" Briggs, Publisher
324 S. Cedar St., Pecos, TX 79772
Phone 432-445-5475, FAX 432-445-4321
e-mail news@pecos.net

Associated Press text, photo, graphic, audio and/or video material shall not be published, broadcast, rewritten for broadcast or publication or redistributed directly or indirectly in any medium.
Copyright 2003-04 by Pecos Enterprise
---