NEWS PAGES

Obituaries
Archive
Photos

ADVERTISING
Commerce
Classified
Economic Development
TRAVEL
Area Papers
West Texas
STAFF
Smokey Briggs
Jon Fulbright
Peggy McCracken
Rosie Flores

LINKS
Other Sites
|
Weekly Newspaper and Travel Guide
for Pecos Country of West Texas
Opinion
Tuesday, December 26, 2006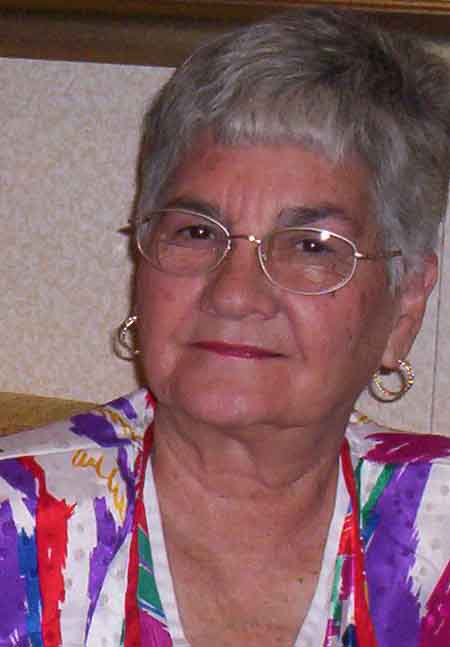 Squarely Pegged
By Peggy McCracken
<!=====paste copy here==========================>
Fan brings cheer
on Christmas Eve
Lucy Polanco has celebrated Christmas in countries all over the world with Ernest, her Navy husband of 46 years. This year they visited his family in Pecos and Balmorhea, and she dropped by to see me on Christmas Eve.
The world traveler was born in Grenada, Miss., moved to Memphis, Tenn. as a child, and at age 21 left home to seek her fortune in Florida. It was there she met and married Ernest Polanco. He soon was assigned to the Philippines, where their first child was born.
She recalls with fondness the years they spent in Naples, Italy. Africa was also quite an experience, but she didnít care for the hooded cobras often encountered in the market place. She came full circle with Ernestís last Naval assignment to the base in Memphis, Tenn. After his retirement, they moved to a small Navy town near Memphis, where they live in a rural setting. Their children are scattered across the country.
Ernest was born in Balmorhea, where they have repurchased the original family plot of 27 acres. His mother, Josie Alvarez, lives in Pecos and is caring for four of her great-grandchildren. She has worked in various positions, including the American Inn, Ramada Inn and the Levi factory.
Lucy said she has read my column for years, and she wanted to meet me. I told you I had a fan! She asked about local history, specifically about Hispanic families who settled in Balmorhea, Saragosa and Toyah about the turn of the 20th century. I referred her to Alberto Alvarez, whose columns she had also read and enjoyed.
It was a treat to visit with these two ladies and to hear their stories. Lucy even brought along a Christmas gift. I felt as if Santa had whooshed down my chimney to wreck my plan to spend Christmas alone in front of the TV.
Watching TV caused me to realize that being alone can cause one to become self-centered and crabby. Seeing Ebenezer Scrooge mistreat his bookkeeper, Bob Cratchitt; refuse to help the poor, then go home to a big, empty house, gave me a look inside myself. It wasnít pretty.
So I not only invited Lucy over when she called, but accepted an invitation to join Birdie Slack and her family for Christmas dinner at the home of Hugh and Gail Box. And, yes, I helped the Christian Home staff deliver turkey dinners to Meals on Wheels clients.
My heart is at peace. ďGlory to God in the highest heaven, and peace on earth to those with whom he is pleased!Ē Luke 2:14, TEV
EDITORíS NOTE: Peggy McCracken is Enterprise business manager. Contact her at peg2@pecos.net <!==========end copy==================>
---



Pecos Enterprise
York M. "Smokey" Briggs, Publisher
324 S. Cedar St., Pecos, TX 79772
Phone 432-445-5475, FAX 432-445-4321
e-mail news@pecos.net

Associated Press text, photo, graphic, audio and/or video material shall not be published, broadcast, rewritten for broadcast or publication or redistributed directly or indirectly in any medium.
Copyright 2003-04 by Pecos Enterprise
---