|
Weekly Newspaper and Travel Guide
for Pecos Country of West Texas
Opinion
Friday, August 25, 2006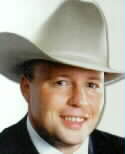 Sage Views
By Smokey Briggs
<!=====paste copy here==========================>
Truth should
never be feared
When people charged with doing the public's business want to do it in secret, my jaw tightens and my ears perk up.
That was my reaction when I heard that the Pecos Economic Development Corporation was scrambling to hold a special meeting to discuss Executive Director Mike Burkholder's salary in secret - even though Burkholder wants the meeting held in public.
Of course, the board's previous actions make its motives suspect. It turns out that the board held a secret session in March to discuss Burkholder's salary, and then voted on it in secret as well.
Now, The Texas Open Meetings Act allows boards and such to hold secret meetings to discuss personnel issues - but voting in the dark is an illegal no-no - something most fifth graders ought to know.
The provision that allows such secret meetings for personnel discussions is meant to protect the people being discussed, not those doing the discussing.
So, in this week's meeting, the majority of the board was surprised to find out that Burkholder had not reduced his salary in his proposed budget.
Burkholder, it turns out, did not know about the secret vote.
He did not know because President of the Board Joe Keese did not tell him - because he knew that the vote was illegal - cudos to Keese on that.
From what I've heard, both Keese and board member Leo Hung protested the illegal vote at the time. They are also the two members of the five-man board that oppose cutting Burkholder's salary.
Now, the majority of the board, Jimmy Dutchover, Angelica Valenzuela and Al Gomez, have called a special meeting to discuss the topic for next Monday. They tabled the discussion this week because they want to hold the meeting behind closed doors - despite the fact that the man to be discussed, Burkholder, wants it done in public.
They then requested an opinion from City Attorney Scott Johnson.
Now, the Texas Open Meetings Act is very clear on this topic - the board can hold the meeting in secret, unless the person being discussed wants it done in public.
The Pecos Enterprise called Joe Larson, one of the top open meetings attorneys in Texas for an opinion on this deal, and Larson confirmed the fact that if Burkholder wants it done in public, the board must do its business in the light of day.
Now, maybe I'm just a cynic, but when public officials want to do things in secret, I get suspicious.
If you are conducting the business of the people, for the people, as their elected representative, that business ought to be for all to hear and see.
For some reason, those charged with doing the public's business often do not seem to see things that way.
So, we have the Open Meetings Act, which makes it illegal for your elected and appointed representatives to do business in the dark, except for some narrowly defined exceptions.
As far as I'm concerned, those exceptions are not narrow enough.
As far as I'm concerned, we would all be better off if we just disbanded the whole Jesse James gang called government and went about our lives.
But, as long as we are going to put up with government, then we ought to insist that our city councilmen, state representatives, president, and the rest of the gang, do our business out in the daylight where we can see what is going on.
When they do not, I suspect foul play.Is that fair?
I think so. Why else would they want to hide their discussions from the people they supposedly serve?
Last time I checked, people who were proud of what they were doing did not mind if the rest of the world watched.
So, why would this board be so determined to hold this meeting behind closed doors?
There are two quotes I would like to leave you with.
The first is from my dear old Granny: "If you can't stand the heat, stay out of the kitchen." She knew what she was talking about because she had cooked over a wood-fired stove and seen a lot of politicians come and go.
The second is from Thomas Jefferson: "There is no truth existing which I fear, or would wish unknown to the whole world."
Those are words to live by - especially if you have volunteered to do the people's business. <!==========end copy==================>
---
Pecos Enterprise
York M. "Smokey" Briggs, Publisher
324 S. Cedar St., Pecos, TX 79772
Phone 432-445-5475, FAX 432-445-4321
e-mail news@pecos.net
Associated Press text, photo, graphic, audio and/or video material shall not be published, broadcast, rewritten for broadcast or publication or redistributed directly or indirectly in any medium.
Copyright 2003-04 by Pecos Enterprise
---