NEWS PAGES

Obituaries
Archive
Photos

ADVERTISING
Commerce
Classified
Economic Development
TRAVEL
Area Papers
West Texas
STAFF
Smokey Briggs
Jon Fulbright
Peggy McCracken
Rosie Flores

LINKS
Other Sites
|
Weekly Newspaper and Travel Guide
for Pecos Country of West Texas
Opinion
Tuesday, August 22, 2006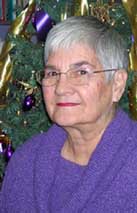 Squarely Pegged
By Peggy McCracken
<!=====paste copy here==========================>
Fall is in the air
with August rains
September is the month it rains in Pecos, not August. I'm not complaining, mind you, even though the late-afternoon storms interfere with my swimming. It is growing enough weeds and grass on my South 40 that I get my exercise mowing them down.
This year has been unusual in that it had not rained much the first seven months, and temperatures have been hot, hot, hot. We don't keep weather records at my house anymore, so I can't quote statistics. But my unofficial thermometer has registered 105 more times than I like to remember.
Memory is a fickle thing, and I suspect the person who told me recently that it once rained 52 days straight in Pecos had a faulty recollection. Looking back at statistics my husband kept, I find two years in the 1970s that it rained over 7 inches in September. My recollection is that each time it was the result of 11 days of rain - not 52 days.
In September, 1974, rain fell for days on end, soaking the ground and filling underground aquifers to overflowing. The land is so flat, runoff was slow, and the whole town and countryside flooded. My husband, Leon, recorded 7.68 inches of rain that month.
Then in September, 1978, another extended period of rain dropped 7.74 inches on Pecos. Floodwaters came down from mountains to the west and inundated the north side. The Pecos River ran bank full, and there were rumors that a bridge had washed out near Mentone. That didn't happen, but it made a good story.
Former vice president Al Gore says the hot weather we have experienced results from thin ozone that lets in too much sunlight. If we don't reverse our use of stuff like Freon that thins the ozone layer, we are in for big trouble, he says. After this summer, I am ready to believe him.
Looking back at climatic data for August, compiled from records for the years 1905-1993, I find that the high temperature of 113 was recorded in 1972. The highest on record for that period was 118 in June, 1968.
It appears that 1951 had the longest period of high temperatures, with 40 days over 100 degrees. I think 2006 may beat that record.
"Come quickly to help me, O Lord my Savior." Psalm 38:22, NIV
Your View
Experimental aircraft in Pecos
Dear Editor:
A recent City Council Meeting contained a statement by the City Manager that may have been unintentional but it was misleading.
"Another business that builds experimental aircraft went six years without paying rent." This comment referred to the only experimental aircraft company in Pecos, Nelson Aero Associates (NeAA). To those not familiar with recent events at City Hall, this statement implied that rent was billed and not paid. The city records will show that NeAA has paid every bill received from the city and paid them on time NeAA does build experimental airplanes but the primary business is Research and Development for Personal Aviation. The majority of new personal airplanes in the U.S. are built by individuals under the FAA's Experimental Category.
In January of 98, Lois and Bud Nelson visited her family in Pecos. At that time, Bud went to the Pecos airport and met the managers, Dennis and Isabelle Blanchard. The Blanchard's made us feel very welcome and were very enthusiastic about the city and citizens of Pecos. The Blanchard's are very special people with dreams, young children ( now youngsters that this community should cherish) and a commitment to the airport beyond expectations. In our years in Pecos, we have never seen an unhappy traveler after Dennis and Isabelle have taken care of their needs. National and International travelers and customers, that NeAA has invited to Pecos or met at aviation conventions, inquire frequently about the status of the Blanchard's. Way to go Isabelle, Dennis , Michael and Lenora !!!
In our first 1998 meeting, we discussed the possibility of moving the Nelson business to Pecos. In their understanding of Bud's needs, the Blanchard's pointed to the remains of the "Old Estes Hanger". "It's big enough, if the city could fix it up". They encouraged us to talk with City Manager, Kenneth Neal and Mayor, Dot Stafford. Mr. Neal was a very special person with dreams of cleaning up Pecos and bringing city revenue through jobs with income. Dot Stafford was an encourager. The good hearts of these two convinced us to get serious about Pecos, instead of our first choice, Midland. NeAA had a budget based on Seattle costs and the Pecos City administration accepted that. The NeAA business plan was reviewed and contracts were consummated during the following weeks by phone and FAX. Based on a handshake agreement, Lois and Bud, now back in Seattle, proceeded to sign the contract, send it to Pecos City and complete the move on June 10th 1998. (Temp = 118 F). After the first month, the city was billing NeAA for water, sewer and garbage for all airport occupants but nothing else. When asked about this action, Mr. Neal's response was gratifying; " when you show some profit we'll set down and review these arrangements. I'm more interested in what employment you can bring to the city". With this helpful attitude from the City, NeAA decided to repair areas of the hanger that Mr. Neal said he could not afford to complete. The city crew rebuilt the office area. They did a good job but the office roof has begun to leak again. The hanger was never fixed by the city to keep out rain and dirt or heavy winds which played havoc with the aircraft parts. NeAA resurfaced the floors, holes all around were plugged to try to keep out snakes, mice and dirt. We have killed two rattlers in the hanger. NeAA erected a hanging tent of heavy duty plastic sheet to keep leaking water and dirt from corroding aircraft parts, assemblies and materials. NeAA also painted and installed overhead lights in work areas, Neoprene seals for the large hanger doors, plumbing, electric wiring. We now feed 5 cats for snake patrol and keep the place as clean as we can. NeAA moved the business plane into a "T" Hanger and paid the annual rental fee to store it away from a very leaky roof.
NeAA has contracted skilled and unskilled labor for metal fabrication, welding, assembly, riveting, composite fabrication, testing, data reduction and engineering at the airport. Many of the skilled workers are from out of state but take local lodging and meals. Invitations to hire some of these as permanent employees or partners have been rejected, so far.
To end this, NeAA has complied with the Contract agreed to with Mr. Neal. NeAA approached each of the City Managers that followed Mr. Neal and they were satisfied that NeAA was paying enough considering all conditions. We have reviewed these repairs and the original 1998 contract with the current City Manager. We have complied with the new contract laid down in Sept 2005. We plan to do what is right as long as we are associated with the "Old Estes Hanger", however, and we find the current fees excessive under present circumstances. We also believe that the city manager will ultimately do what is right in the best interests of the airport. Take heart, Pecos is in good hands- God's Hands. With the Lord's help!
With the Lord's help! LOIS AND BUD NELSON <!==========end copy==================>
---
Pecos Enterprise
York M. "Smokey" Briggs, Publisher
324 S. Cedar St., Pecos, TX 79772
Phone 432-445-5475, FAX 432-445-4321
e-mail news@pecos.net
Associated Press text, photo, graphic, audio and/or video material shall not be published, broadcast, rewritten for broadcast or publication or redistributed directly or indirectly in any medium.
Copyright 2003-04 by Pecos Enterprise
---