|
Weekly Newspaper and Travel Guide
for Pecos Country of West Texas
Opinion
Tuesday, August 15, 2006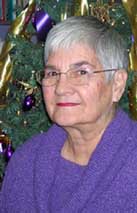 Squarely Pegged
By Peggy McCracken
<!=====paste copy here==========================>
Girls shoot down
two urban legends
The late tooth doc Elvia Reynolds faithfully read my columns and stories, and often commented on them, usually favorably. He gave me lots of tips that helped make them more interesting.
His son Randy is following in his Dad's footsteps. After reading last week's column on tips to protect us from identity thieves, Randy noticed a couple of contradictions in another online publication and sent it to me.
"I am not really sure about all of this but I do know that we should all protect our personal information a lot better than we do now," Randy said. "Keep writing and I will keep reading."
Here is what Barbara Mikkelson, co-founder and researcher at Snopes.com, a Web site dedicated to the destruction of urban myths, and Catherine Williams, vice president of financial literacy at the nonprofit credit counseling agency, Money Management International, had to say to MSN about two of the tips in my column:
Hotel keys cards:
"My hotel key card has my credit-card information. The ramification is that you'd better clutch it tightly or a con will decode it and rack up a big bill.
"This urban legend has an actual source: the police in Pasadena, Calif. A fraud-detection team had honed in on one such hotel key and notified each other before verifying whether it was standard practice in the industry. It wasn't, but they didn't find out until after the information leaked to the public and spread like wildfire.
"The Pasadena Police Department now has devoted a page to this accidental myth at its Web site. It says, "Detectives have contacted several large hotels and computer companies using plastic card key technology and they assure us that personal information, especially credit card information, is not included on their key cards. The one incident referred to appears to be several years old, and with today's newer technology, it would appear that no hotels engage in the practice of storing personal information on key cards.
"The manufacturers who churn out these magnetic-strip room-key cards employ three embedded and encrypted tracks. Most hoteliers use track three, which contains locked information listing the guest's room number and check in/out dates. The remaining tracks -- if supplied by the hotel's property-management system -- provide additional, limited guest information like a folio number or name to identify guests at point-of-sale terminals located throughout the hotel."
Unsigned credit-card danger
"It's better if you don't sign the back of your credit card. Some well-meaning pigeon decided one day this would protect him from identify theft.
"Unfortunately, in the real world, it only "protects" you from having the merchant accept your payment at the checkout counter. Not to mention that an unsigned card in the hands of fraudsters is much easier to use for unauthorized purchases. They can just sign the card themselves. Then their signature will always match the receipt signature."
So here I am again, running a correction to something I wrote last week. With the speed of the Internet, misinformation is spread with the click of a mouse. Not only should we be leery of identity thieves, we should also be leery of free advice. It's usually worth about what we pay for it.
"All of us were like sheep that had wandered off. We had each gone our own way. But the Lord gave him the punishment we deserved." Isaiah 54:6, TEV
EDITOR'S NOTE: Peggy McCracken is Enterprise business manager. Contact her at peg2@pecos.net <!==========end copy==================>
---
Pecos Enterprise
York M. "Smokey" Briggs, Publisher
324 S. Cedar St., Pecos, TX 79772
Phone 432-445-5475, FAX 432-445-4321
e-mail news@pecos.net
Associated Press text, photo, graphic, audio and/or video material shall not be published, broadcast, rewritten for broadcast or publication or redistributed directly or indirectly in any medium.
Copyright 2003-04 by Pecos Enterprise
---