|
Weekly Newspaper and Travel Guide
for Pecos Country of West Texas
Opinion
Friday, August 11, 2006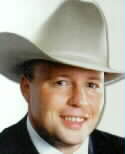 Sage Views
By Smokey Briggs
<!=====paste copy here==========================>
Living in
the arena
It is not the critic that counts… I have been reading history books for most of my life.
It is fascinating stuff since history is nothing more than stories written about people and what they did.
You do not have to read much history, ancient or recent, to find out one thing - there are a lot of armchair quarterbacks in the world.
And, these couch potato critics are as merciless as coyotes on a newborn calf.
Lately I have been reading, " "Chesty - the story of Lieutenant General Lewis B. Puller, USMC" by Lt. Col. Jon T. Hoffman, USMCR.
Now, Chesty Puller is probably the most famous Marine of all time - in and out of the Corps.
He served from the tail end of World War I to well past the Korean War. He started out as an enlisted man and before he was done he commanded one of three active duty divisions in the Marine Corps.
In the process he was awarded five Navy Crosses, the second highest decoration for valor a Marine can receive. All five awards were for courageous leadership of the unit he commanded at the time.
Like most heroes, and he was one, there was a time when it was simply sacrilege to speak ill of him. But, Chesty has been dead for more than 30 years, and as time passes, the gloves come off, and the armchair quarterbacks and generals get into the game.
In the past two decades Puller has received no small amount of criticism for the times when results were not optimum - when objectives were not taken quickly, and casualties were high.
There are hundred's of "he should have's" and, "if he had done such and such." Plenty of moments when a "better tactician" would have avoided casualties, or simply done better.
Hoffman does an excellent job of detailing Puller's life and career, and does not sugar coat the times when things did not go his way. He also does a good job of providing the details as to why things turned out how they did - good or bad.
As I read the account it struck me that Puller, like all of us, was occasionally human. Puller made decisions that I'm sure he would like to have back. I know I've made my share of those.
In the end, Puller emerges from Hoffman's book as he was, human, but an extraordinary example of the species.
Reading the book reminded me of one of my favorite quotations of all time. It is long but worth a minute of your time.
"It is not the critic who counts; not the man who points out how the strong man stumbles, or where the doer of deeds could have done them better. The credit belongs to the man who is actually in the arena, whose face is marred by dust and sweat and blood; who strives valiantly; who errs, who comes short again and again, because there is no effort without error and shortcoming; but who does actually strive to do the deeds; who knows great enthusiasms, the great devotions; who spends himself in a worthy cause; who at the best knows in the end the triumph of high achievement, and who at the worst, if he fails, at least fails while daring greatly, so that his place shall never be with those cold and timid souls who neither know victory nor defeat."
Theodore Roosevelt, the 26th President of the United States, spoke those words in a speech given in France in 1910.
I first read them when I was fifteen and they made a real impact on my life. Though not always successfully, I have tried to always suck it up and jump in the arena, no matter that I was not the most talented or educated guy playing the game that day.
Looking back, it's a good way to live your life.
Lewis B. "Chesty" Puller is proof.
His decisions and actions were not always perfect. But he lived every day of his life in the arena.
Your View
Reader defends EMS personnel in Pecos
To The Citizens of Pecos and Reeves County:
After hearing some of the comments around town following the article in Tuesday's paper, I felt compelled to write and clarity a few points that were brought up during the discussion in the EMS budget meeting.
Let me preface this letter by saying that I am employed full time here with Pecos EMS. During my years in EMS, I have been involved, in one way or another, with most, if not all, of the EMS services in our area. I can therefore speak from a position of experience concerning these matters. Also, all comments I make are strictly my own, and are not an official statement of Pecos EMS or anybody but me.
Councilman Danny Rodriguez stated that in all the years that the city has sponsored the EMS he has never seen a proposal like this. The reason is simple enough. In years past, the membership was large enough that it was a non-issue. Except in the earliest days of the service, there have always been enough people to provide coverage without it becoming a problem. However, in the past year, owing to various issues and problems, we have lost over half our membership leaving us with eight people to provide 24/7 coverage to the city and county.
Dennis said that most of us average 80 hour so work per week. I've heard the comment that 80 hours isn't all that much. 80 hours may not sound like much, EXCEPT that the 80 hours is over and above the 40 to 60 hours that we put in at our regular jobs. That means that we end up working a total of 120 to 140 hours a week. When you consider that there are only 168 hours in a week, simple math will show anybody just how little free time we have with our families.
I've also heard the comment that all we want is money. That statement couldn't be more wrong. The only reason money factors in is to try to attract more people from outside, so we aren't spread so thin. When the other area services are paying 18 dollars an hour for Paramedics, it's awfully hard to attract them here. The Federal Withholding also comes into play when trying to attract people to our service. I doubt that many of you have an extra 3,000 or 4,000 dollars lying around to pay taxes with. I know I don't, and neither does anybody I know. As much as we all love what we do, and we pretty much have to stay in EMS, some find that they just can't afford it with the way things are. The comment has been made that we could just put some back each payday to cover our taxes. Let me ask one question here. With the cost of living being what it is these days, how many people do you know that can actually do that? I'd venture to guess that there are very few, if any.
We have a first rate EMS service in Pecos. Our average time from tone out to rolling out the door is five minutes. That's three minutes less than the national average of eight minutes. The only other service even close to our size in this area that's still volunteer is Crane. They make about half the calls we do, and it often takes them 30 minutes or longer to field a crew and get rolling. By that time, we are usually on our way to the hospital with a patient.
Pecos is the only service in this area among cities of comparable size that's still volunteer. Monahans, Kermit, and Ft. Stockton all have fully paid services. As a matter of fact, no other service in this area covers the area we do or has the call volume we do. The others make approximately 100 calls a month, BUT, about 40 percent of their calls are out of town transfers. We make 95 calls a month that are all 911 Emergency calls.
Our coverage area is two to three times what they cover. For those that don't know, Reeves County is over 2,600 square miles in area, and we are currently covering the entire county.
I did not intend to offend or alienate any one with this letter, and if I did, I apologize now. My only purpose in writing was to let the citizens of Pecos and Reeves County know the situation we are in and the problems we are facing.
All of us in Pecos EMS are proud of the care we provide for our citizens and visitors. We also greatly appreciate the support we have always had, and hope to continue to have, from our, our fellow citizens. There is one thing you can always count on from us.
Whether it's tow in the afternoon or two in the morning, we will be there providing the best care we possible can no matter who you are or what you need. That is our promise, and our commitment. Thank all of you for your indulgence and support.
JOE TOLLETT
Paramedic and proud of it <!==========end copy==================>
---
Pecos Enterprise
York M. "Smokey" Briggs, Publisher
324 S. Cedar St., Pecos, TX 79772
Phone 432-445-5475, FAX 432-445-4321
e-mail news@pecos.net
Associated Press text, photo, graphic, audio and/or video material shall not be published, broadcast, rewritten for broadcast or publication or redistributed directly or indirectly in any medium.
Copyright 2003-04 by Pecos Enterprise
---