|
Weekly Newspaper and Travel Guide
for Pecos Country of West Texas
Opinion
Tuesday, August 8, 2006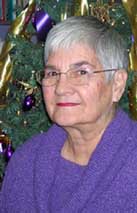 Squarely Pegged
By Peggy McCracken
<!=====paste copy here==========================>
Attorney's advice:
watch your own back
Having suffered through a purse snatching with my sister, I am super sensitive about my identity and how to keep it safe from thieves. Here are some tips from a corporate attorney, sent to me by a friend after the fact. I knew all this already, but have not been careful to comply.
1. The next time you order checks have only your initials (instead of first name) and last name put on them. If someone takes your checkbook, they will not know if you sign your checks with just your initials or your first name, but your bank will know how you sign your checks.
2. Do not sign the back of your credit cards. Instead, put "PHOTO ID REQUIRED."
3. When you are writing checks to pay on your credit card accounts, DO NOT put the complete account number on the "For" line. Instead, just put the last four numbers. The credit card company knows the rest of the number, and anyone who might be handling your check as it passes through all the check-processing channels will not have access to it.
4. Put your work phone # on your checks instead of your home phone. If you have a PO Box, use that instead of your home address. If you do not have a PO Box, use your work address. Never have your SS# printed on your checks (DUH!). You can add it if it is necessary. However, if you have it printed, anyone can get it. (I would add, don't put your driver's license number on your checks, either.)
5. Place the contents of your wallet on a photocopy machine. Do both sides of each license, credit card, etc. You will know what you had in your wallet and all of the account numbers and phone numbers to call and cancel. Keep the photocopy in a safe place. Also carry a photocopy of your passport when traveling either here or abroad. (And leave another at home in case you lose both.)We have all heard horror stories about fraud that is committed on us in stealing a name, address, Social Security number, credit cards.
6. When you check out of a hotel that uses cards for keys (and they all seem to do that now), do not turn the "keys" in! . Take them with you and destroy them. Those little cards have on them all of the information you gave the hotel, including address and credit card numbers and expiration dates. Someone with a card reader, or employee of the hotel, can access all that information with no problem whatsoever.
If you should be the victim of a purse snatching or lose your wallet, here is some critical information to limit the damage.
1. We have been told we should cancel our credit cards immediately. The key is having the toll free numbers and your card numbers handy so you know whom to call. (My sister had this information at home, but not with her. She could have gotten the 800 number to call from my credit cards had I been sharp enough to think of it. Getting the right number to call was a hassle, and the perps had already used one of the cards).
2. File a police report immediately in the jurisdiction where your credit cards, etc., were stolen. This proves to credit providers you were diligent, and this is a first step toward an investigation (We did this, and were contacted after arriving home for a statement. Sister declined to file charges, because she didn't want to go back to Seattle. And she had already gotten her papers back).
However, here is what is perhaps most important of all
3. Call the three national credit reporting organizations immediately to place a fraud alert on your name and Social Security number. The alert means any company that checks your credit knows your information was stolen, and they have to contact you by phone to authorize new credit.
Here are the numbers you always need to contact about your wallet and contents being stolen:
1.) Equifax: 1-800-525-6285 2.) Experian (formerly TRW): 1-888-397-3742 3.) TransUnion: 1-800-680-7289 4.) Social Security Administration (fraud line): 1-800-269-0271
The attorney didn't mention calling the U.S. Department of State IMMDEIDATELY if your passport is stolen or lost. Our thieves apparently were not sophisticated enough to know a passport is valuable, and they threw it away, along with all the other identification papers.
I am thankful they not only ditched her papers, but that they didn't take mine too. Both of us might still be in Seattle if the little perp was smarter. But then, if he was smart, he wouldn't be a thief!!!
"When a strong man, with all his weapons ready, guards his own house, all his belongings are safe." Luke 11:22, TEV
EDITOR'S NOTE: Peggy McCracken is Enterprise business manager. Contact her at HYPERLINK "mailto:peg2@pecos.net" peg2@pecos.net <!==========end copy==================>
---



Pecos Enterprise
York M. "Smokey" Briggs, Publisher
324 S. Cedar St., Pecos, TX 79772
Phone 432-445-5475, FAX 432-445-4321
e-mail news@pecos.net

Associated Press text, photo, graphic, audio and/or video material shall not be published, broadcast, rewritten for broadcast or publication or redistributed directly or indirectly in any medium.
Copyright 2003-04 by Pecos Enterprise
---