NEWS PAGES

Obituaries
Archive
Photos

ADVERTISING
Commerce
Classified
Economic Development
TRAVEL
Area Papers
West Texas
STAFF
Smokey Briggs
Jon Fulbright
Peggy McCracken
Rosie Flores

LINKS
Other Sites
|
Weekly Newspaper and Travel Guide
for Pecos Country of West Texas
Opinion
Tuesday, August 1, 2006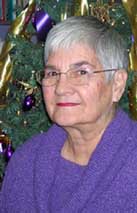 Squarely Pegged
By Peggy McCracken
<!=====paste copy here==========================>
Get up! We
have a disaster!
Those words are burned into the memory of Barb Kowal, director of media relations for the University of Texas. Barb was one of our group of six traveling to Alaska in July. My sister, Mary Walling, used those words to herald the loss of her purse and a scramble to replace her passport and driver's license so we could board ship. We all were truly Sleepless in Seattle.
"Loss" is too tame a word for the purse. It was snatched in a daring early-morning incident at the Space Needle four hours before we were to board the Norwegian Sun for a run up the Inside Passage through Canada to Alaska and our long-planned adventure.
Mary's daughter, Nancy Walling, a basketball coach at Pflugerville, was with us in the motel. She and Barb grabbed their cell phones to help Mary cancel her lost cell phone, credit cards and have copies of her passport and driver's license faxed to the motel. Barb handled things on the Port Authority side, learning that copies of the documents would be accepted, but we would need to be at the ship for early boarding.
Mary called her son-in-law in San Angelo, told him where to find her hidden house key and the documents. The first ones he faxed were too dark, so he took them to his office at the college to make lighter copies. They worked fine.
Meantime, Mary canceled her credit cards, only to find that one of them had already been used to purchase $25 worth of gasoline. The perp, a teenage boy, had offered to take our pictures together in front of the space needle, and without thinking, I handed him the camera. As we posed, I realized he probably was a thief and hurried back to our purses, which were sitting right beside him. He actually took the picture and handed the camera back to Mary before grabbing her purse and running, with me in hot pursuit, yelling, "Stop that man, he is a thief. Thief! Thief! Thief!" (The TH sound pushed out my cracked front tooth.) He had an accomplice waiting in a car, and they escaped. Police responded quickly, but were unable to locate the vehicle, for which a bystander had supplied a license number. Probably fake, I decided, and he was likely one of the gang.
We did get on the ship and had a great time. Meals were available anytime we wanted to eat, there was plenty of recreation, including swimming, and entertainment was so varied that all six of us found something to our liking. Mary's daughter Sheri and her friend Dettie from Amarillo liked the casino, specialty restaurants and gift shops. I did as much country line dancing as my blocked arteries would allow. Angina prevented my snorkeling and ziplining through the treetops, but I did enjoy a walk through the rain forest at Ketchikan, salmon bake at Juneau, train ride up the White Pass Railway at Skagway, and panning for gold atop a mountain in Canada. Mary and I also toured Prince Rupert in a bicycle-driven rickshaw when we tired of climbing hills. Nancy and Barb toured Ketchikan, watched whales and worked out often. Sheri and Dettie took a floatplane trip to five glaciers.
When we returned to Seattle for a three-day tour and visit with friends, Mary's papers awaited us at the motel. The thieves kept the $200 she had won at slots in the Las Vegas airport, her cell phone, credit cards, car key and expensive clip-on shades. We were told a homeless person had found the discarded papers and turned them in at a day center for the homeless. I guess he kept the purse.
Homeless people are everywhere in Seattle, lured by liberal policies that provide for their needs, I'm told. The city is laid out so that public parks line the lake shores and dot the cityscape. My accountant, Victoria Childs, spotted a discarded purse while showing me the arboretum, and in light of our experience, retrieved it and turned it in to police. Seattle residents are like that. It's a good city to visit, and a nice place to live if you can afford high rent or will accept handouts.
It was great to get back on Texas soil, though, and a highlight of the trip was our last night in the Hilton Hotel at the Austin airport. Elegant is too tame a word for the huge domed lobby with a bar in the center that serves gourmet food 24/7. The beds are soft and hard to leave early in the morning.
Mary and I arrived back in Midland at mid-morning Wednesday. I called my dentist hoping for an emergency root canal, but he was out for a funeral and wouldn't be in until afternoon. So eager was I to get home that I headed west and experienced 80-mph traffic until we hit the work zone.
The trip was great, but there is no place like the chicken farm.
"Bring us back from among the nations. Let us celebrate and shout in praise of your holy name." Psalm 107:47, TEV
EDITOR'S NOTE: Peggy McCracken is Enterprise business manager. Contact her at HYPERLINK "mailto:peg2@pecos.net" peg2@pecos.net <!==========end copy==================>
---
Pecos Enterprise
York M. "Smokey" Briggs, Publisher
324 S. Cedar St., Pecos, TX 79772
Phone 432-445-5475, FAX 432-445-4321
e-mail news@pecos.net
Associated Press text, photo, graphic, audio and/or video material shall not be published, broadcast, rewritten for broadcast or publication or redistributed directly or indirectly in any medium.
Copyright 2003-04 by Pecos Enterprise
---