|
Weekly Newspaper and Travel Guide
for Pecos Country of West Texas
Opinion
Tuesday, July 25, 2006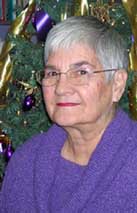 Squarely Pegged
By Peggy McCracken
<!=====paste copy here==========================>
Give warm shoulder
to northern neighbor
Canada seems a long way off, and I have never had a desire to go there. But I am going to see some of its west coast on my Norwegian Sun cruise to Alaska, so have been reading a book titled, "Canada's Incredible Coasts."
The first photo is of kayakers exploring the western shores of Vancouver Island. Kayaking is one of the excursions I considered, but fear I wouldn't have the stamina to complete.
We will probably see lots of lighthouses, though, the next photo in the book. I don't expect to see any dogsleds, but who knows?
Studying the map that shows all of Canada, Alaska, Greenland, the Arctic Ocean and parts of the United States and both big oceans helped me to locate our route through the Inside Passage and to get some idea of what we may see.
I'm told we will avoid rough seas by going up the Inside Passage, which is good, because I get motion sickness riding in the backseat of a car.
Newfoundland's Wild Shores is the first chapter in the book, and I read it with interest, although we will be a long way from there. Its shores are forbidding, and not what I would call a vacation spot.
I skipped to the last chapter, "The Majestic West Coast," to find craggy headlands, boats crowding a marina at Vancouver, with high-rise buildings and the Coast Mountains in the background. That's more my style.
A detailed map shows every port along the Inside Passage. Along the 500-mile route between Seattle, Washington and Alaska, narrow channels require skillful maneuvering.
We won't stop at Victoria, the provincial capital of British Columbia province, nicknamed "a bit of England." You can buy British goods there, such as china and tweeds. I am not to miss it, because I have done England.
Our only stop in Canada is at Prince Rupert, which is close to Alaska. We pass by Hornby Island, Texada Island, Port McNeill, Port Hardy and the Charlotte Islands, among others. These places have an interesting history.
I'm told that our politicians are trying to unify Canada, the U.S. and Mexico, so one day we may be citizens of that northland. It won't hurt to get acquainted.
"Well then, are we Jews (Texans) any better than the Gentiles (Canadians). Not at all!" Romans3:9, TEV
EDITOR'S NOTE: Peggy McCracken is Enterprise business manager. Contact her at HYPERLINK "mailto:peg2@pecos.net" peg2@pecos.net <!==========end copy==================>
---
Pecos Enterprise
York M. "Smokey" Briggs, Publisher
324 S. Cedar St., Pecos, TX 79772
Phone 432-445-5475, FAX 432-445-4321
e-mail news@pecos.net
Associated Press text, photo, graphic, audio and/or video material shall not be published, broadcast, rewritten for broadcast or publication or redistributed directly or indirectly in any medium.
Copyright 2003-04 by Pecos Enterprise
---