|
Weekly Newspaper and Travel Guide
for Pecos Country of West Texas
Opinion
Tuesday, July 4, 2006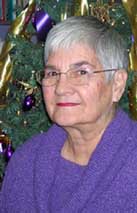 Squarely Pegged
By Peggy McCracken
<!=====paste copy here==========================>
Bucking the system
led to independence
July 4th has been rodeo time in Pecos since 1883. Yet here we are with no rodeo to go to and a fireworks ban to keep us from shooting off rockets to celebrate our independence.
I did make it to the rodeo on opening night, and enjoyed watching the cowboys do their ďthang.Ē Most of them hung on their bucking broncs long enough to score, but the bulls were not so gracious. I didnít see anyone get hurt though, and that is a plus.
So many ropers either missed their catch or the animal got up before the requisite six seconds elapsed. It is painful to see the top ropers in the country go home without even a chance to finish in the money. And it makes you more aware of the hard work cowboys do every day to keep livestock healthy and provide us meat for the table.
Watching cowboys work is a great way to celebrate independence, because there is nobody more independent than a cowboy. He may have a foreman to direct his efforts for the day, but it is up to him to get it done any way he can, with the help of his faithful horse.
Some of the helpers in the arena were cowboys who work the range in this area. I noticed how comfortable Roger Harrison is in the saddle as he rode in the grand entry and then worked as pickup man during the performance. Itís not hard to tell a real cowboy from wannabes who probably havenít been on a horse since last yearís rodeo.
Hugh Box is another cowboy who looks the part and fills the bill. He had spent the day trying to wire the new scoreboard so it would work. It didnít work Wednesday night, but Iíll bet it lighted up the rest of the week. Hugh cooked delicious brisket for the hospitality camp, and Iím sure filled a lot of other big shoes both before and during the rodeo. His wife, Gail, helped dish up the food.
I saw a lot of familiar faces. Edward Tersero had the Frank Spencer box all to himself, since his kids are scattered from El Paso to Missouri. He kept an eye out for Valerie, who is in the Air Force and married. She didnít show up before I left, which was before the last bull ride.
Birdie Slack graciously hosted the evening for Ruth Rogers and me. I always enjoy visiting with them. Charlotte and Dick Slack joined us for the pre-rodeo eats in the civic center, and I caught her up on what my chickens are doing.
Cindy Shores hobbled around the arena on a broken leg, getting close-ups of the action. You may get to see some of her work at the fall fair, where she enters the photo competition (and wins).
It was great fun, but makes the real Independence Day holiday seem like an afterthought.
ďLet all things praise the name of the Lord, because they were created at his command.Ē Psalm 148:5, TEV
EDITORíS NOTE: Peggy McCracken is Enterprise business manager. Contact her at peg2@pecos.net <!==========end copy==================>
---



Pecos Enterprise
York M. "Smokey" Briggs, Publisher
324 S. Cedar St., Pecos, TX 79772
Phone 432-445-5475, FAX 432-445-4321
e-mail news@pecos.net

Associated Press text, photo, graphic, audio and/or video material shall not be published, broadcast, rewritten for broadcast or publication or redistributed directly or indirectly in any medium.
Copyright 2003-04 by Pecos Enterprise
---