|
Weekly Newspaper and Travel Guide
for Pecos Country of West Texas
Opinion
Friday, April 28, 2006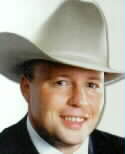 Sage Views
By Smokey Briggs
<!=====paste copy here==========================>
The best
weekend ever
Everyone should have such a day.
It started Friday - well, really it was the product of the week, or maybe the month, or maybe the past few months.
I was done, cooked, finished, and just plain worn down to nubbins. I could have kicked a dog when I pulled up to the gate at the Barstow ranch that evening.
There were the usual culprits: The job. The customers. The bills. The threats. The idiots. The jerks. Too much stress and too little sleep. To top it all off on Thursday She-who-must-be-obeyed's Suburban threw in the towel with a seized fuel pump.
After which I learned from trusted mechanic Butch Renshaw that you can beat on the gas tank with a hammer while SWMBO cranks the truck and get a few more miles out of a seized fuel pump and get it home or to a trusted mechanic's shop.
It was okay because my trusty Toyota, who I have driven for 17 years and 247,000 miles still purrs, and my nearly trusty 1964 Landrover was nearly running.
By the way, after 17 years and 247,000 miles the Toyota is a who, not an it or that.
Now, SWMBO is not a fan of the Landrover. "A tractor with doors," is her description.
So, the Toyota was confiscated by SWMBO and I got the Rover, which was fine with me because I consider it first-class transport.
Only trouble was the Toyota's inspection sticker expired and re-inspection (also known as paying another tax) was not an option since the emergency brake cable had popped under the dash.
Being on top of things I had ordered said cable months before - and it was handily riding behind the seat when she was pulled over.
Oooops.
So, when I made the honey-do list for the weekend, it was long and I was grumbly.
First the completely full 42-gallon gas tank of the Suburban had to be emptied so that the tank could be removed and the fuel pump replaced.
Then the Toyota had to have a new emergency brake cable installed, and since SWMBO was going to be the pilot I decided to go ahead and replace the busted AC line so that we could replenish the Freon, and SWMBO could ride in style. The new AC line was behind the seat as well.
Then the Rover had to have her brake lights troubleshot and fixed.
I got a running start early Saturday morning.
Before I could drain the Suburban I had to find something to put 42 gallons of gas in.
By the end of the day a 125-gallon fuel tank off a tractor truck was washed and ready to go.
I parked the Rover next to it and pulled the Suburban next to the Rover. Ten feet of new fuel line went into the tank and connected to the Rover's electric fuel pump, and ten feet of line was run from the Rover's pump to the new tank.
A turn of the key and gas began to flow out of the Suburban, into the Rover and then to the fuel tank. I felt like a surgeon.
At the end of the day, the Suburban tank was empty, the Rover's brake light issues were solved with a bit of new wire, and the Toyota's cab was missing a seat and half the dash. I was bone tired but it was the good tired that comes from hard physical labor and progress. Supper and bed were fine rewards. I had used nearly every tool I own from come-a-longs to hammers.
Sunday I was back at it early but not before SWMBO made a wonderful pot of coffee that we shared on the back porch of Chez Barstow. It was a perfect nearly summer morning that makes living in West Texas nice - chilly and bright with a promise of a hot but bearable day. Barstow is nice and quiet on a Sunday morning. An hour with your best friend on the back porch and a good cup of joe will fix a lot of what ails you.
The gods of wrenching were still smiling, or maybe laughing. The emergency brake turned out to be a bugger. Before I started re-installing I had nearly re-fabricated the entire original mechanism and it was one-half new parts fabricated with vise, drill, and spare stuff that conveniently lies around my little shop.
It was hot too.
While I worked I listened to music. Actually it was the sound of two screaming girls playing in the 8-foot round horse trough that serves as our swimming pool.
That is music for a father. It's the kind of music that makes jobs and jerks melt away into a haze that is easily disposed of in the trashcan of your mind. It makes it all worthwhile.
I declared victory over Japanese engineering (which I'm honestly pretty impressed with) about 3 pm.
All I had left was sewing my little truck back together. That's when Ruby and Carson (ages 8 and 5) showed up with three of those popsicles in a bag that you cut the top of off with scissors and push up from the bottom. They had three and said I looked like I needed one.
I got the blue one.
It was cold and good.
If there is anything better than sharing a popsicle with two young ladies who obviously appreciate such things, I do not know what it is.
I now know that Gojo removes popsicle sticky as well as grease.
By supper the Toyota was ship shape and I was the king of the world. I was the victor in every mechanical task I had attempted and I do not pitch no-hitters in this game all that often.
Supper was good.
Giving Dixie (age six months) her bath was even better. She was happy and we ended up with more water on the floor than in the tub.
By the time I laid my head on my pillow whatever stress and general evil I had been carrying around with me was nearly forgotten silliness. I honestly could not remember why I had felt so churned up.
Life was good. No, life was perfect.
We were ready for another week. My girls were happy and healthy. SWMBO was duly impressed with my manly mechanical skills.
Everybody should have such a perfect weekend once in awhile.
Local thanks hospital and staff for treatment
Dear Editor:
Pecos is very fortunate to have this hospital and staff. As a member of the Pecos EMS, I have dealt mostly with the emergency room. Until recently, when my mom became ill, I didn't realize how wonderful, caring and efficient the entire hospital and staff are. All of you made our stay at the hospital a bearable experience. My mom and the entire family had the best care, love and first class treatment. I appreciate all of you for making the most of a bad situation.
My mom was in the Midland hospital for a week. Although she had good qualified nurses, she never saw the same nurse twice. The feeling of personal care didn't seem to be there as it was in Pecos. She couldn't wait to get home to the Pecos hospital.
I just want to thank Dr. Cerna, Dr. Abdo, and everyone at Reeves County Hospital. I hope everyone realizes what a great facility we have.
Thank you from the bottom of my heart.
ROBIN LAND

Reader defends his position as election judge
To the Editor:
For residents of Reeves County, who do not know me, allow me to introduce myself. My name is Samuel E. Anchondo and I was born and raised in Reeves County. My name was mentioned in the local newspaper written in the "EXTRA EXTRA" newspaper on Wednesday, April 19, 2006, saying that, "I was a new Judge for Box 7," and my electronic disk was overlooked and not counted on election night after a week.
After much prayer and consultation, I feel that I have a responsibility to the residents of Reeves County, especially to residents in box 7, to let them know what actually happened since they were the ones who made time to make a personal appearance (especially the elderly/disabled and those who work and vote during their lunch hour) and fulfill their obligation as a citizen of Reeves County, and an American.
On the night of the "run-off" elections, my alternate judge and I gathered our information from Box 7, ready to be taken to the courthouse, where central counting headquarters were located. We arrived and met with the county clerk, central counting judge, and two other clerks, the Democratic Chairman was not seen. My alternate judge and I, specifically informed the staff that we are ready to turn in our ballots, electronic disk, and report from the computer with our signatures, as instructed by the chairman. The three items mentioned above were in the tub, so the clerks could see them. After that, the clerk gave us a receipt and we left; I have my receipt.
As we started walking out the clerk's office, the Toyah box was coming in. I verified and called the Secretary of State office, and they confirmed that my responsibilities were completed and oath expired, when I turned in the box. My job was successfully completed, what happens after I turn in the box, is beyond my control. I did notice that during the March 2006 primary elections, my election judge and I turned in box 7 to the central counting judge, not to the clerks.
Yes, I was a new election Judge for the run-off in box 7 on April 11, 2006, and I was an alternate judge for the primary elections in the same box on March 2006, which I was almost appointed as the election Judge as well. Just like I learned to work with difficult people in profession, I too learned how to be an election Judge because I asked questions and I was interested in this field, since I never had the honor to serve my community as an election Judge. I took my responsibilities very serious, and it was good to see people of Reeves County again and connect with them. I could easily say "No" when asked to work in the elections, since I do have a full-time job, but I decided to serve my community. For people who know me, they know that I am an approachable person and enjoy helping the disadvantaged in our community.
Since, I was the new kid in the block as an election Judge, I wanted to write this letter to the editor because my personal name was in the newspaper, and I strongly believe that it should not be printed, but it did. Something to think about!
Thank You and God Bless You,
SAM E. ANCHONDO

Officer defends efforts to limit meth labs
To the Editor:
I'd first off like to say I'm sorry that Smokey has had such a bad time with booger medicine. Life does manage to set priorities in perspective for us. Unless the words "Kelly" and "on fire" are used in the same sentence, then sick kids and commodes that do not flush makes all else pale in comparison.
Those of us that have to deal with the methamphetamine epidemic are truly worried about what is happening. Meth use is sweeping the country, creating zombies, who are quick to kill and rob. Their mental being has become a drug induced state of schizophrenic paranoia. I guess I should not expect persons who are not involved to understand the problem. Some are not able to understand why anything should contrast from the way they see it and some just like to complain about anything that interferes with their lives regardless of the reasons. But in reality anything we can do to cut down on the number of Meth labs is a good beginning.
Now in reference to the editorial, I just don't like being called an idiot. Even under Smokeyism all agree that that right is reserved by my wife. I'm proud to be in Law Enforcement where I can serve my country here at home. We all get hacked off for various reasons but I can't see why that should allow anyone to blindly start calling people names. Guess I could count my lucky stars. Instead of just being an idiot I could be something worse like a journalist or even a lawyer.
And for the records, putting pseudoephedrine products behind the counter has in some places reduced the numbers of Meth labs located by one third to one half. Not much price paid just for having to point your finger at a box behind the counter and saying "I'll take that one please." KELLY DAVIS <!==========end copy==================>
---
Pecos Enterprise
York M. "Smokey" Briggs, Publisher
324 S. Cedar St., Pecos, TX 79772
Phone 432-445-5475, FAX 432-445-4321
e-mail news@pecos.net
Associated Press text, photo, graphic, audio and/or video material shall not be published, broadcast, rewritten for broadcast or publication or redistributed directly or indirectly in any medium.
Copyright 2003-04 by Pecos Enterprise
---