|
Weekly Newspaper and Travel Guide
for Pecos Country of West Texas
Opinion
Tuesday, April 11, 2006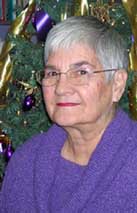 Squarely Pegged
By Peggy McCracken
<!=====paste copy here==========================>
Rooster persists in
wake-up call
It took a week for Rooster and me to adjust to Daylight Saving Time. He got me up plenty early last Sunday, but I missed church because he didn't remind me at 2 a.m. to set the clocks forward an hour.
He did crow at 2 a.m., as usual. I just didn't realize it had a special meaning that particular night. Or morning. He likes to crow every two hours after midnight. And being on a perch just outside my bedroom window, it wakes me every time.
Usually the wee-hour crow doesn't last long, and after a trip to the John, I can get right back to sleep. It's the dawn crowing that doesn't stop until I and everyone else in the neighborhood are fully awake and on our feet. After the time change, he crowed at 7 a.m., and that was a good time to get up. But now he has moved it back to the regular time of 6 a.m., and that is a little earlier than I want to get up. This morning I lay there for 45 minutes, and he must have crowed 45 times.
This is not my rooster, understand. I don't know where his home base is, but he roosts in the big cedar tree just outside my open bedroom window. One morning a pack of dogs got after him, and I muttered "sic 'em" under my breath. I thought he was a goner, and kinda missed him for the few days he hid out somewhere down the block. But now he's back, in full throat.
Maybe a wake-up call is a good thing. Often we keep our eyes shut when opportunities arise, and sleep through what could have been something of value to us or to others.
I would have to say my breast cancer was a wake-up call last year. I was snoozing along, getting little out of this life and wishing for the next one. Then when God showed me that I am mortal after all, little aggravations lost their grip, and my focus turned to using my time in a more positive way.
My little band of budding musicians is practicing "Nothing But the Blood" for Sunday's offertory; I am looking forward to the choir's Easter cantata; and then I'll join my sisters and dear friend Doris Hudnall for a Bob Wills 35th Anniversary weekend. A cruise up the coast of Alaska will be our next adventure. I'm not much on traveling, but believe the time with sisters and friends will be well spent.
In between, I hope the God's Army house will host a full summer program for children, youth and adults. Kim Ewing and her youth group have done a great job refurbishing the headquarters building, and all the rooms should be ready for use. We've added ceramics to the list of things to do, so it promises to be a fun summer for all ages.
I'm sure Rooster will keep me awake and ready to help where I'm needed.
"If you will return, O Israel, return to me, declares the Lord…the nations will be blessed by him and in him they will glory." Jer 4:1, NIV
EDITOR'S NOTE: Peggy McCracken is Enterprise business manager. Contact her at HYPERLINK "mailto:peg2@pecos.net" peg2@pecos.net <!==========end copy==================>
---
Pecos Enterprise
York M. "Smokey" Briggs, Publisher
324 S. Cedar St., Pecos, TX 79772
Phone 432-445-5475, FAX 432-445-4321
e-mail news@pecos.net
Associated Press text, photo, graphic, audio and/or video material shall not be published, broadcast, rewritten for broadcast or publication or redistributed directly or indirectly in any medium.
Copyright 2003-04 by Pecos Enterprise
---