|
Weekly Newspaper and Travel Guide
for Pecos Country of West Texas
Opinion
Friday, April 7, 2006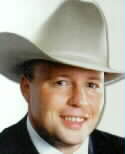 Sage Views
By Smokey Briggs
<!=====paste copy here==========================>
Pecos FNRA is Saturday
night, donít miss it!
Tomorrow (Saturday night) the Pecos Valley Friends of the NRA will hold its annual banquet complete with raffles, food and auctions of both the silent and loud types.
It is no secret that I am a firm believer in the 2nd Amendment and the correct interpretation of that amendment - that it guarantees the God-given right of free men to be armed and protect themselves, their families and their country.
I am also a firm believer in the value of marksmanship training. Such training benefits the participant, the community and the nation. As a young man I benefited immensely from my involvement with shooting - from the first walk in the woods with my dad holding a new .22 rifle to the day I stepped foot on Edson Range to qualify with an M-16 A1 with the Marines.
I still benefit from that training today.
Shooting, in all of its forms, is great sport. One of the things I like the most about shooting is that you can compete throughout your life, and generally, you get better with age.
Shooting is a sport that demands and teaches discipline, responsibility and the value of perseverance. Natural talent is less important in the shooting sports than most other athletics.
As a child, and later as a young man, I spent many constructive hours shooting - hours that might otherwise have been spent doing less constructive, or even destructive, things.
Today, it is a sport that I can still compete in, despite having reached the big four-zero. As a matter of fact, Iím better today than I ever was, not that that is saying a lot.
If we can help some kids down that same path, it is a good thing for them, for Texas, and for America. I have been associated with FNRA for going on five years now and have yet to be disappointed.
I make a point of helping to publicize the annual banquets in the area.
I do so because FNRA is a good outfit that does what it claims to do - put money back into the towns where it was raised.
Over the past years West Texas communities have received thousands and thousands of dollars in grants through FNRA.
So, if you do not have anything going on Saturday night, head over to the Reeves County Convention Center. The doors open at 6 p.m., and you want to get there early to get in on all the good raffles.
Tickets cost $20 each or $35 for a couple.
This year there is a great selection of neat stuff to be auctioned and raffled off at the banquet -- from artwork and jewelry to shooting accessories and of course, plenty of firearms.
We also have something special planned for the kids. Every kid in the 5-14 age group will get a free raffle ticket with their $5 meal ticket, and during the night we are going to raffle off 10 .22-caliber rifles 10 Red Ryder BB guns.
That is always my favorite part of the night.
Best of all, it is a guaranteed good time.
See you there. <!==========end copy==================>
---
Pecos Enterprise
York M. "Smokey" Briggs, Publisher
324 S. Cedar St., Pecos, TX 79772
Phone 432-445-5475, FAX 432-445-4321
e-mail news@pecos.net
Associated Press text, photo, graphic, audio and/or video material shall not be published, broadcast, rewritten for broadcast or publication or redistributed directly or indirectly in any medium.
Copyright 2003-04 by Pecos Enterprise
---