|
Weekly Newspaper and Travel Guide
for Pecos Country of West Texas
Opinion
Tuesday, April 4, 2006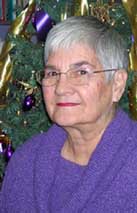 Squarely Pegged
By Peggy McCracken
<!=====paste copy here==========================>
Springtime brings
promise of new life
April is here, and Jasmine just got a year older. She is a Springtime gift.
You remember Jasmine, my first great-grandchild. She lives in Del Rio with her Dad and visits her mother, Amanda, in Midland regularly.
On my last trip to Midland for an infusion of bone strengthener, I dropped in at "Daytime Bingo" to see Amanda, and there was Jasmine! What a nice surprise. She was on spring break from school and helping her mother at work.
I should have taken her with me to Wal Mart to help pick out her birthday present, but didn't think of it until I was way down the street. That's one problem with great-grandmotherhood. Your brain doesn't work as fast as it once did. If it ever did work fast.
Yesterday was Jasmine's birthday, and I am sending this to her as a greeting along with a digital photo of my youngest great-grandchild, Houston Charles Goddard. Houston was born in December, but looks six months old already. He is a happy baby and is thriving.
In between those two comes Cieara, a precious 4-year-old whose big brown eyes remind me of her great-grandfather. I can see a little Peggy Jane in her, too. She loves "Scramble" and other games stacked in my living room shelves just for her.
Children light up our lives so much. Is it any wonder that God says "Of such is the Kingdom of Heaven?"
In between grandchild visits, I enjoy other people's children. Each day after school, one, two, three or four youngsters gather in my living room to play keyboards, guitar, bass guitar and drums. Their fresh faces and excitement about learning gives me a boost that keeps me on the mountaintop.
I have always enjoyed working with children, as a Cub Scout leader, Sunday school teacher, Vacation Bible School director and leader, God's Army director and others. I never did coach a Little League team. It's just as well. I would probably be like one of those coaches who badgers their kids to win instead of playing for the fun of it. I like to win.
But when my great-granddaughters are in the game, I encourage them to beat me. They like to win, too. And they are all winners!!
"Whoever does not receive the Kingdom of God like a child will never enter it." Luke 18:17, TEV
EDITOR'S NOTE: Peggy McCracken is Enterprise business manager. Contact her at peg2@pecos.net <!==========end copy==================>
---



Pecos Enterprise
York M. "Smokey" Briggs, Publisher
324 S. Cedar St., Pecos, TX 79772
Phone 432-445-5475, FAX 432-445-4321
e-mail news@pecos.net

Associated Press text, photo, graphic, audio and/or video material shall not be published, broadcast, rewritten for broadcast or publication or redistributed directly or indirectly in any medium.
Copyright 2003-04 by Pecos Enterprise
---