|
Weekly Newspaper and Travel Guide
for Pecos Country of West Texas
Opinion
Friday, October 20, 2006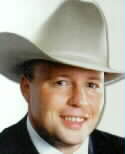 Sage Views
By Smokey Briggs
<!=====paste copy here==========================>
Texas no more
My family moved to Texas when I was seven years old. I remember that day like it was yesterday.
We had been driving for about a week, or so it seemed. It was two days before Christmas. My dad was driving our 1971 Scout, pulling a horse trailer that resembled a miniature Noah's Ark with a horse, several pigs, a few hounds, numerous chickens and a few rabbits.
Looking back, I'm pretty sure we entered Texas on I-20 and then turned north on US 75 at Dallas. The Mobile winged horse was the tallest thing on the Dallas skyline, and the plowed cotton fields of East Texas were black as crude oil.
I was thrilled to be in the West - in the land of Texans and cowboys and all the stuff little boys are fond of.
And big boys, for that matter.
My love affair with Texas was in full bloom and lasted many years.
Sadly, it is over.
After 34-and-some years, I consider myself a naturalized Texan.
I am now revoking that citizenship, as Texas is no longer Texas.
Here and there are little pockets of what Texas was, but assuredly they are being devoured.
While I am renouncing my citizenship I would also like to suggest we rename this place - maybe Connectitexas, or Texafornia - calling it Texas just is not right.
Why?
I'll tell you why.
We traveled to Dallas - Ft. Worth over the weekend to see relatives and to take the girls to the State Fair.
Now, I have loved the State Fair since the first time I attended at age eight.
I have shown livestock there, thrown money away on the midway, eaten about 1,000 Fletcher's corny dogs, and always reveled at so much "Texas" in one spot. It was a glorious celebration of much of what Texas is.
So, this year, we rounded up the girls and headed for Dallas.
Walking up to the gate, I noticed that "security" measures had been put in place this year.
Security at the State Fair means half-witted people who were fired as airport screeners for their inability to remember to breathe regularly, and their rudeness.
As I waited in line, I watched as this bunch demanded to look in some pocketbooks but not others, emptied some pockets and not others, and generally manged to be nothing but inefficient and ridiculous.
The only thing they did accomplish was to create an incredibly long bottleneck.
I sighed, bit my tongue, and shuffled along until it was my turn.
I already had my keys, change, wallet, and pocketknife in my hands.
The stalk of human okra with the metal detecting wand took a step back from me like I was holding a six-foot rattlesnake.
"You can't bring that in here," she exclaimed.
"What?" I asked.
I won't bore you with the rest of the conversation, but somewhere, the Devil had a good laugh at my expense watching me try to explain to vegetable matter the difference between a legal and an illegal knife.
It turns out that pocket knives, legal or illegal, are no longer allowed at the State Fair of Texas.
Pocketknives.
I was incredulous.
I demanded to see a supervisor, whom, after meeting her, I assume was made a supervisor because she was too stupid to hold a metal-detecting wand.
I demanded to see a police officer. The Dallas cop was a nice gal. She very nicely explained to me that no knives were allowed.
We had a short conversation. I could bring a pistol if I had a concealed handgun license, but pen knives had been banned.
Now that makes perfect sense. Actually, in the mind of the okra-brained bureaucrat, it makes perfect sense - the holder of a concealed handgun license has already groveled at the foot of the state to ask permission.
The cop added that while it was legal for persons with concealed handgun licenses to bring a concealed handgun that the fair administrators were trying to make the paperwork such a hassle that nobody would do it.
"They will make someone wait at least 45 minutes before they even show up," she told me.
"I'm very sorry," she said. "I know it's silly."
I glanced at my wife, children, and numerous family members waiting for me.
I must admit, my blood pressure was thumping.
"Okay," I said. "I'll be back."
Back at the Suburban I took out my knife and then my Leatherman tool, a tool I consider more important to daily survival than skivvy shorts or boots. I have fixed everything from cars to broken baby strollers with that imperfect but handy tool.
Then, I tucked them into the top of my boots and walked back.
There was no way in hell I was going to walk around all day without so much as a pocketknife.
I have carried a knife every day of my life since I was deemed smart enough not to cut my own throat with it - and that was before we moved to Texas.
As a boy, it was a first step toward manhood - a symbol of maturity and responsibility. Amazingly, I've never accidently or intentionally stabbed anyone with it.
At 41 I am not going to hand that symbol in. That is one of the reasons I do not fly anymore.
I am simply not ready to become a gelded member of the human okra that more and more seems to populate this planet - and this state.
So, I walked back, knives in my boot. The okra people wanded me, looked at my keys, and waved me through.
Yeah, they were very efficient security. Heck, I could have smuggled a rocket launcher through there.
She-who-must-be-obeyed just smiled and chuckled - then showed me her Leatherman she keeps tucked in the diaper bag.
"Moron," she said, or something sweet like that.
"If I had known pocket knives were illegal I would have hidden mine," I told her. "This is Texas," I added as though that explained everything.
To me, it should have.
Later, we were walking through one of the big barns full of stuff being demonstrated and sold, and I wanted to cry. At a dozen tables and booths you could buy edged weapons of all types.
What a joke.
The real joke, however, is on us.
I really did want to cry as I looked around and wondered how many men and women in there were now walking around like mentally deficient toddlers after daddy took their pointed object away from them - or had been forced to become pseudo-criminals to retain possession of their pocketknives.
And worse, the so-called security was so ridiculous, that any bad guy with an IQ above 11 could have brought an armory with them.
The only people stripped of the last bit of their dignity, and their pocketknives, were the folks who did not smuggle it in - the honest ones.
That seems to be par for the course in these united States, and now, even in Texas.
No state that allows something this stupid to occur at its State Fair deserves to be called Texas.
And no man worth his salt would want to claim citizenship in such a state no matter what it was called, or how great it used to be.
Texas is no more. <!==========end copy==================>
---
Pecos Enterprise
York M. "Smokey" Briggs, Publisher
324 S. Cedar St., Pecos, TX 79772
Phone 432-445-5475, FAX 432-445-4321
e-mail news@pecos.net
Associated Press text, photo, graphic, audio and/or video material shall not be published, broadcast, rewritten for broadcast or publication or redistributed directly or indirectly in any medium.
Copyright 2003-04 by Pecos Enterprise
---