|
Weekly Newspaper and Travel Guide
for Pecos Country of West Texas
Opinion
Tuesday, October 17, 2006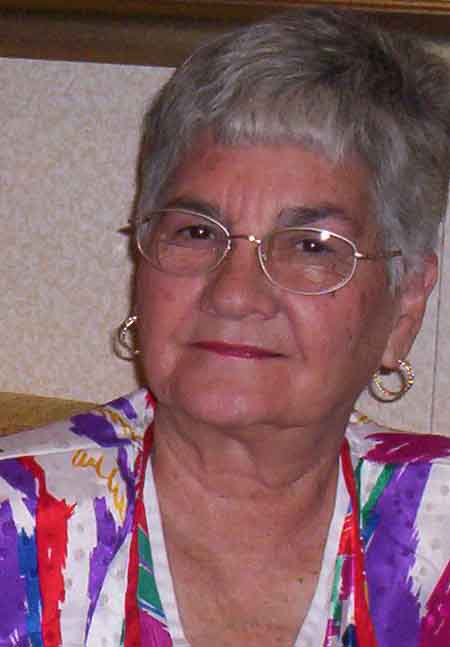 Squarely Pegged
By Peggy McCracken
<!=====paste copy here==========================>
Keep your face
outta my space
Looking back over 70-plus years, I can see many times when I blew my cool and acted a fool. One of those temper fits stands out as the worst and silliest of all.
Married at 16, I wasn't ready to settle down, and soon caused a rift that made Leon take me home to Mama in the wee hours of the morning. I'm told he spent the rest of the night roaring up and down the streets of Quitaque in his Oldsmobile convertible.
In the short time we had been married, I worked as a waitress at his grandfather's café. Tips were not mandatory in those days, but I did get a few nickels, dimes and quarters here and there, so I put them in a ceramic cow that someone had given me. It wasn't meant to be a bank, but I chiseled out a small slit in the top to drop coins and an occasional dollar bill through.
When Leon took me home, the cow was pregnant with silver and nickel. In the light of day, big brother Walter helped me round up the cow, clothes, a pile of shoes and a few other personal belongings and haul them the 12 miles from Quitaque to the Gunn farm near Flomot.
Walter didn't have much faith that the rift was permanent, and as usual, he was right. That night, here comes the Oldsmobile convertible down the half-mile dirt road, and Leon pleads for me to go home with him.
I resisted for awhile, but then gave in, packed an overnight bag and climbed in the convertible that had been a big incentive for me to marry him in the first place so I could leave that shack of a farm house.
When I returned the next day to pack up the rest of my things, I found my little sister, Gail, lying on her back on the bed, fishing nickels and dimes out of my pregnant cow. Rage washed over me like molten lava.
I screamed and probably cursed and carried on until my throat was raw. How dare anyone invade my privacy? The anger lingered and lingered and lingered. Fifty-five years later I can still feel the passion of that event.
And now I wonder, "Why?" How could such an insignificant matter create such anger? Why didn't I just thank Gail for fishing out my money, put it in the bank, and start feeding the cow nickels and dimes again?
I think it must have been the feeling that she had violated my very being. That cow and its contents were mine! Nobody had a right to tinker with it, not even my beloved little sister! Not once did I entertain the notion that she might have taken a coin or two for herself. My sister was honest, so that was not a factor.
I've had my space violated a few more times since then, and it has always torn me up. Not enough that I went into a rage, but enough to ruin my day and maybe a week or two. I still have problems with it, although I try to put things in perspective and consider whether or not it is really important in the overall scheme of things. Will it stop the world from turning? Not likely. Then get over it.
"Do not hide your face from me, do not turn your servant away in anger…" Psalm 27:9, NIV
EDITOR'S NOTE: Peggy McCracken is Enterprise business manager. Contact her at peg2@pecos.net <!==========end copy==================>
---
Pecos Enterprise
York M. "Smokey" Briggs, Publisher
324 S. Cedar St., Pecos, TX 79772
Phone 432-445-5475, FAX 432-445-4321
e-mail news@pecos.net
Associated Press text, photo, graphic, audio and/or video material shall not be published, broadcast, rewritten for broadcast or publication or redistributed directly or indirectly in any medium.
Copyright 2003-04 by Pecos Enterprise
---