|
Weekly Newspaper and Travel Guide
for Pecos Country of West Texas
Opinion
Friday, October 13, 2006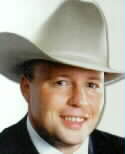 Sage Views
By Smokey Briggs
<!=====paste copy here==========================>
The world's
not fair
"The world's not fair."
How many times have you heard that expression?
It was my father's favorite expression.
I heard my papa growl, "The world's not fair," 1,453,444 times before I was 18.
Or thereabouts.
And, he didn't just say it. He said it with disdain and disgust, as though only a life form resembling okra could actually be so stupid as to whine about this or that being unfair.
To this day, I cannot bring myself to say, "That's not fair." I choke on the words.
Now, I say it.
"The world's not fair," my pop growled the other day. Only problem was, he was 400 miles away. I was sure it was him, but the only person in the room was Ruby Leigh, age nine, and myself.
Ruby gave me her mother's "you're an old curmudgeon" look and went about her day.
I get that more and more in a household where I am the only member of the male species.
Carson Mae, who often claims to be eight, but who will actually turn six soon, learned to read just the other day. It is a wonderful moment for a parent when it all comes together.
I could see it in her eyes - she had broken the code. Now it's just a matter of using the code to put the pieces together.
Sound out the word - learn the definition - move on to a new conquest.
A world of knowledge is now at her fingertips.
It was no accident.
I grew up in a family in which reading was everything. It came before football, marksmanship and probably personal hygiene.
So, when Ruby was born, and then Carson, and now Dixie, books were part of their life from day one.
Mom and I make sure that reading happens.
We can both recite "The Cat in the Hat, "Miss Suzy," "The Knobby Boys," and "Go Dogs, Go," in our sleep.
A parent cannot help but feel some pride when his child makes the leap from talking monkey to a human being who can read.
As I marveled at Carson Mae's sudden ability to sound out a word, it occurred to me that from here on out, whether she succeeded or failed, would more and more be her own responsibility.
And, even at the tender age of 5, she is making decisions that may very well affect the rest of her life.
What a horrible burden to bear at age five.
Talk about not fair.
The decisions she makes this year in kindergarten have the potential to shape her entire life.
Are you ready to make life-altering decisions when you are five years old? I doubt it.
But, you have to. For a while, Carson will have mom and dad to help shepherd her toward a good decision. Even so, the final decision, even now, is hers and hers alone.
She decided to learn to read. Later she will decide whether to daydream her way through algebra, or study, and much later she will make a decision regarding some snot-nosed jerk that brings her flowers. (Dad will probably try to help with this one).
These are decisions that will affect the rest of her life - her income, her career, her happiness.
What it comes down to is that you are responsible for you from very early on.
This is not an idea that modern American culture likes.
Pop culture in this country is pretty much just one big excuse for failure.
We have worked for 50-plus years to make excuses for people who failed because they made poor decisions - from age five to age seventy-five - in every aspect of life from work to love.
All of those excuses ring hollow in the end. When you total it all up, for the most part, we end up exactly where we decided to go.
Is that fair? Maybe, maybe not. But, I do know this - The world is not fair.
And if you expect it to be, you are in big trouble. <!==========end copy==================>
---
Pecos Enterprise
York M. "Smokey" Briggs, Publisher
324 S. Cedar St., Pecos, TX 79772
Phone 432-445-5475, FAX 432-445-4321
e-mail news@pecos.net
Associated Press text, photo, graphic, audio and/or video material shall not be published, broadcast, rewritten for broadcast or publication or redistributed directly or indirectly in any medium.
Copyright 2003-04 by Pecos Enterprise
---