|
Weekly Newspaper and Travel Guide
for Pecos Country of West Texas
Opinion
Friday, November 17, 2006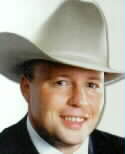 Sage Views
By Smokey Briggs
<!=====paste copy here==========================>
Real men park
their own truck
I do not watch much television. I count watching the one-eyed lobotomy box as a sin a step below murder but a step above gluttony.
But, I do occasionally sin. Well, maybe more than occasionally, but only occasionally with the boob tube.
Honestly, it's not that hard to avoid because the temptation just is not that great. It's not like that second slice of She-who-must-be-obeyed's apple pie with melted cheese on top. Now, that is temptation.
The programming on television these days is reminiscent of still-frozen store bought pie with the fake apples and too much cinnamon. If you can choke down two pieces of that, you are a man.
As we approach the holiday season, I would like to throw in some marital advice today: Ladies, make some pies.
If you really want to cheat, use the store-bought crust, but make the stuff that goes in the middle. Chop up the apples and work that magic. It's worth it. Store-bought pie is a true sin. It is a sin against your man, and a sin against your own dignity.
And it tastes like cardboard.
Anyway back to the propaganda box.
The girls brought home two or three killer viruses a week or so and gave them all to me at once.
They were sick for an hour or maybe two - I nearly died.
So, I spent some time on the couch staring glumly at the television, hoping for a painless death.
What I got was slow torture by absolutely idiotic sitcoms that are only funny if you think cussing in public is really hysterical.
On the other hand, the commercials aren't all bad.
I got to where I would tune out the programming in between commercials. At least with the commercials you could tell the writers really cared about their craft.
And then, the commercial came on.
When it flickered off to be replaced by some gal trying to sell me dishwashing soap, I was crying.
I was crying for manhood - well the death of manhood really.
Manhood is on the endangered species list and things do not look good.
Here's the commercial. You see this guy with a manly growth of stubble pull up to parallel park his not-completely-girlish truck-thing.
Then, when he should have been grabbing a fist-full of reverse and giving a manly tug on his non-power-steering steering wheel, he pushes a button instead and takes his hand off the wheel.
The truck-thing then parks itself.
"And to think, I used to parallel park myself," he thinks out loud, or some such gibberish, and he has this stupid grin on his face.
It is the grin of the damned.
What self-respecting man could actually admit that he wants his truck-thing to save him the trouble of parallel parking?
None. The whole message communicates an absolute lack of manly self-respect.
Now, I do not claim to be the world's greatest parallel parker. I'm not. That whole "cut the wheel when the rear tires line up with the…" always confounded me.
But, I am a man, and hence I found an early solution.
It is called driving a truck with a capital T.
Instead of going about the whole pull up, cut the wheel, yada yada deal, I just aim for the curb, pop a big manly tire over it, and then cut the wheel hard left.
When the mudgrip falls off the curb, I'm parked baby.
And, I still have my self-respect. <!==========end copy==================>
---
Pecos Enterprise
York M. "Smokey" Briggs, Publisher
324 S. Cedar St., Pecos, TX 79772
Phone 432-445-5475, FAX 432-445-4321
e-mail news@pecos.net
Associated Press text, photo, graphic, audio and/or video material shall not be published, broadcast, rewritten for broadcast or publication or redistributed directly or indirectly in any medium.
Copyright 2003-04 by Pecos Enterprise
---