|
Weekly Newspaper and Travel Guide
for Pecos Country of West Texas
Opinion
Tuesday, November 14, 2006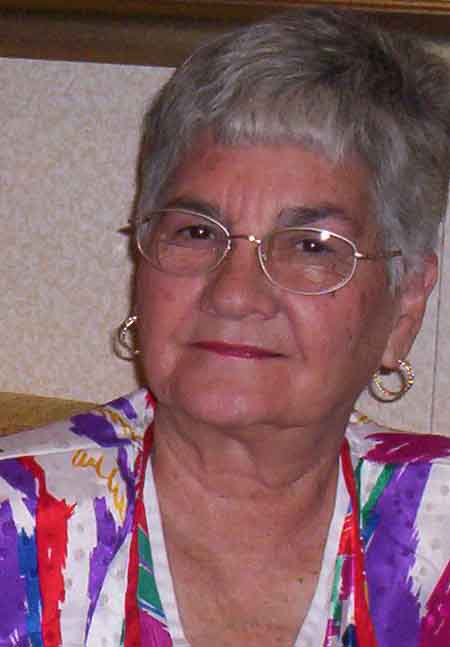 Squarely Pegged
By Peggy McCracken
<!=====paste copy here==========================>
Peggy in kitchen
recipe for disaster
Itís a recurring nightmare. Iím visiting my parents, along with my siblings, and for some unknown reason, I am trying to rustle up some grub for all of us.
As usual, Mother Gunnís cupboard is bare. I find a few scraps of this and that and am trying to make it into something edible as the hands on the clock inch toward suppertime. Following in Mamaís footsteps, I am slow and ineffective at the stove.
Just before we all collapse from hunger, I wake up in a cold sweat and give thanks that it was only a dream. Cooking for a crowd is the last thing I want to do.
Surprisingly, though, I have become proficient at feeding myself. Too much so, as I am at least 30 pounds overweight and finding it harder and harder to breathe. An angiogram last week ruled out artery blockage as the cause of my distress, so I have to lay the blame on the tummy bulge that made all my belts obsolete.
I donít intend to skip my churchís Thanksgiving dinner Wednesday night, though, and I have picked a special recipe for my side-dish contribution. Here are the secret ingredients, in case you want to try it at your own gathering.
Praline Sweet-Potato Casserole 3 c mashed sweet potatoes half cup milk 3 eggs 1 c sugar 1 Tbsp vanilla extract 1 stick butter melted
Combine ingredients in mixing bowl. Beat until mixture is smooth. Pour into 2-quart baking dish.
Topping 1 c brown sugar half cup flour 1 c chopped pecans 1 stick butter
Mix brown sugar, flour and pecans. Cut in butter until mixture is crumbly. Sprinkle evenly over top of potatoes. Bake at 350 for 30 minutes.
ďThey ate the food of angels. God gave them all they could hold!Ē Psalm 78:25, TLB
EDITORíS NOTE: Peggy McCracken is Enterprise business manager. Contact her at peg2@pecos.net <!==========end copy==================>
---



Pecos Enterprise
York M. "Smokey" Briggs, Publisher
324 S. Cedar St., Pecos, TX 79772
Phone 432-445-5475, FAX 432-445-4321
e-mail news@pecos.net

Associated Press text, photo, graphic, audio and/or video material shall not be published, broadcast, rewritten for broadcast or publication or redistributed directly or indirectly in any medium.
Copyright 2003-04 by Pecos Enterprise
---