|
Weekly Newspaper and Travel Guide
for Pecos Country of West Texas
Opinion
Friday, September 8, 2006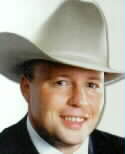 Sage Views
By Smokey Briggs
<!=====paste copy here==========================>
The good stuff
always disappears
Do you ever wonder why, just when they get something right, they change everything?
I do not know who they are, but I do know that if you ever find something you like, you need to buy a lifetime supply right then. Not tomorrow, not next week, but right that moment.
If you do not, fate will discover that you have found the perfect widget, and soon you will find it is made of unobtanium.
Boots - Redwing used to make the perfect work boot. They made the same boot for decades. It was made of regular leather that breathed, and it fit my foot just right. The soul was leather. The insole was leather. You could re-sole it a dozens times.
After half a decade, my favorite pair gave up the ghost, so I went hunting another pair.
Gone.
No longer made. Instead, I was offered the latest and greatest. Oil-tanned leather that is great for the wet and wild farmyards of Wisconsin but will parboil your foot in West Texas.
Better yet, the sole was some vacuum formed footbed that only the factory could replace - at twice the cost of the boots brand new.
Now, my experience is that boots are rarely comfortable until you wear at least on sole off them. What a choice - pay twice as much for a new sole on your now-broken-in-boots, or buy a new pair for less and break them in again.
No thanks.
Socks are the same way. Find any sock that fits just right and does not ball up in the toe and then try to buy a second pair a week later.
Cannot be done.
Coffee - Made a pot of coffee lately. Remember when each can of coffee came with a handy-dandy measuring scoop?
I do.
Ever make a pot of coffee using a tablespoon?
Doesnít come out right, does it?
Thatís because that scoop was more than a tablespoon and less than something else. It was its own unit of measure. It was a coffee scoopís worth.
Seen one of those coffee scoops lately?
I havenít.
Here at the office we use one that looks like it has been passed down through the generations, if plastic can be that old. It is yellowed and cracked and jealously guarded by the coffee drinkers.
They might let you have the cash register, but touch the magic scoop, and you would have a fight on your hands.
Now, what egg-headed accountant figured out that Folgers could save a penny by not putting a scoop in each can?
And, I donít mind not having a scoop in every can, but couldnít they put one in every fifth can, or one in every dozen?
Then, each time you cut the lid out of a can of coffee it would be like Christmas - or at least, it would be one out of every 12 times or so.
That would be good enough for me.
If some bright coffee producer ever does put a scoop back in the can, you can bet one thing - Iíll buy a truckload. <!==========end copy==================>
---
Pecos Enterprise
York M. "Smokey" Briggs, Publisher
324 S. Cedar St., Pecos, TX 79772
Phone 432-445-5475, FAX 432-445-4321
e-mail news@pecos.net
Associated Press text, photo, graphic, audio and/or video material shall not be published, broadcast, rewritten for broadcast or publication or redistributed directly or indirectly in any medium.
Copyright 2003-04 by Pecos Enterprise
---