|
Weekly Newspaper and Travel Guide
for Pecos Country of West Texas
Opinion
Friday, March 31, 2006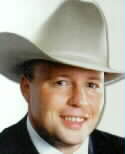 Sage Views
By Smokey Briggs
<!=====paste copy here==========================>
Illegal immigration - just
another tax-funded scam
Do you ever wonder why seemingly simple topics become strangely twisted nightmares in this country?
I do not wonder about the why anymore. I know why. What I really wonder about is the majority of the American population that plays along - acting out our parts like professional actors on a stage.
The current flap over immigration is a prime example.
Now lets be honest - the topic involved is really very simple.
Should we allow unrestrained immigration into the United States, and what should be done about the millions of people who are here illegally?
Now my personal solution would be to disband our system of government down to the last brick and allow people to associate with whomever they wish so long as it was on their own property.
Want to invite the Hernandez' from Brazil to come live at your place?
Go for it.
Want to hire Helmut Svetlandersturm from Sweden?
Go ahead. It is your business and whom you hire is your business, and yours alone.
Don't like your neighbors?
Move.
The Soprano's from Italy want to open a shop in Ohio?
Cool, let them buy the land, invest their money and sweat, and make a go of it.
Such a system would put an end to the unending silliness we face today.
But, we as a people have not adopted such a free system, and are still enthralled with the idea of having national borders, and governments to meddle in our affairs from great to small.
Still, even under our present system, the "immigration question" is not a very tough question.
Of course, nobody really wants to cut to the chase and actually deal with the real problem.
The real problem is simple - working class America is worried that every illegal alien that slips across the border represents another recipient of some sort of social welfare - welfare that working class America will be paying for in ever higher taxes.
Are all immigrants going to be a load on our system of social programs?
No. But, a quick look at the southwest would tell a second grader that as illegal immigration escalates, you get more costs than you get revenue.
A real simple solution would be to simply end all the ridiculous wealth redistribution schemes politicians have put into place to garner votes.
Kill the social programs and only those immigrants wanting to work will be sliding across the border, legally or illegally.
Either way they came across, they would be more of a boost than a drag on our nation.
Or, you could lock down the border and ship every illegal back home.
That's what Mexico or Germany or any other country in the whole world would do - I mean does.
I have yet to hear about an amnesty proposal for those of us who cheated the IRS out of a few bucks, or committed burglary.
Why are we talking about amnesty for people who broke the law?
I'll tell you why.
Because the real powers that be, the boys with real money, are making a darn good living using illegal labor.
Illegal labor is cheap. If you do not believe me go find a guy who owns a business and hires legal workers, and ask him how much money he pays to the government each year in the form of payroll liabilities.
For an average small business in America it is enough money to buy a nice house every year.
Every year.
Think how much money that means to a big business.
You do not pay payroll liabilities on illegal workers.
There are other benefits. But you get the idea.
And, since politicians are nothing more than bought and paid for redistributors of your tax money, you can bet that nothing is going to change.
The boys that buy the politicians will make sure of that.
There will be protests on both sides. Plenty of sound bites. Great and not-so-great rhetoric. The topic will be debated in moronic detail by Republicans and Democrats until it seems more complicated than the guts of a computer.
They will then pass a law.
It will mean nothing. It will change nothing.
Because too many people are making good money on the backs of illegal workers and all the working stiffs paying for the social services for the slackers that come with the guys who just want to work.
And those are the folks that give your representatives and senators the money that they use to campaign and talk you into voting for them.
They have been bought and paid for. Making sure nothing changes regarding immigration is just the job they have already been paid to do.
Some day, as a people, maybe we will recognize this and make a change.
Until then, as long as illegal labor is profitable, expect your government to keep the doors on the borders cracked opened, while upping your taxes and claiming to be cracking down on the problem.
It's a scam, folks, pure and simple.
Your View
Al Gomez, A champion for the Citizens of Reeves County and West Texas
By Paul O. Briones
Al Gomez is a champion for the Citizens of Reeves County because he has served this county already in various capacities. I believe in the integrity and commitment of Al Gomez having grown along side him like a brother. I have known him for 43 years, so I think I am in position to write this article.
Al Gomez is a champion of elderly people and young people in West Texas. Recently I made a visit to an elderly lady who happens to be a long time friend of my 89 year old mother. This elderly lady showed me her utility bills. After seeing her bills, I thought that if my mother lived here, she would ask me how she would be able to pay for her utility bills, groceries, and medical prescriptions on only $400 a month when her water and sewage bill is now over $170.00. I had noticed the same increase in my water and sewage bill, so I did some research. I discovered that the City Financial Director who is also running for County Judge had proposed this rate hike increase. My question is how can someone who graduated from the same university where I received my Masters Degree in Biology, and who parades himself in this community as a person with a Bachelor's Degree in Finance, could propose such a water-sewage rate hike which would hurt most, the elderly in his hometown. It is an out right tragedy! Do we want a person like this in the position of County Judge?
Will he do the same with County Services?
Another question is do we want a person who does not pay property taxes? Since he lives with his mom he is not obligated to pay the water bill either, which he himself recommended to the city council. It does not take a rocket scientist to know there is something wrong with this picture.
In a recent ad in the Pecos Enterprise, he says, my opponent is a serious person with serious considerations but he does not have the educational background to handle the office of county judge because the office does not allow for it to be a learning field. Since Al Gomez?s opponent is playing himself as a financial expert, yet he has nothing to show. Al Gomez as a businessman has a successful business and financially generous to the community. He helped financed the skate park and the city sponsored youth concert last year at Maxey Park. This action goes unseen and exhibits his willingness to be a champion for the young people of Reeves County.
Al Gomez has been a champion of elderly people and common man. I can talk from experience. If someone has helped my elderly mom, myself, and my extended family, it has been Al and his extended family. In short, I can say that my mom would have never been able to recover from the wage loss due to the stroke my dad suffered out in the cotton fields of Reeves County in August of 1962, if the Gomez family had not stepped up to the plate to help. I was 8 years old when this happened. They helped us so very much that I adopted the Gomez's as my adopted God Parents and Al Gomez?s as my adopted God Brother. Citizens of Reeves County, I can write a book of all the things this m
an has done for youth, elderly people and the common man. The author who authored the article that appeared on the Pecos Enterprise on Friday March the 17th and who wrote "the same old crew seeking to be served, rather than to serve" needs to go do their homework effectively. He or she is completely misinformed!!!
Many of you already know what young people of this community means to me. Those of you that believe in me, I ask you to vote for Al Gomez for Reeves County Judge on April the 11th . Early voting runs from April 3rd to the 7th . You will be making an investment in the Business, Young and Elderly People of Reeves County. Thanks!
Paul O. Briones
Sam N. Contreras, the true measure of a champion
Dear editor:
I didn't know being the President of the WARD COUNTY Bowling League qualified you as a "Champion" for the citizens of REEVES COUNTY! I too believe in the integrity and commitment of Sam Mata Contreras, having the honor and pleasure of growing up with, as my first cousin.
I did some research of my own and this is what I found out. Sam Mata Contreras our City Financial Director. must have actually seen what would eventually happen to our water lines if we did not raise our sewage and water rates to fix them. For those of us who don't know this is what could happen:
1. Huge fines of thousands of dollars due to non-compliance of state regulations.
2. Eventual deterioration of our water and sewer lines,
3. Thus deterioration of these lines will cause water contamination and sewage back-up. Simply put when you go to flush your commode it will backup on you. Including the Young and Elderly of Reeves County because as we all know sewage does not discriminate! And Mr. Briones THIS IS AN OUT RIGHT TRAGEDY!
To answer your question Mr. Briones, yes we do want someone like Sam Mata Contreras who is looking out FOR all of our best interest.
You say that Sam is "parading himself in the community as a person who has a Bachelors Degree SO does that mean you are playing teacher with a Masters Degree in Biology?" Because you stated you both went to the same university.
And no it does not take a rocket scientist to figure out that in a time of need Sam Mata Contreras stepped up to the plate and moved in with his mom, who is an elderly widow herself in case you didn't know his father passed away in May of 2004. Sam may not be obligated by the city to pay taxes or the water bill, but can you tell me if his mother has not obligated him.
The only thing wrong with this picture is that more of us should follow his example by helping our elderly parents in their time of need.
Mr. Briones, I too can say that Sam Mata Contreras is a champion of elderly people and the common man. In my family's time of need three years ago when my brother, Johnny V. Mata, was killed in Iraq, Sam and his extended family came to our rescue. Had it not been for the family and friends coming to my parents home to cook, clean and just accompany us while we waited for my brother to return we would not have made it. l am glad that in your time of need someone was there to help pick up the pieces. but things like this are unseen everyday here in Pecos. Pecos is a great community. and when needed we all come together to help each other. (I speak from experience!) I am asking the communities of Pecos Balmorhea, Saragosa and Toyah to come together once again and vote for Sam Mata Contreras for Reeves County Judge.
Judge who plans on running a community as a whole not another business. ROSA M. SALINAS <!==========end copy==================>
---
Pecos Enterprise
York M. "Smokey" Briggs, Publisher
324 S. Cedar St., Pecos, TX 79772
Phone 432-445-5475, FAX 432-445-4321
e-mail news@pecos.net
Associated Press text, photo, graphic, audio and/or video material shall not be published, broadcast, rewritten for broadcast or publication or redistributed directly or indirectly in any medium.
Copyright 2003-04 by Pecos Enterprise
---