NEWS PAGES

Obituaries
Archive
Photos

ADVERTISING
Commerce
Classified
Economic Development
TRAVEL
Area Papers
West Texas
STAFF
Smokey Briggs
Jon Fulbright
Peggy McCracken
Rosie Flores

LINKS
Other Sites
|
Weekly Newspaper and Travel Guide
for Pecos Country of West Texas
Opinion
Tuesday, March 28, 2006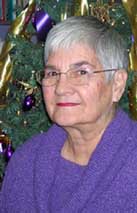 Squarely Pegged
By Peggy McCracken
<!=====paste copy here==========================>
Ice on windshield
chills swimmerís ardor
Frost on my back windshield as I drove to the swimming pool Thursday was something of a surprise. And a clear sign that I shouldnít be swimming. Who in their right mind goes swimming in winter?
The truth is, water in the high school pool seems warmer when the weather outside is cold. That walk into the locker room in a wet bathing suit after the swim is what shocks the senses.
Iíve seen people break ice on a pond to go swimming in the winter, but thatís not for me. Even in the summer, water in an outside pool is too cool for comfort. Roaring Springs had the coldest water I ever dived into. It came fresh out of springs near a creek bed and didnít get a chance to warm up before flowing on out into the creek.
Back when I was young and skinny, swimming was work because I couldnít stay afloat without flailing the arms and kicking the legs. That made swimming in the Gulf of Mexico enticing, because I could actually float in that salty water. We took a little trip to Galveston the year I married, and the ocean swim is the only thing I remember about it.
Most of my swimming was limited to livestock tanks and a dirt tank down in the field where a little ditch that ran past our house was dammed up. The livestock tank always had thick black goo on the bottom, and we stirred it up as we frolicked. The cows and horses couldnít take a drink until it settled back down. I donít recall the mud ever settling in the dirt tank, but I do remember it turned thick and green as it evaporated, and turtles swam with us.
Our swim group last week reminded me of those long-ago days when we five siblings cavorted in the water. Gigi Stroup called out exercises Thursday to four women, while a lone male swam laps. Itís a shame that no more adults take advantage of the free 30-minute water therapy. No exercise is better for these old muscles that have to keep moving or stiffen up. The water buoys up the body so joints are not strained, and muscles donít get sore.
Terri Morse is there to watch over us the year around, except for about six weeks in the summer when she is on vacation. Her assistant coach, Joanne Capshaw, fills in for her occasionally. We usually start swimming about 8:15 and have to be dressed and out of the gym by 9:50 so they can go to class. Anyone is welcome to join us. ďGo up and down the streets of Jerusalem (Pecos?), look around and consider, search through her squares. If you can find but one person who deals honestly and seeks the truth, I will forgive this city.Ē Jer 5:1, NIV
EDITORíS NOTE: Peggy McCracken is Enterprise business manager. Contact her at peg2@pecos.net <!==========end copy==================>
---



Pecos Enterprise
York M. "Smokey" Briggs, Publisher
324 S. Cedar St., Pecos, TX 79772
Phone 432-445-5475, FAX 432-445-4321
e-mail news@pecos.net

Associated Press text, photo, graphic, audio and/or video material shall not be published, broadcast, rewritten for broadcast or publication or redistributed directly or indirectly in any medium.
Copyright 2003-04 by Pecos Enterprise
---