|
Weekly Newspaper and Travel Guide
for Pecos Country of West Texas
Opinion
Tuesday, January 10, 2006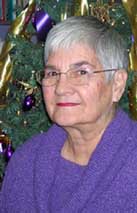 Squarely Pegged
By Peggy McCracken
<!=====paste copy here==========================>
Tuesday, March 21, 2006
Line dance craze
ain't all country
Sister Mary said we'll need to brush up on our line dancing steps and whirls for our cruise up the coast of Alaska in July. I looked in vain for my line dancing video, so went to the Internet for help.
Help!
I found way more than the Electric Slide. In fact, I didn't even find that among the raggae, rock and roll and myriad other stuff listed by Google. It's too late for this old lady to start learning every move on the Internet. I couldn't even download them all in four months, much less learn them.
Here is my alternative. Find a partner on the cruise ship. Now that shouldn't be too difficult. The problem I see with that is that few men like to dance. It's been my experience that most of them won't even get on the floor without getting soused first. And I have no inclination to dance with a drunk.
Before we embark on the cruise, my sisters and I plan to hit the Bob Wills Festival at Turkey the last week in April. Maybe I can bone up on line dancing then. Only I don't recall much line dancing going on in that crowded gym where I played basketball before I learned to dance.
Maybe the ship will have a basketball court. Mary and I loved to play together, tossing the ball back and forth and cutting out the third forward on the Flomot Longhorn team. Basketball and dancing are both good exercises, as well as a lot of fun.
I might re-live my most embarrassing moment on the basketball court. Back in those pubescent days, the skinny Gunn girls stuffed big foam falsies in our bras. One night, my bra snapped and I was sure one of the falsies would fall out and roll across the gym floor. I motioned to the girls on the bench to call time out, not realizing I could do it myself.
Finally, the whistle blew to end the quarter, and I headed for the locker room. Whew! The single falsie I am wearing now is a little better secured, so maybe it won't fall out during the Electric Slide.
I did lose a nylon falsie while swimming one morning recently. A pair of rolled-up pantyhose works best for swimming because the nylon knit doesn't hold water like a foam falsie or bobby sox. One morning it came unrolled and floated right out of my bathing suit. Time out!!!
There's a scripture to fit every situation:
"You, my brothers, had the same thing happen to you…" I Thess. 2:14, TEV
Your view
Students needs information on Texas
Dear Editor:
Me and my classmates are working on state reports.
I happened to be studying Texas. I am studying the geography, as in the mountains, rivers, grasslands, history, famous people, state bird, state tree, state song, poetry, climate, cities, etc. and please have your readers send post cards.
Please PUBLISH ME, THANK YOU. Send Information to
Ahmad Allaw
Evansville Day School
3400 N. Green River Road
Evansville, In 47715 <!==========end copy==================>
---
Pecos Enterprise
York M. "Smokey" Briggs, Publisher
324 S. Cedar St., Pecos, TX 79772
Phone 432-445-5475, FAX 432-445-4321
e-mail news@pecos.net
Associated Press text, photo, graphic, audio and/or video material shall not be published, broadcast, rewritten for broadcast or publication or redistributed directly or indirectly in any medium.
Copyright 2003-04 by Pecos Enterprise
---