|
Weekly Newspaper and Travel Guide
for Pecos Country of West Texas
Opinion
Tuesday, March 14, 2006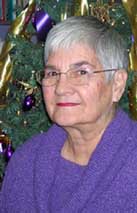 Squarely Pegged
By Peggy McCracken
<!=====paste copy here==========================>
Blogger tells all
in online diary
Setting up a new computer while keeping my workflow going forced me to spend some extra hours in the office last week. And when I came in early Friday to find Jon had found the right printer drivers and had me in business, I used the bonus hours to start my column.
Start is all I got done, because I was sidetracked trying to locate information on blogging. I've written before about the "web log" craze where anyone with Internet access can write anything that comes into his mind and post it for all the world to see.
My sister, Gail the writer, has started posting her new poetry to a blog, and I visited her site to get some fodder for my column. After reading all her poetry and looking in vain for the link that would let me post my own comment, I found a link to "the next" blog. Thinking it was more of hers, I clicked, only to find a pornographic posting, complete with photos.
In all my years of using the Internet, I had seen only one porno site, and that was at the request of a Christian teenager who wanted the "Bible Pornography" site shut down. Instead of using my "back" button to get off the page, I made the mistake of reading the young man's blather to see if I could get some insight into his screen name, Str82Gay. For you newbies, that is Straight to Gay.
About the only thing I learned is that using drugs cause people to do strange things. And that images once imprinted on your mind don't go away. It sent me to my knees in prayer for my granddaughter, whose recent runaway seems to have resulted in her using drugs, and ultimately winding up in a "Wilderness" program for troubled teens.
This is the same granddaughter who spent part of last July in Pecos, and who hung out with her peers at the skate park every night. Sometimes when I picked her up, I thought she was on drugs, and I know that at least one teen was arrested there for selling drugs.
I got way off the blogging topic I started with. The tie-in here is that my granddaughter had her own blog on a St. Louis Punk web site long ago. The things she wrote made my blood run cold. If you want to know what your teens are doing, read their blogs. It is the same as a diary, only not as private.
While pondering these events and what shapes our culture, I happened onto a Bible movie, part of which depicted Abraham and his nephew Lot, and the destruction of Sodom and Gomorrah.
The culture in Sodom and Gomorrah was much like that of the United States today. People were doing whatever they pleased, and part of what they pleased was to have sex with their own gender. Revelings in the movie reminded me of Mardi Gras in New Orleans. And the cloud rising over the burning cities resembled an Atom bomb blast. Don't think God wouldn't use Iran's nuclear weapons to destroy America if we don't turn from our wicked ways and seek His face.
"If my people, who are called by my name, will humble themselves and pray, and seek my face, then will I hear from Heaven and will forgive their sin and will heal their land." 2 Chron. 7:14, NIV <!==========end copy==================>
---
Pecos Enterprise
York M. "Smokey" Briggs, Publisher
324 S. Cedar St., Pecos, TX 79772
Phone 432-445-5475, FAX 432-445-4321
e-mail news@pecos.net
Associated Press text, photo, graphic, audio and/or video material shall not be published, broadcast, rewritten for broadcast or publication or redistributed directly or indirectly in any medium.
Copyright 2003-04 by Pecos Enterprise
---