NEWS PAGES

Obituaries
Archive
Photos

ADVERTISING
Commerce
Classified
Economic Development
TRAVEL
Area Papers
West Texas
STAFF
Smokey Briggs
Jon Fulbright
Peggy McCracken
Rosie Flores

LINKS
Other Sites
|
Weekly Newspaper and Travel Guide
for Pecos Country of West Texas
Opinion
Tuesday, March 7, 2006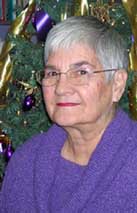 Squarely Pegged
By Peggy McCracken
<!=====paste copy here==========================>
Prairie pioneers
hold onto the land
Charles McCracken of Toyah called to ask if I am related to the Moss McCrackens in Indiana. Not that I know of, but the question sent me to the history books to see if there is a connection. Other members of the family have done some genealogy research in recent years and shared their findings with me. I only have record of my husband's lineage, though, and certainly there could be a connection I don't know about.
My husband's ancestors include John McCracken, who came to America in 1745. I think he came from Scotland, but don't quote me on that. The line continues with his son, David McCracken, born in 1750; his son Joseph McCracken Sr., Jan 4, 1776; his son Joseph M. McCracken Jr., 1817; his son, Amos McCracken, Nov. 28, 1848; his son, Leonidas Alexander McCracken, 1871, became my husband's grandfather.
Joseph McCracken Jr. married Caroline Robeson, the daughter of a Methodist minister, in North Carolina about 1840. I think the Robesons came from Germany. They left the Blue Ridge Mountains of North Carolina for Texas in 1860, when the war between the states seemed imminent. They settled in Cooke County near Rosston. Caroline spent her last years in Pecos, and was buried here in 1909.
Grandpa McCracken, known as Lonnie, was born in Cooke County in 1873 to Amos McCracken and Lorena Robeson McCracken. When he was 14, Lonnie and his brother, Mantson, moved to West Texas with their widowed father and settled in Quitaque Peaks.
Their mode of travel was in a wagon drawn by oxen, coming up the Pease River, as there were no roads. Lonnie's first job was hauling buffalo bones to the railroad at Wichita Falls. He worked for the JA Ranch. One rainy week in 1892, Lonnie never took off his boots, and they shrank to fit his feet. After the rains let up, he had to cut off the boots.
Lonnie married Mattie Damarius Gibson in 1897, and they lived on the Plains near Silverton for awhile. Mattie didn't like the Plains, and who could blame her? They traded their land in 1903 for a section below the Caprock, which the family still owns. At the time, only a dozen families lived in the Quitaque Valley, which was virgin land, prairie as far as the eye could see. There was no town, no school and no water except in Kent Tank, a dirt tank that filled only when it rained. Livestock watered on one side while humans filled water barrels from the other side.
In 1903, Lonnie had three wells drilled, but only one had water. And not much at that. He drilled another well in 1910 and struck good water. That well still has water in 2006.
M.E. Tomson brought in a good well in 1907, and he built a general store and donated land for a gin, school and a town. Lonnie, Tomson and Clack built the gin. The town of Gasoline got its name from the gasoline engine used to power the gin. Several other businesses opened, and the school eventually had 100 students. It consolidated with Quitaque in 1946.
My husband, Leon, attended grammar school there, then graduated from Quitaque. He got an excellent education in that little country school.
The family still owns a grand piano Lonnie and Mattie bought in 1912. Lonnie paid $585 for his first car, a Model T Ford, in 1915. Though he owned several cars, he never drove one. His son, L.A. McCracken Jr., followed in his footsteps, buying a new car every year when he made a good crop. Leon liked that tradition, too, but couldn't afford to trade up every year.
I like to read about the good times and the hardships our pioneer fathers experienced in settling this land. It must have been frightening to travel so far with so little protection. And to live, literally, by the sweat of their brow.
"Cursed is the ground because of you; through painful toil you will eat of it all the days of your life…by the sweat of your brow you will eat your food…" Genesis 3:17,19, NIV
EDITOR'S NOTE: Peggy McCracken is Enterprise business manager. Contact her at peg2@pecos.net <!==========end copy==================>
---



Pecos Enterprise
York M. "Smokey" Briggs, Publisher
324 S. Cedar St., Pecos, TX 79772
Phone 432-445-5475, FAX 432-445-4321
e-mail news@pecos.net

Associated Press text, photo, graphic, audio and/or video material shall not be published, broadcast, rewritten for broadcast or publication or redistributed directly or indirectly in any medium.
Copyright 2003-04 by Pecos Enterprise
---