|
Weekly Newspaper and Travel Guide
for Pecos Country of West Texas
Opinion
Friday, March 3, 2006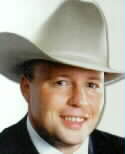 Sage Views
By Smokey Briggs
<!=====paste copy here==========================>
What is wrong
with the system?
I have a question: "How many times in your life have you witnessed scandals such as the current lobbying scandal in Washington D.C. involving Jack Abramoff and who knows how many of our elected representatives from the White House on down?"
On almost a predictable schedule new scandals break each year and after much smoke and mirrors one or two guys take a year-long vacation to Club Fed before coming back to the world of the free as reformed individuals.
Now, how many times have you heard about elected representatives and senators retiring and hopping immediately into a job with some mega-corporation that just happens to do millions and millions of dollars of business with good old Uncle Sam?
How many times have you been promised by political hopefuls that they will return integrity to the office?
I've been watching this game for 40 years now. I have watched scandals come and go and read article after article about Senator So-in-so taking a job with Mega-Corp. that happens to build billion-dollar fighter aircraft.
I have voted for umpteen politicians who promised that they would lower taxes, decrease government spending, and always, always return integrity to their office.
I have voted at every level, from city council to president.
And nothing has changed.
The money in exchange for political favor scandals keep coming. Former politicians with a resume that could not get them an entry-level position at a convenience store keep getting high-dollar jobs with government contractors. And taxes always go up.
I have come to a conclusion.
The system is broken.
No, actually, the system is the problem.
The system puts the power to tax in the hands of elected officials.
And that is where the system is fatally flawed.
Once you give elected politicians the power to tax and spend, the only limit on their corruption is their own lack of creativity.
They will tax you, and give your money to the highest bidder.
That is what lobbyist really are - they are bidders. They buy with favors, the promise of more votes, and most often probably with hard cash, your elected official's favor. They buy his vote to support legislation that favors the group he represents.
Or, put the other way, your elected officials sell their vote to whomever pays top dollar.
Often the lobbyist represents a corporation that will profit from whatever legislation is being sold today.
Or, the lobbyist may represent a voting block that will profit from the legislation of the day.
It does not matter because the result is the same - his vote is sold to the highest bidder. And his vote then creates legislation that promises the highest bidder a higher profit margin.
The end.
Our founding fathers crafted a system of government that was meant to prevent the worst of this buying and selling.
For the past 200+ years it has been dismantled entirely and rebuilt into what we have today - a huge, seething mass of corruption where those at the top of the food chain steal/tax those at the bottom and then distribute/sell those tax dollars and the projects they finance to the highest bidder.
Fix the system?
I do not think you can. <!==========end copy==================>
---
Pecos Enterprise
York M. "Smokey" Briggs, Publisher
324 S. Cedar St., Pecos, TX 79772
Phone 432-445-5475, FAX 432-445-4321
e-mail news@pecos.net
Associated Press text, photo, graphic, audio and/or video material shall not be published, broadcast, rewritten for broadcast or publication or redistributed directly or indirectly in any medium.
Copyright 2003-04 by Pecos Enterprise
---